An awesome mixture of top 12 Christmas riddles For kids and adults and difficult questions to train your mind is right here!
These puzzles will certainly blow your thoughts and make you think for some time.
If you wish to sharpen your logic and check your intelligence take a look at this enjoyable set of Christmas riddles For kids and adults.
1. HOW DID SANTA GUESS HE WAS LYING?
Santa came home earlier and saw an elves corpse lying on the floor.
Santa asks the other elves: What happened? Only you two were at home!
Other Elves: We were packing the gifts and decided to have a coffee break. He loved black coffee with cookies, you know.
Suddenly, I heard shouts outside and ran out to see what was happening there? I spent about 20 minutes there and returned back home. When I came to the home, He was already dead.
Santa: You are lying! I know you were planning something dangerous.
How did Santa guess he was lying? (see the picture carefully)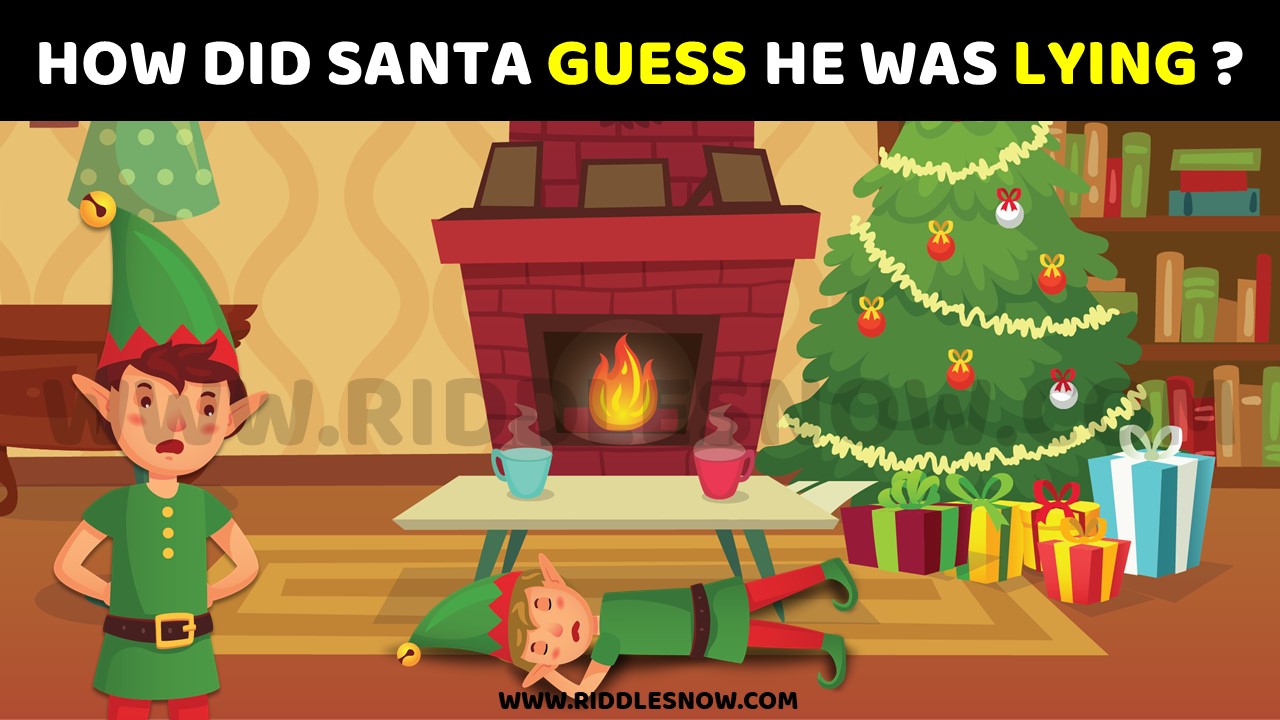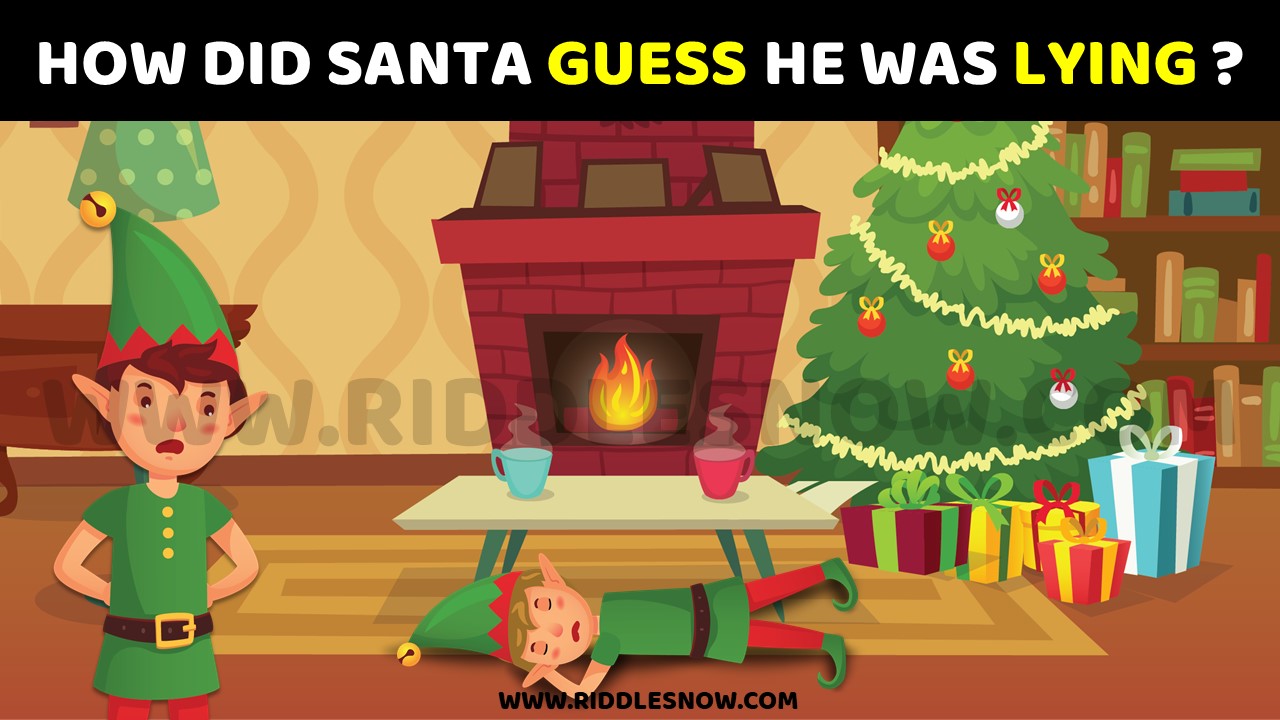 ---
2. WHO ATE ALL THE FOOD?
It was a Christmas morning for a family in Indiana.
The mother went to the Market store.
The youngest son was watching cartoons on TV.
The middle son was doing exercise.
The eldest son was mowing the garden.
The father was reading a Magazine.
When it was time to eat. They discovered that all the food was eaten.
Who ate all the food?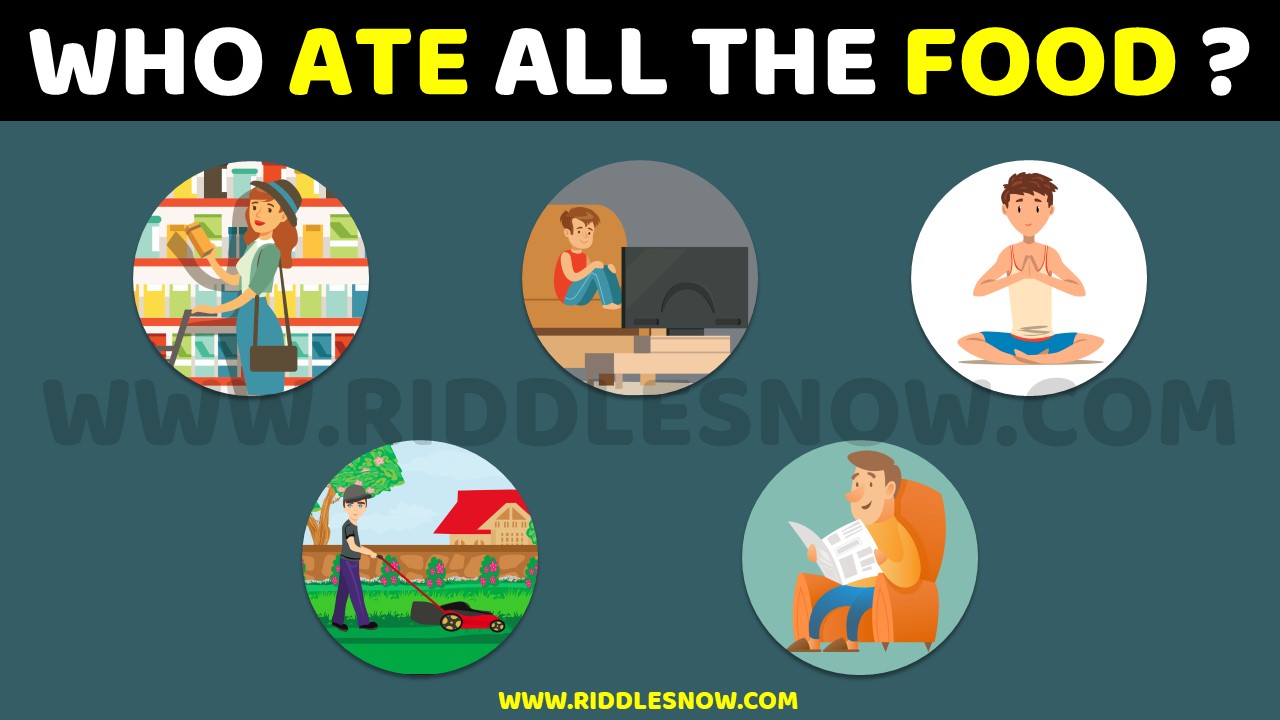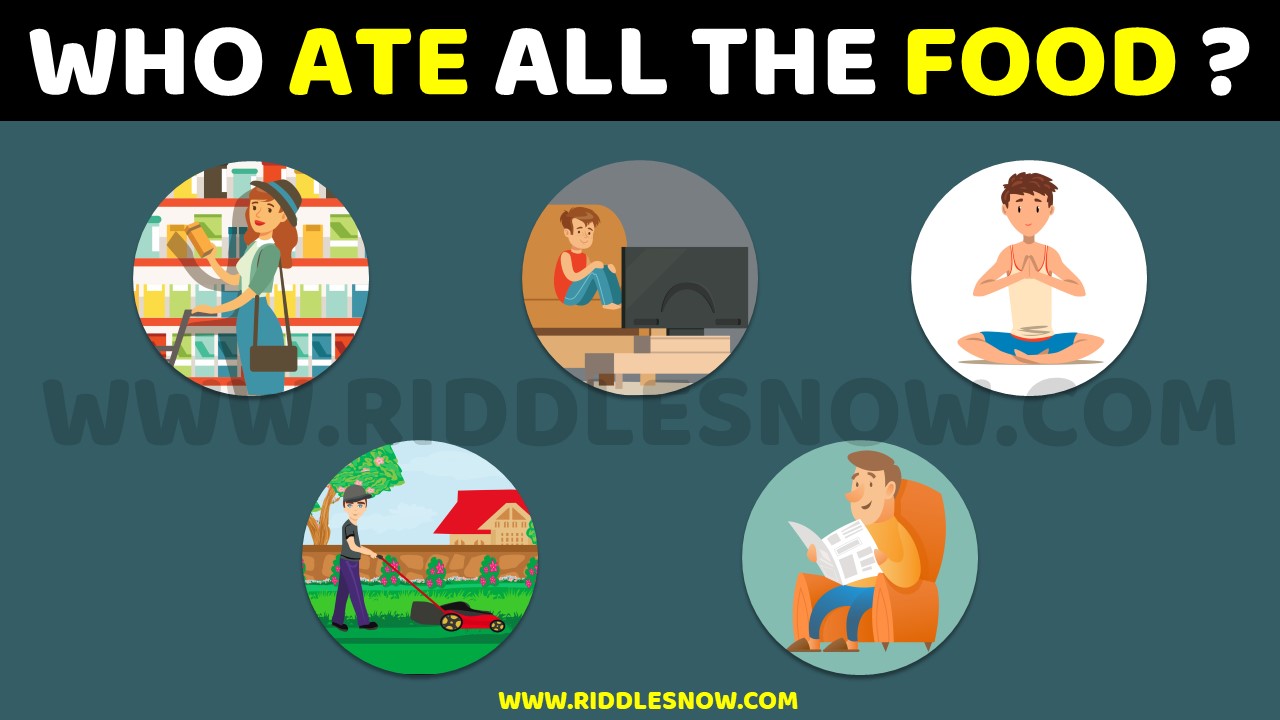 ---
3. WHICH SANTA IS REAL?
It is a wonderful time before Christmas. But a gang of robbers has been operating in the city for already a week!
They are all dressed in Santa Claus suits and break into houses through the chimneys. The robbers break into houses pack the valuables in the bags and walk right out the door.
When neighbors see them, they think it's real Santa and don't suspect anything. Finally, the police caught the whole gang on Christmas eve.
However, one of them claims that he is the real Santa! Detective Johnson once saw real Santa as a child.
Detective Johnson: I remember him well! He was of medium height. He was wearing a coat with 6 buttons and there was a pocket on the right. His belt buckle was square, I believe.
Which Santa is real? (see the picture carefully)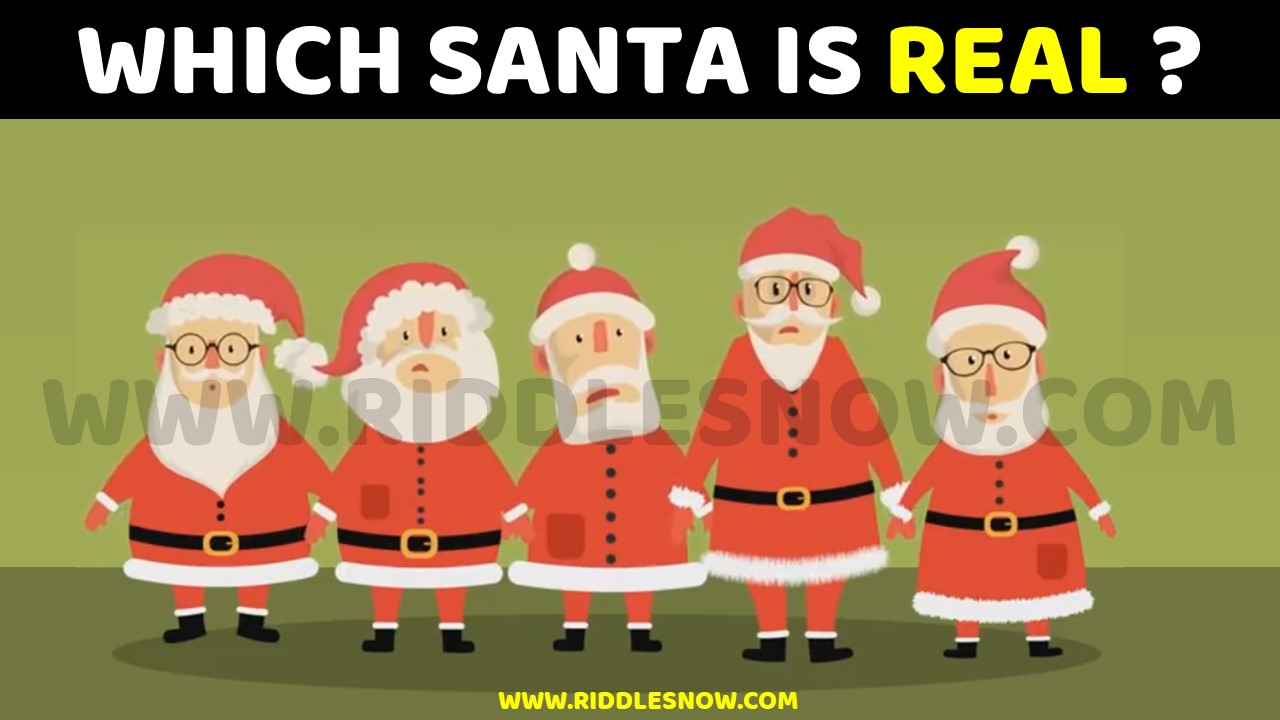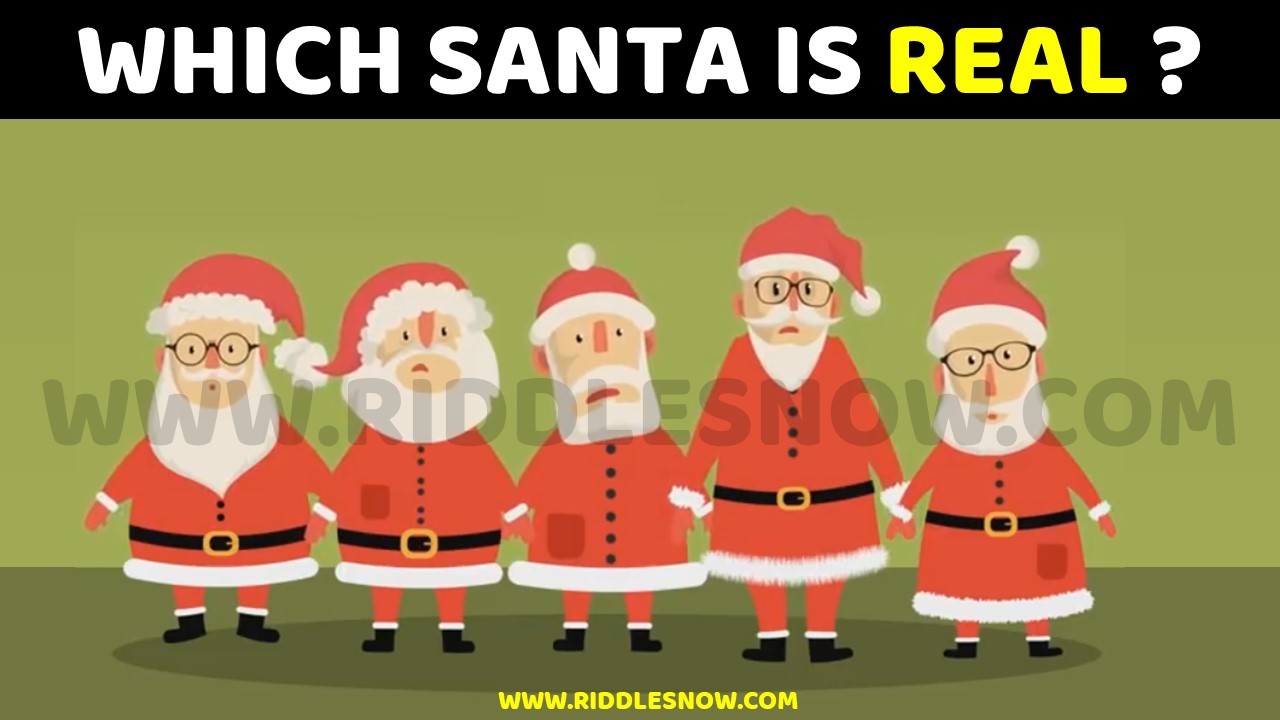 ---
4. WHO IS THE THIEF?
All Santas were buying gifts for kids in a gift shop. Suddenly, the director of the store got a call from the police. They said there was a string of burglaries in the gift shops.
They figured out the shop should be next. The burglar wore a Santa suit.
Director of the store: Everybody stay where you are! There is a criminal amongst you and I will discover out who it is!
Who is the thief? (see the picture carefully)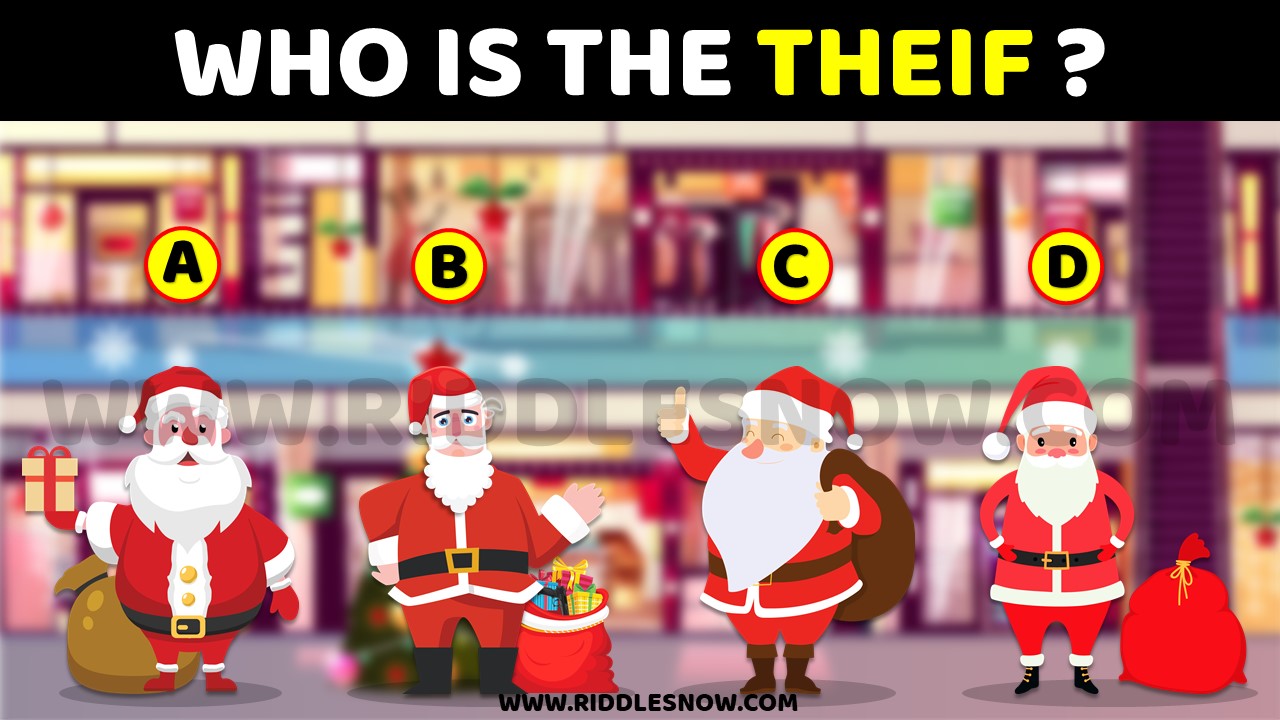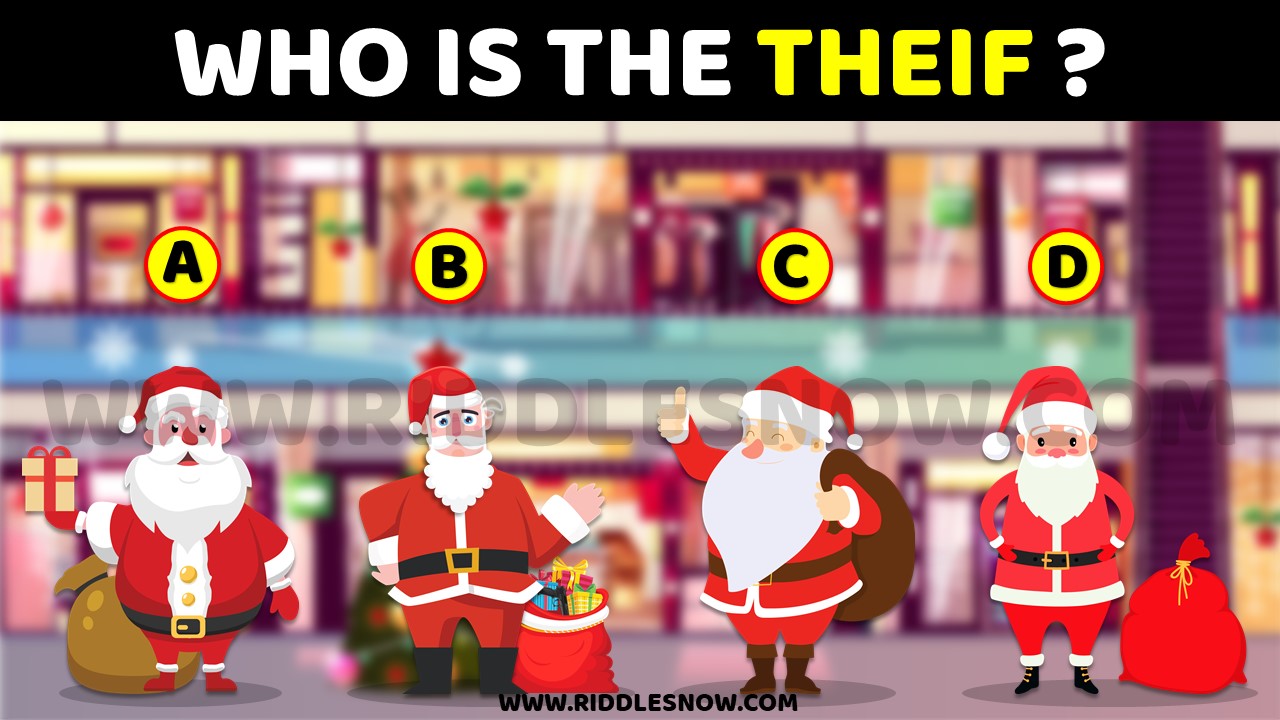 ---
5. WHO IS THE BEST FRIEND AND WHO IS THE COMPANION?
Santa broke out of jail with the help of his deers. The detective suspects four deers of helping Santa. One of the deers is Santa's companion who is lying.
One is Santa's best friend and he is helping him lie. Here are their statements:
Cupid: Dasher is his companion.
Rudolph: Blixem is lying.
Blixem: Cupid is lying.
Dasher: Rudolph is not his best friend.
Who is the best friend and who is the companion?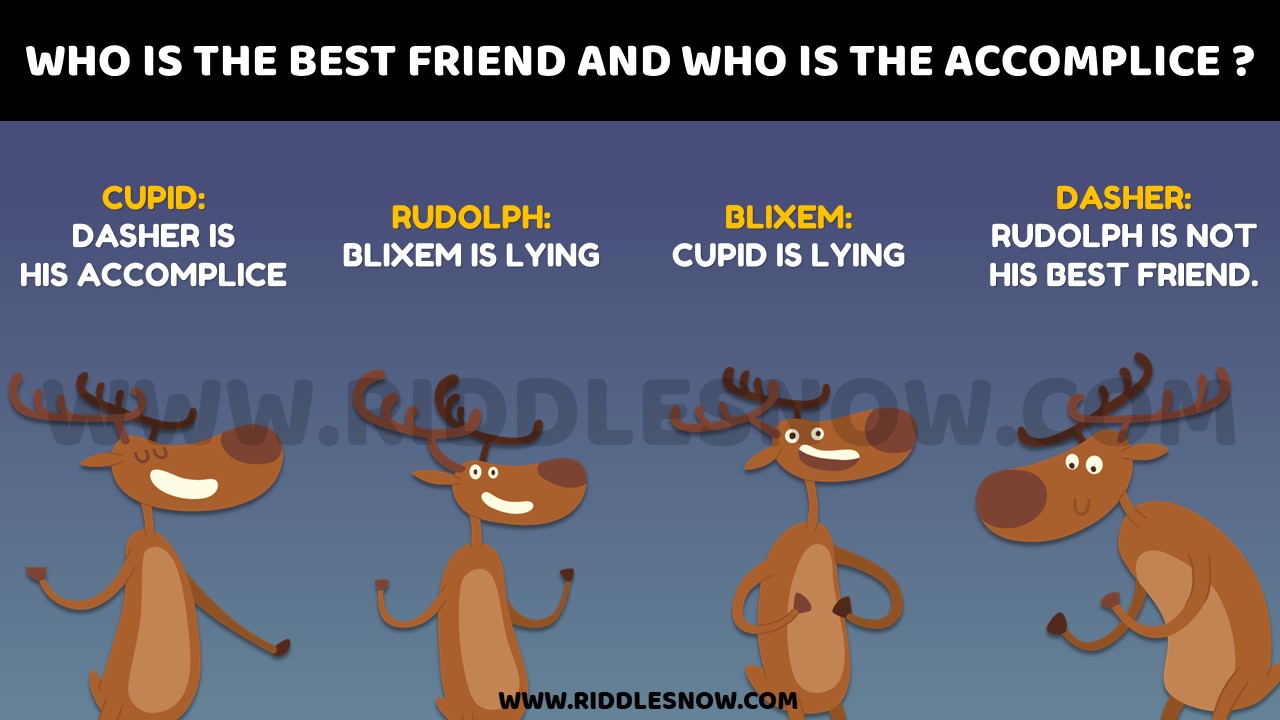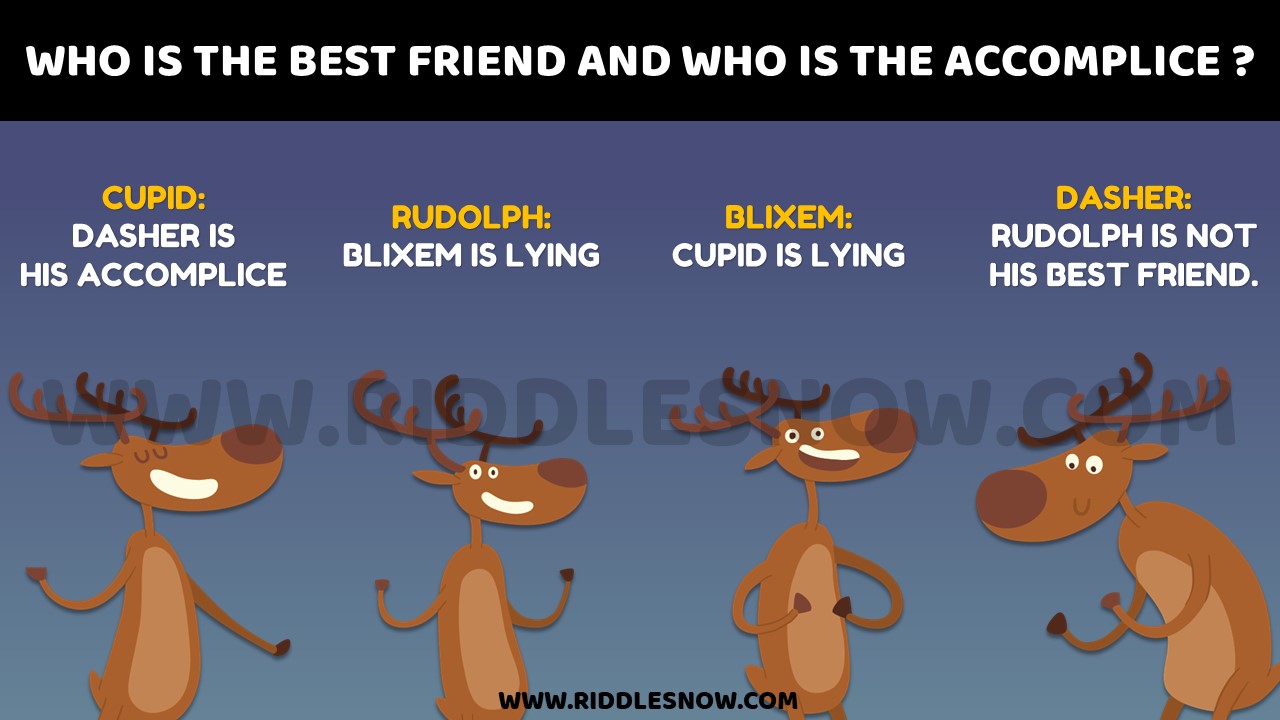 ---
6. WHO IS LYING?
The police were called to the accident site. They found Santa and his broken sleigh on the sidelines.
Santa: The Grinch rushed right in front of me and scared my deers! I lost control of all deer and hit the tree! He really steals Christmas!
Police: Here are the tire tracks! Let's follow him!
Santa: Here you are?
Grinch: What? I have seen your crash just in front of me and frankly, I was delighted! however this time it was not my mistake.
Who is lying?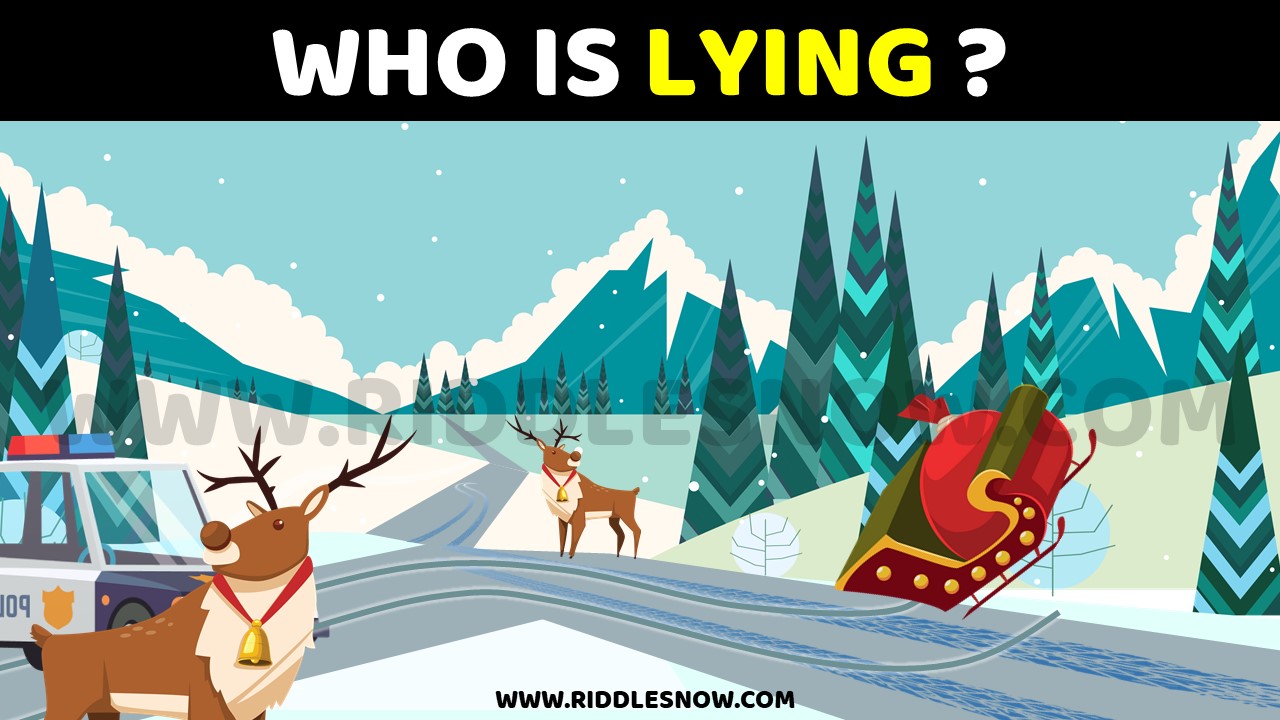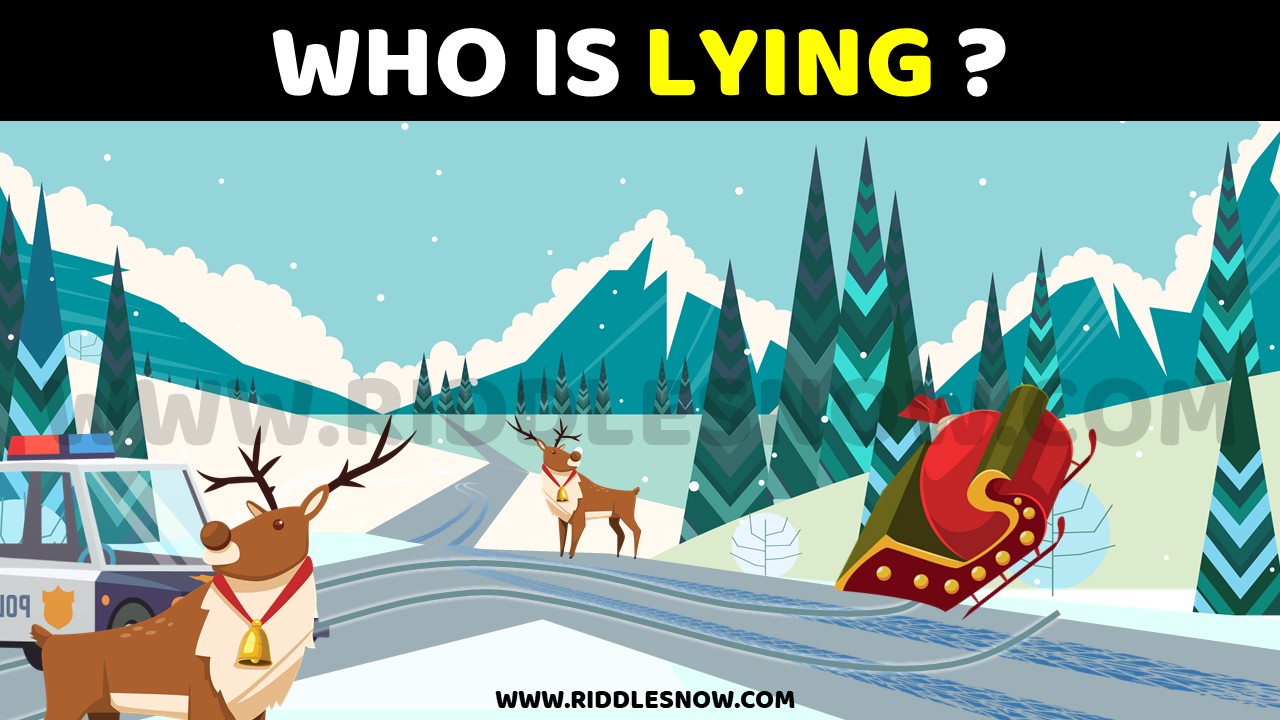 ---
7. WHO WAS LYING?
Santa was looking forward to homemade walnut cookies. He had to eat them outside because Mrs. Claus was allergic to all types of nuts.
But when he looked into his sack, He saw that all cookies were gone! Santa suspected his deers, he went to the stable and asked them:
Santa: Who ate my cookies?
Dancer: I was making Peppermint swirls with Mrs. Claus.
 Prancer: I was keeping an eye on the plum pudding.
Dasher: I was making peanut butter with Mrs. Claus.
Vixen: I was taste… Testing the Ice-cream.
Now I know who took my cookies!
Who was lying? (see the picture carefully)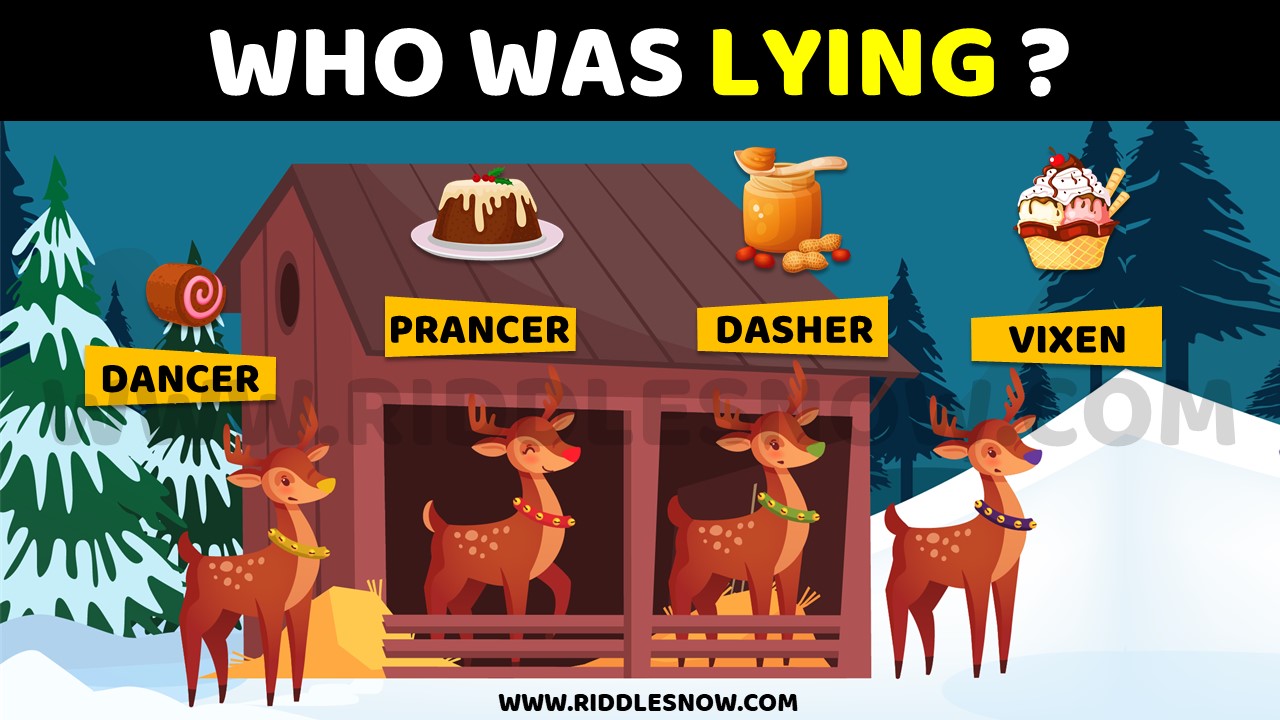 Other Riddles:

Christmas riddles For kids and adults
---
8. WHO LOOKS SUSPICIOUS?
It was Christmas eve in Canada. The passengers who dressed as Santas were waiting for the plane to the USA. Suddenly Airport security came and announced:
Security: Everybody stay where you are! We have had a report someone's smuggling drugs! we have to recheck your luggage!
Who looks suspicious? (see the picture carefully)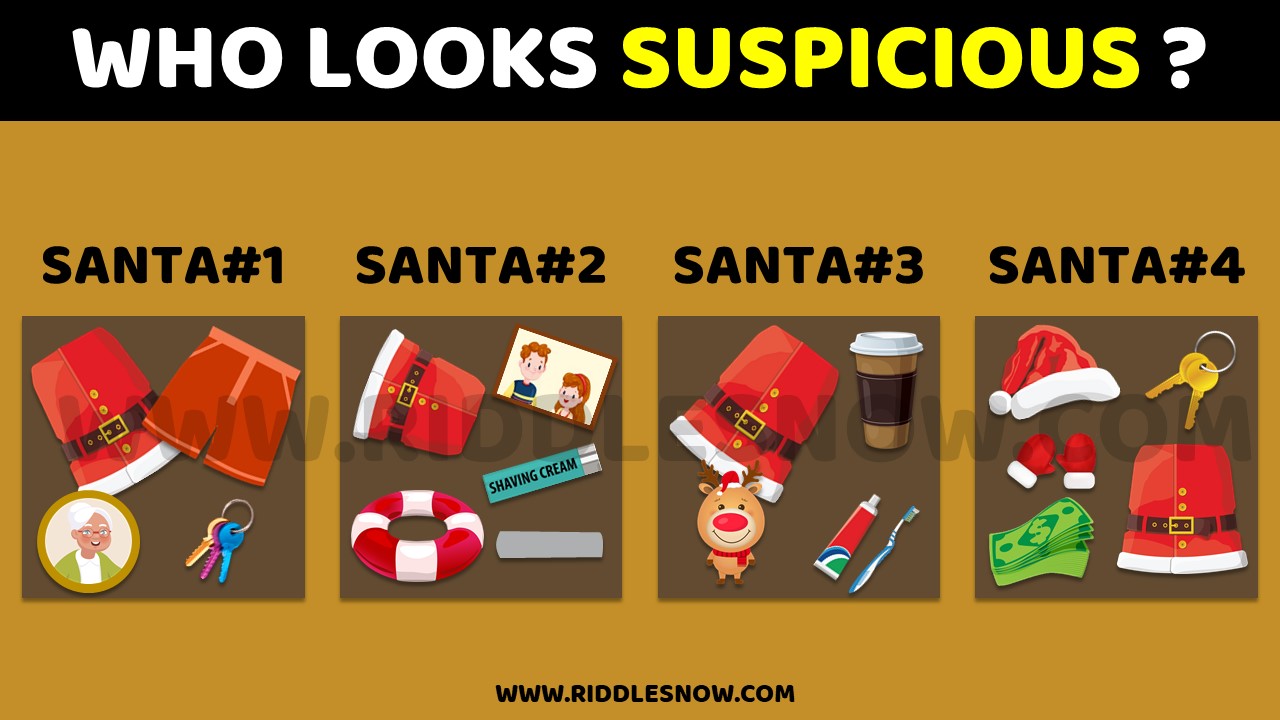 ---
9. WHO KILLED SANTA?
What a terrible crime! Someone killed Santa on Christmas eve! It happened at the Smith house. Detective Grinch arrived at the spot immediately and questioned the family members.
Lisa: I was on the phone with my boyfriend.
Julie: I was making cookies for Santa.
Ian: I was watching the news on TV.
Twins: We were already sleeping to wake up early.
Who killed Santa?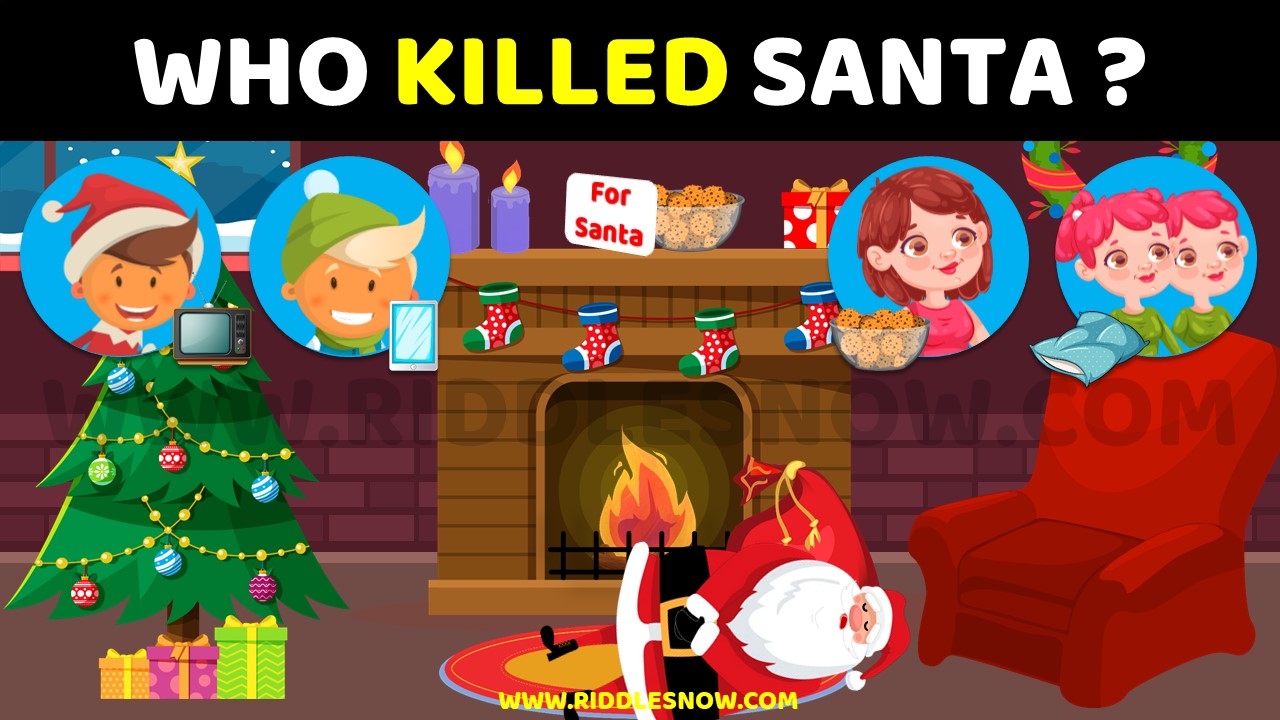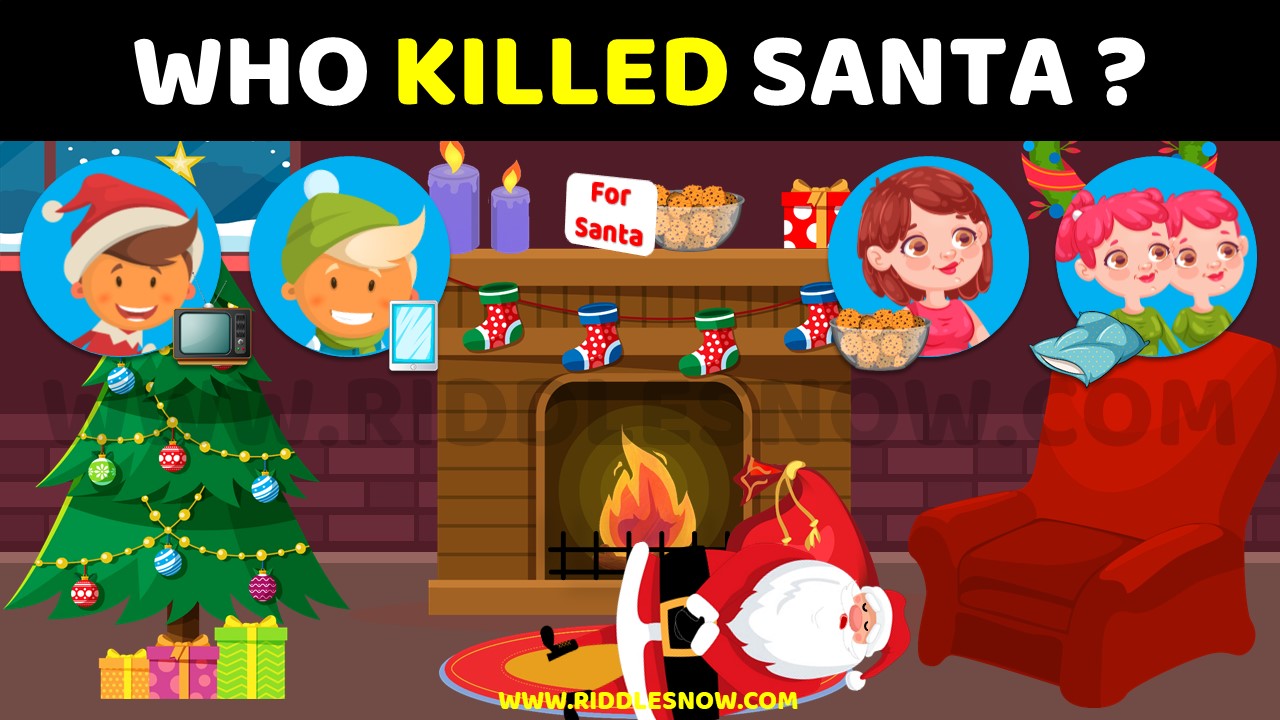 ---
10. WHO STOLE THE CHRISTMAS GIFTS?
Penny and Nick threw a Christmas party at home. She cooked treats and prepared gifts for everyone. Nick decorated the house and set up the Christmas tree. However, it all went wrong.
Someone has stolen all Christmas gifts! Penny believes it must be one of the guests. She questioned everyone. The guests made two statements. One of them is the truth and one is a lie.
Jan: I was not at the house when it happened. I know, Victor stole the presents.
Nina: Victor stole them, I saw it. I already have enough presents.
Victor: I did not steal the gifts. Jan tells the truth, He was not at the house.
Who stole the Christmas gifts?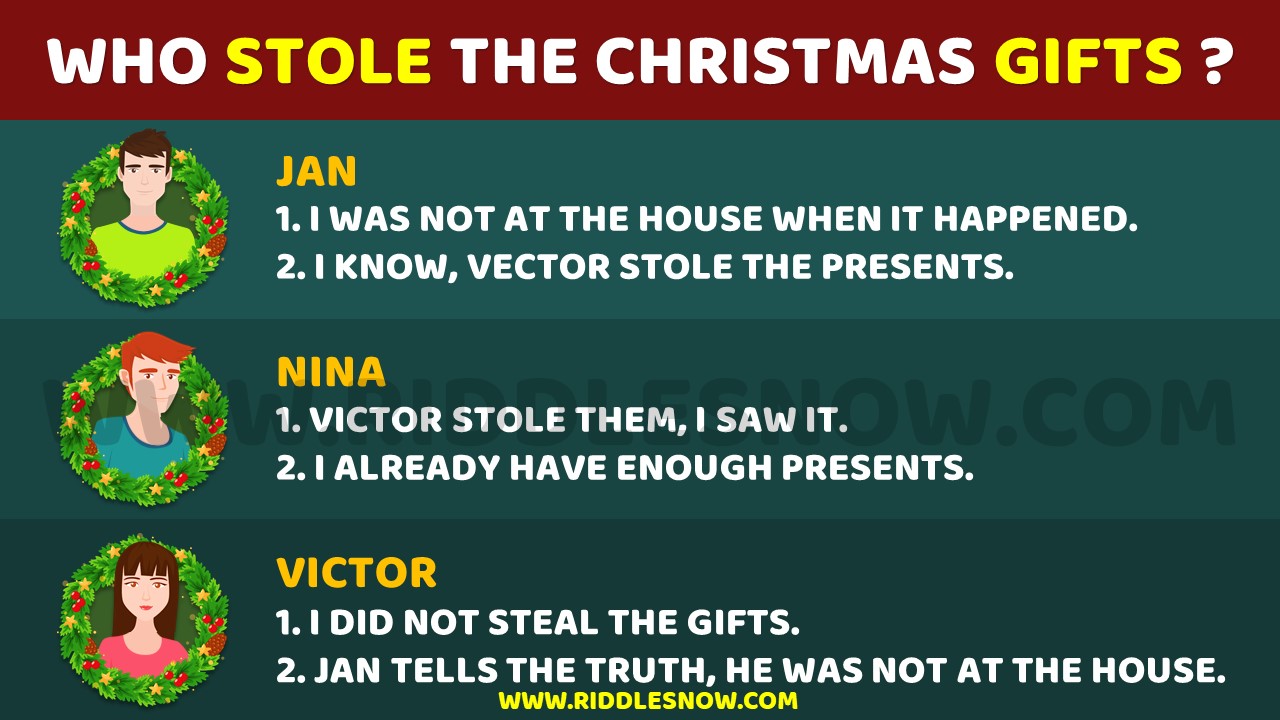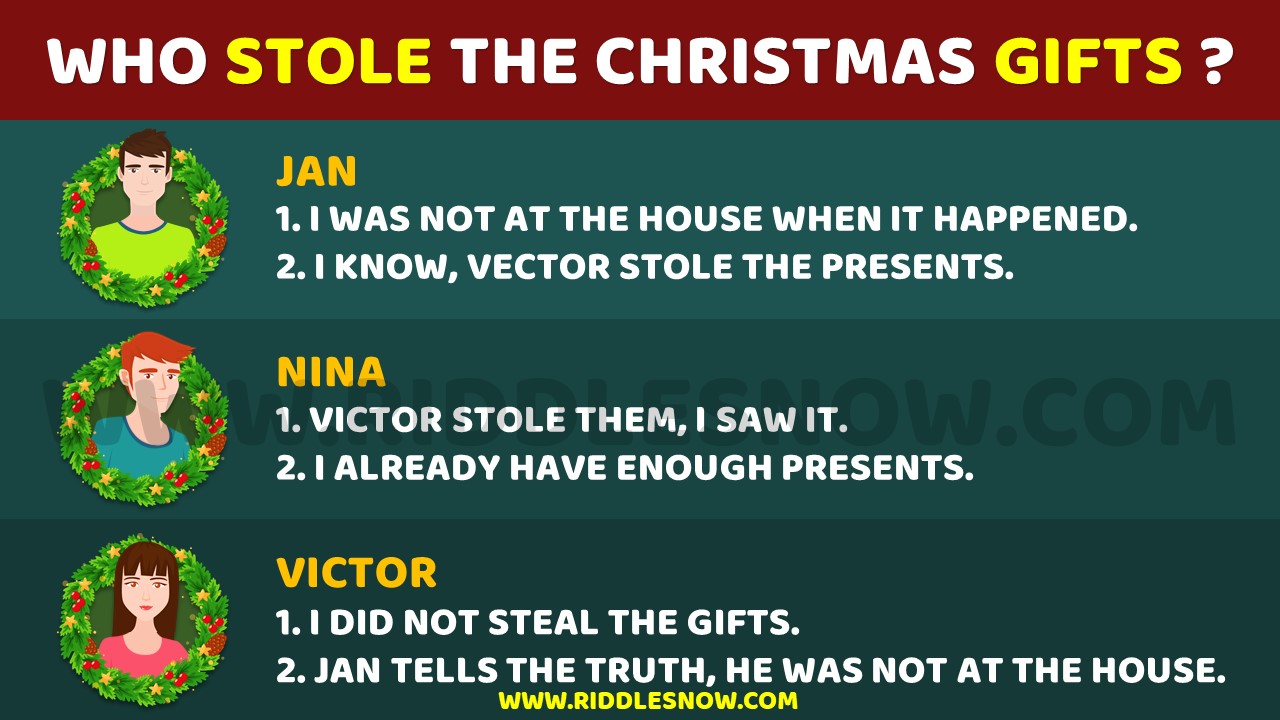 ---
11. WHO STOLE THE DEER?
Santa delivered Christmas gifts at night, as usual. He came to the Smith house with his deer. There were 5 children in the house! Santa came down from the chimney because the bag was too heavy.
Santa put the gifts under the tree and went back to his deer. But when he went outside, He found the deer was gone.
Santa: Help! Someone has stolen my deer!
Santa called the detective. He questioned all the Smiths.
Mia: I was listening to my mom reading a story.
James: I was sleeping, I heard nothing.
Kevin: I was sleeping too.
Evan: I was listening to the bedtime story with Mia.
Riley: I was drawing a picture for Santa.
Who stole the deer? (see the picture carefully)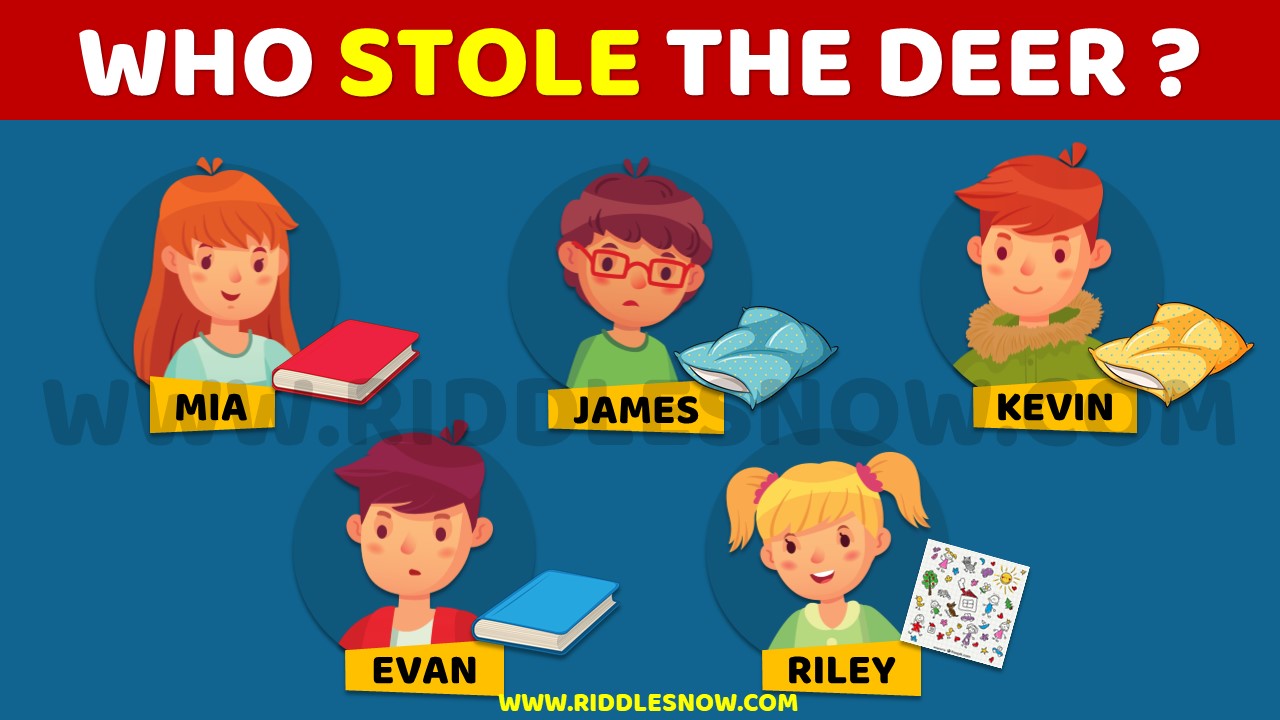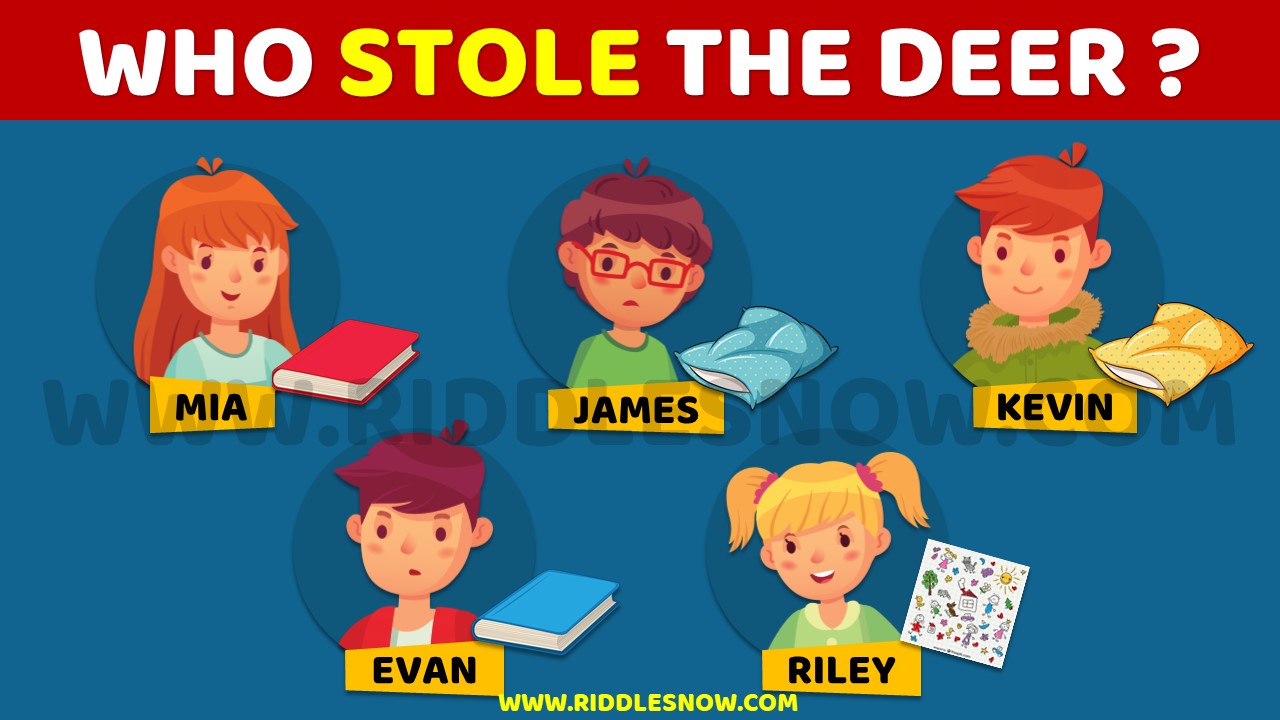 ---
12. WHO IS THE PRIME SUSPECT?
The New York police department received a call about a murder at 7 PM on 25th December. Officer John pick up the phone and said:
Officer John: New York Police Department, how may I help you?
A man from another side: I am Liam calling from Houston street 8, House number 17, Kindly rush as my cousin Sophia is lying dead in her bedroom.
Officer John reached the crime scene at 7:30 PM.
Liam told officer John: Sophia was doing the night shift these days. she came from work early morning and went inside her bedroom.
We all thought that she was sleeping. Since she did not come out of the room till evening I went to her room to check. I was shocked to see her lying dead.
Officer John sent the body for autopsy. As per the autopsy report, Sophia was killed at around 10:00 AM. The police department asked Sherlock Holmes to guide officer John in the investigation.
Sherlock Holmes narrowed down the suspicion to four people who were present there at the time of the murder. The suspects gave the following testimony of what they were doing at the time:
Liam, Sophia's Cousin: I was in the gym. You know I daily need to exercise to stay fit.
Audrey, Sophia's sister: I was packing gifts for the neighbor's kids.
Steve, Sophia's boyfriend: I had gone out in the neighborhood to see houses decorated with Christmas lighting.
Kim, Liam's Girlfriend: I had gone out with my friends to make some purchases.
Who is the prime suspect?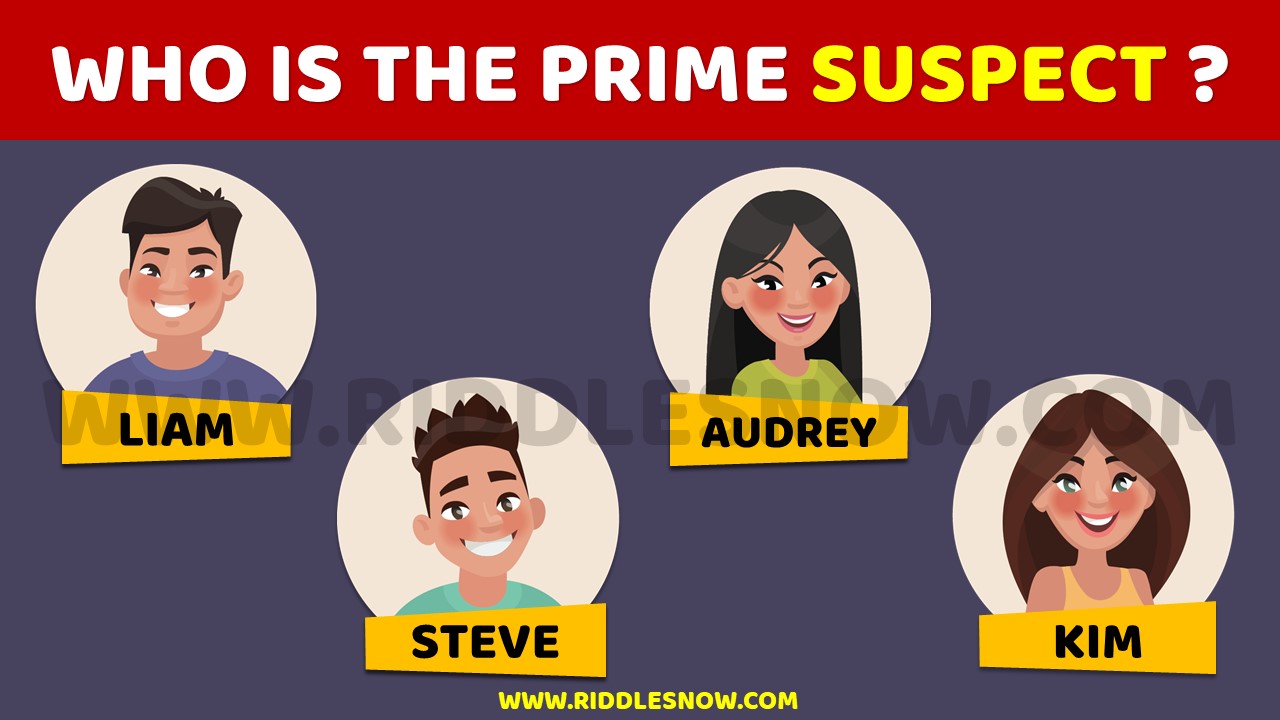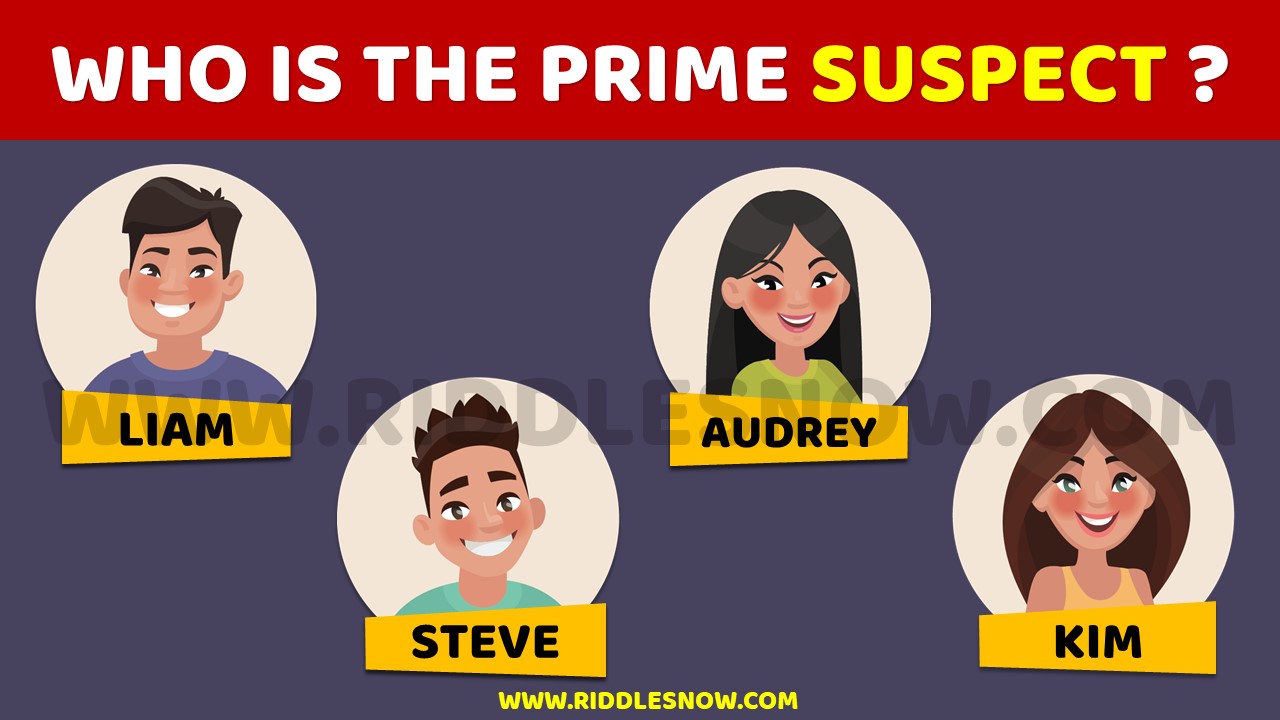 Other Riddles:

Christmas riddles For kids and adults
Did you solve these top 12 Christmas riddles with answers that puzzled the world! Amazing festive brain games will bring you an actual Christmas mood and increase your logic.
Don't forget to SHARE these Christmas riddles For kids and adults to your friends and family, and solve these enjoyable brain teasers together!
WATCH MORE RIDDLES IN OUR YOUTUBE CHANNEL.