If you are searching for the Best Halloween Riddles for kids and all ages, Then you are at the right place.
Here you will get Best 22 Scary Halloween riddles with answers that aren't all over the internet. I'm 100% sure you'll love these Halloween Riddles and brain teasers.
Use your brain and IQ to solve these creepy and mysterious spooky Halloween riddles and puzzles.
These Halloween-themed riddles and brainteasers will exercise your mind. Everyone will find something enjoyable in these best riddles and puzzles, whether they are detective or crime-related, simple or complex.
Try to crack every riddle and train yourself. Good Luck!
Best Halloween Riddles For Kids
1. WHO IS THE WEREWOLF?
Walter called the police at night and said: A werewolf has bitten one of my sisters! But I don't know who!
The police soon arrived and interviewed Walter's sisters.
Police: Which one of you was bitten by the werewolf?
Andrea: It wasn't me, I never leave home at night.
Judy: I hate dogs, I wouldn't let one get close to me!
Kayla: I was with my boyfriend, we didn't see anyone.
Police: She must have already become a werewolf and tries to hide it.
Who is the werewolf? (see the picture carefully)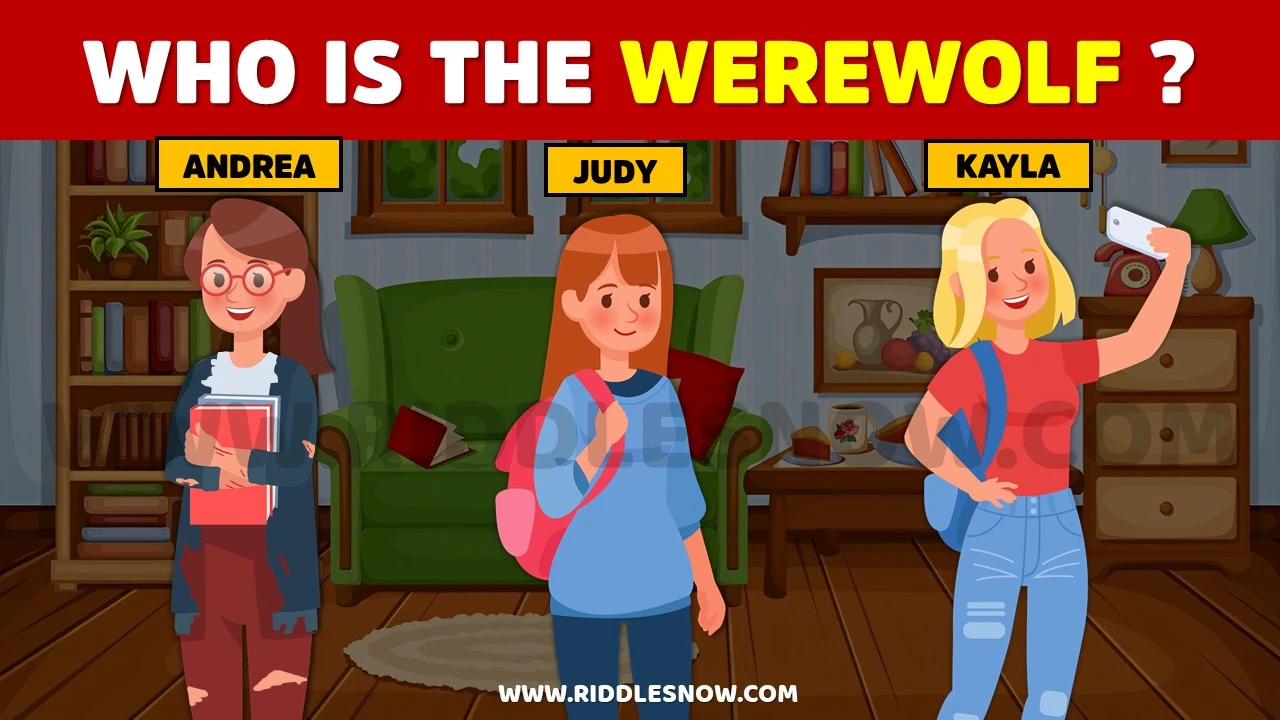 ---
2. WHO IS LYING?
Four kids went on their first trick-and-treating. When they met a guy. 15 minutes later the guy was found dead. You questioned the kids:
Evelyn: I was calling my mom.
Ethan: I went to the first house to trick and treat.
Ava: (Just kept crying)
Mia: I was munching the candies I got.
Who is lying?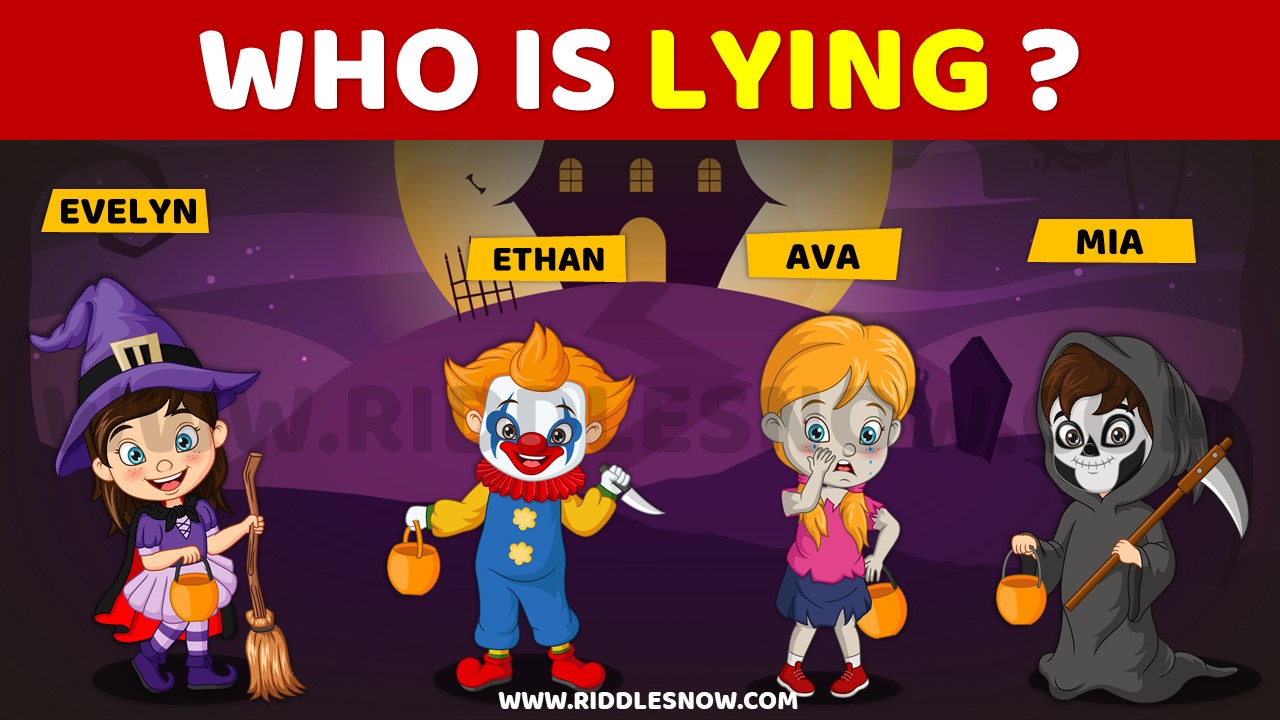 ---
3. WHO IS THE KILLER?
James decided to throw a party on the 31st of October. All his friends put on cool costumes.
Andrew dressed up as Freddy Krueger
Sofia was little red riding hood and had a beautiful red dress
Lucas was Rocky balboa with big boxing gloves
Amelia put on the costume of Morticia Addams
At midnight, Sofia was found dead. James had to call the police, though he already knew who the killer was.
Who is the killer? (See the picture carefully)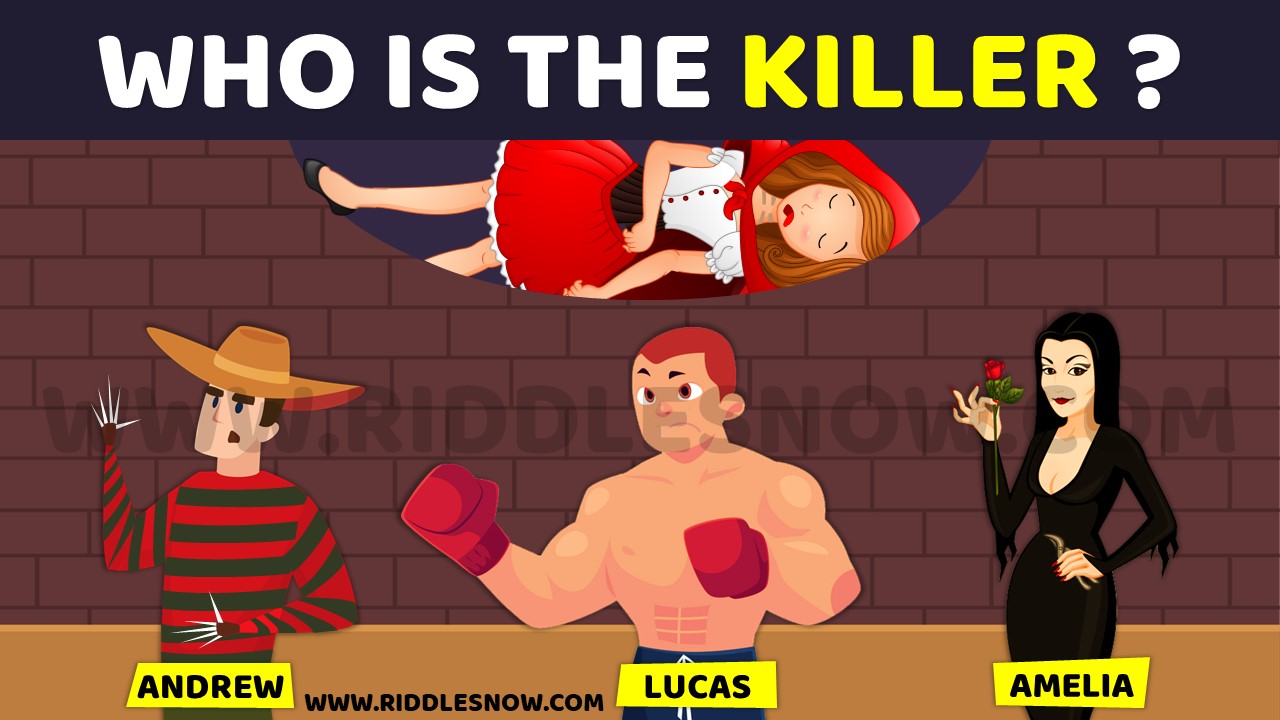 ---
4. WHO HAS A FAKE PASSPORT?
The local Halloween Costume contest starts tomorrow only for women! All the local ladies are getting ready for the event. The mayor has appointed you as a contest organizer.Your duty is to make sure everything goes smoothly. The contest has not even started and there are already problems! "FAKE DOCUMENTS"
A woman calls you late in the evening.
She says: One of the contestants is not who she says she is! She has a fake passport!
All right, let's check it out. You check all the passports and spot the fake ones.
Who has a fake passport? (see the picture carefully)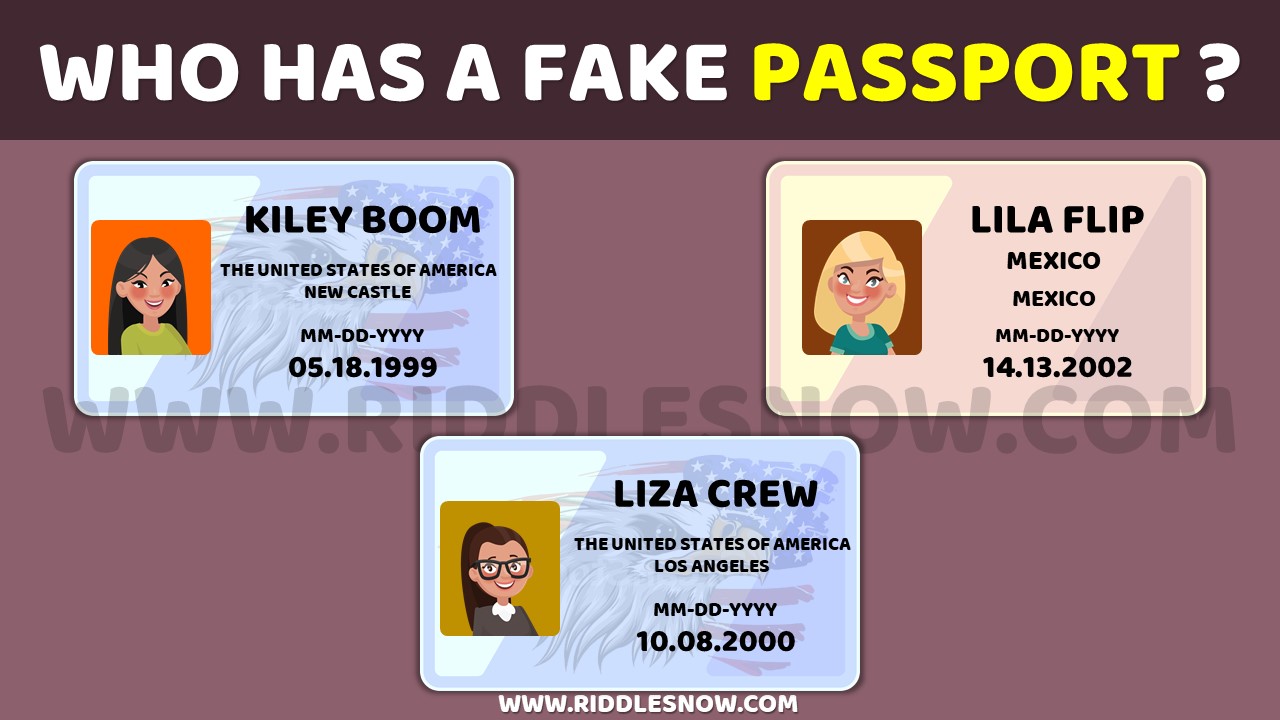 ---
Halloween Riddles with Answers
5. WHO STOLE THE BLOOD?
Mark worked as a security guard at a hospital. One day at 1:15 PM somebody stole all blood from the hospital.
Mark carefully watched the CCTV, but it didn't help because the robber was wearing a long cloak with a hood.
Mark knew the hospital was located in the peculiar zone where strange creatures lived. He went there and identified three suspects.
1. Glinda, Witch
2. Draco, Vampire
3. Eddie, Zombie
Who stole the blood?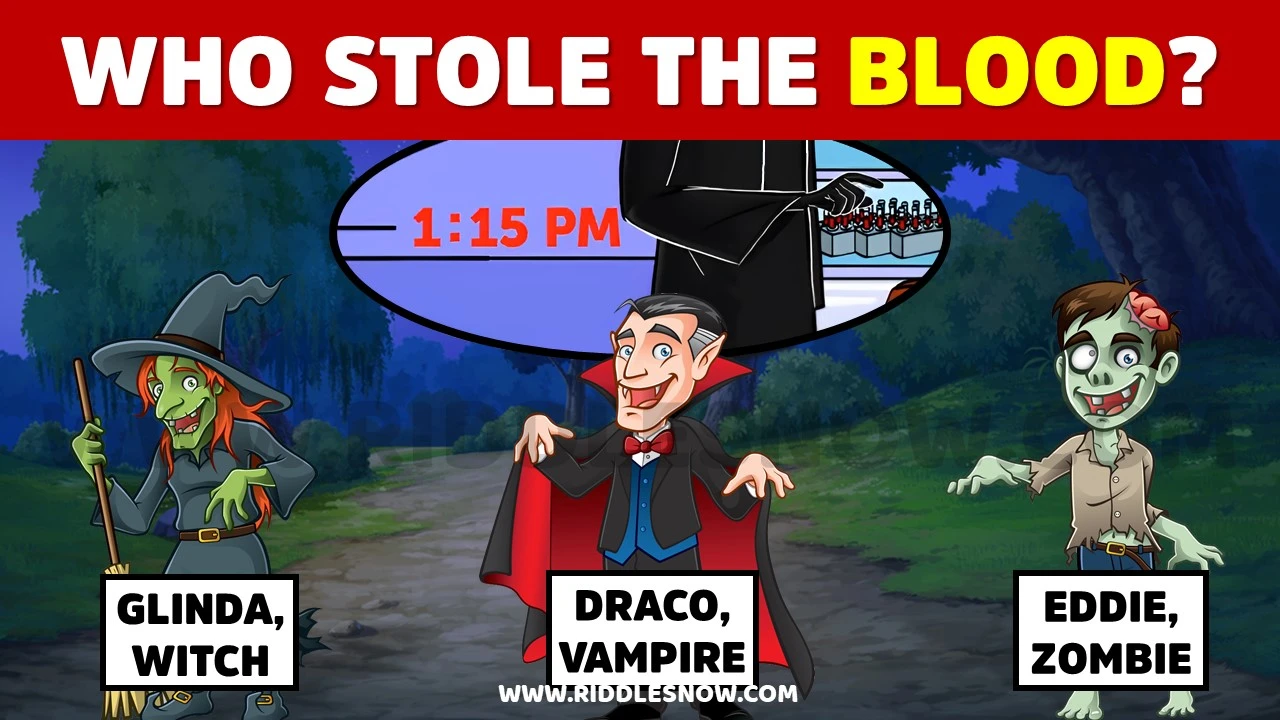 ---
6. WHO IS THE CRIMINAL AMONG THEM?
Getting away from the police, A criminal ran into a house where a Halloween costume party was going on. The criminal wore a costume and joined the crowd.
The police looked at these people and identified the criminal at once.
Now can you find who is the criminal among these people? (see the picture carefully and write your answer in the comment box below)
---
7. WHO DO YOU THINK HAS THE RIGHT DRESS CODE?
David is a successful businessman. He loves costume parties. He likes to have fun with lots of people around. He sent invitations out for a Halloween party.
And now, party day is here! David made a dress code, but there's a catch. He didn't say what the dress code was. Let's see if you are smart enough.
Who do you think has the right dress code? (see the picture carefully)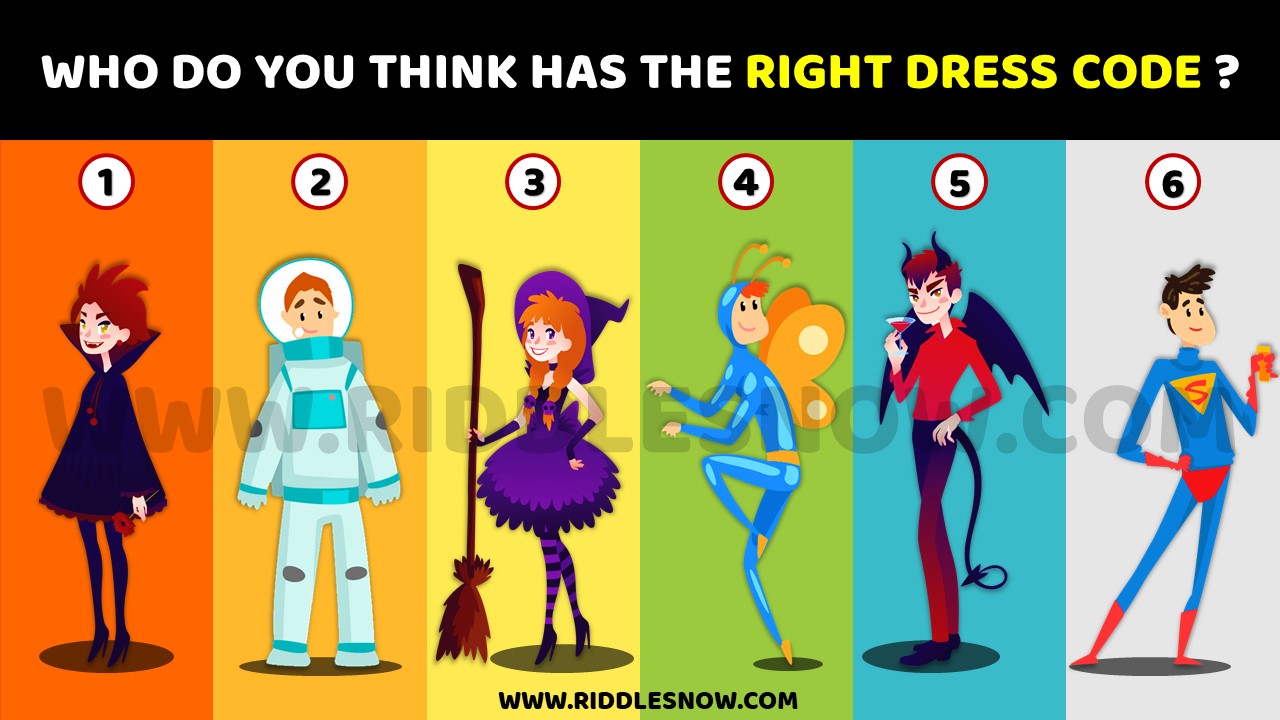 ---
8. WHO IS LYING?
Leon is a rich person. On 31st October he gave Halloween Party to all his friends in his Mansion. The party was fun.
Leon went into his office room with some friends which he made into his mansion. He wanted to show off his painting but one of his most valuable paintings had been stolen!
He looked at his surveillance cameras. He could see everyone that passed by his office.
Guest 1: I broke my arm right before the party. I got an x-ray and everything.
Guest 2: I collect Antique furniture. Why do I need a painting?
Guest 3: I was looking for the restroom, It's kind of an emergency… So I looked in every room upstairs.
Who is lying? (see the picture carefully)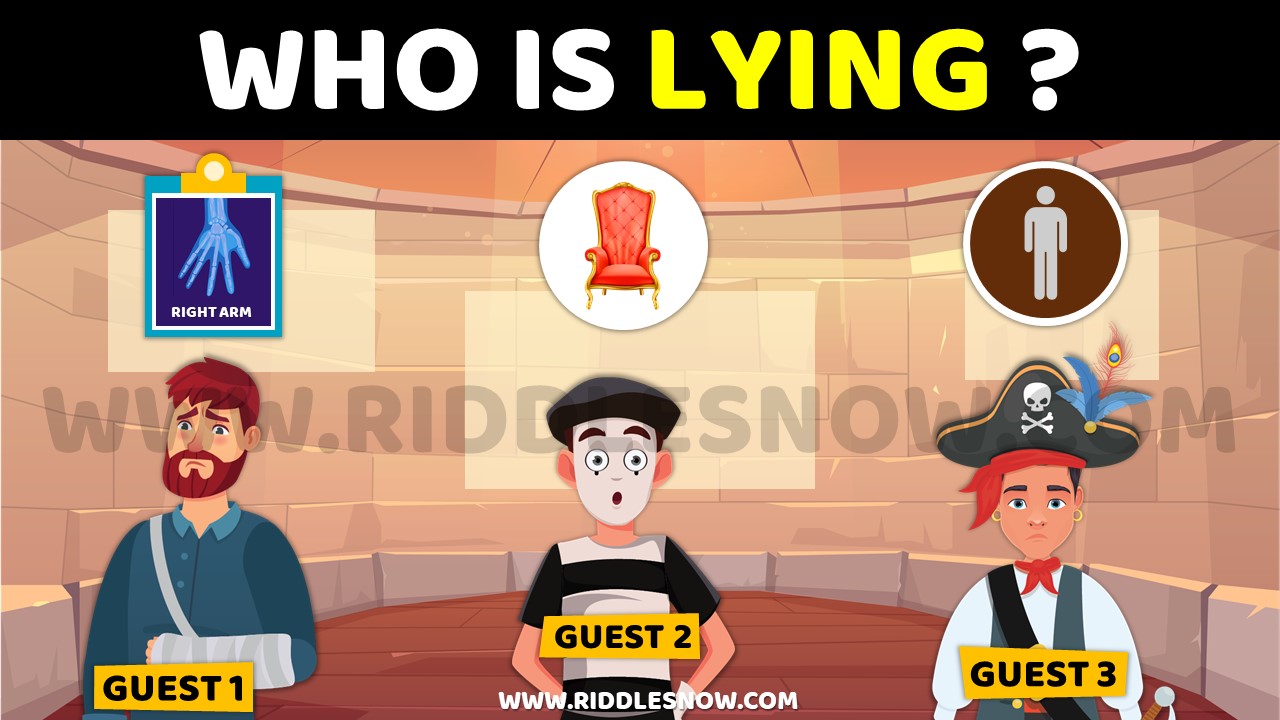 ---
Halloween Scavenger Hunt Riddles
9. WHICH DOOR SHOULD THE RAVEN CHOOSE?
Raven is a young Vampire. It was a full moon night she went for a walk in the forest to clear her headache, vampires have problems too!
Out of nowhere, a hurricane struck! Raven hid in an abandoned house and was suddenly trapped, The front door was blocked by a huge tree trunk.
Luckily there are three other doors but there's a catch.
The first door has a sound detector. One creak of the door and all room will fill up with garlic.
The second door has motion detectors as soon as you get inside a powerful UV lamp will come on.
The third door has a temperature gauge if the temperature goes up holy water will spray down from the ceiling and holy water kills Vampires!
Which Door Should Raven choose?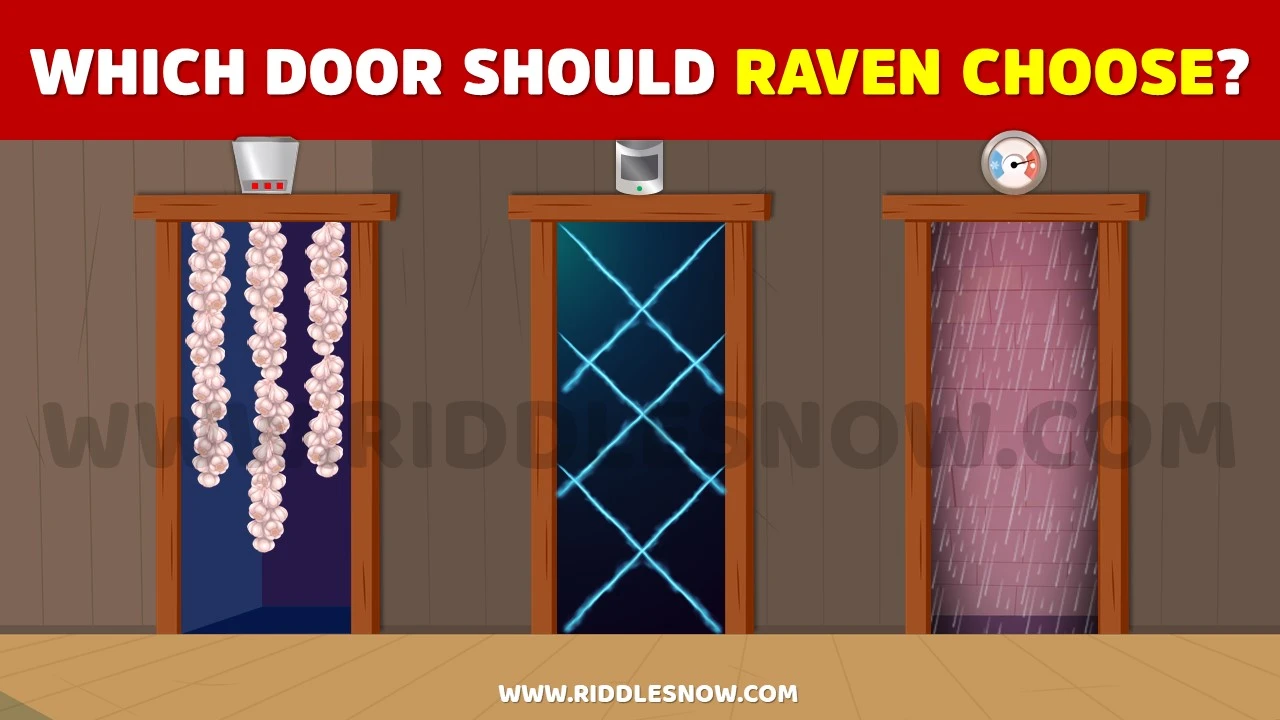 ---
10.  WHO SHOULD HE CHOOSE?
Jaxon lives in a city with lots of different creatures. like vampires, Zombies, Frankenstein, etc. One day, Jaxon's friend took him to a Halloween party.
The party was for everybody… Humans and weird creatures! Jaxon was hoping to find a girlfriend. There were a lot of girls at the party.
Jaxon liked 4 girls. He wanted to talk to one of them.
Who should he choose? (see the picture carefully)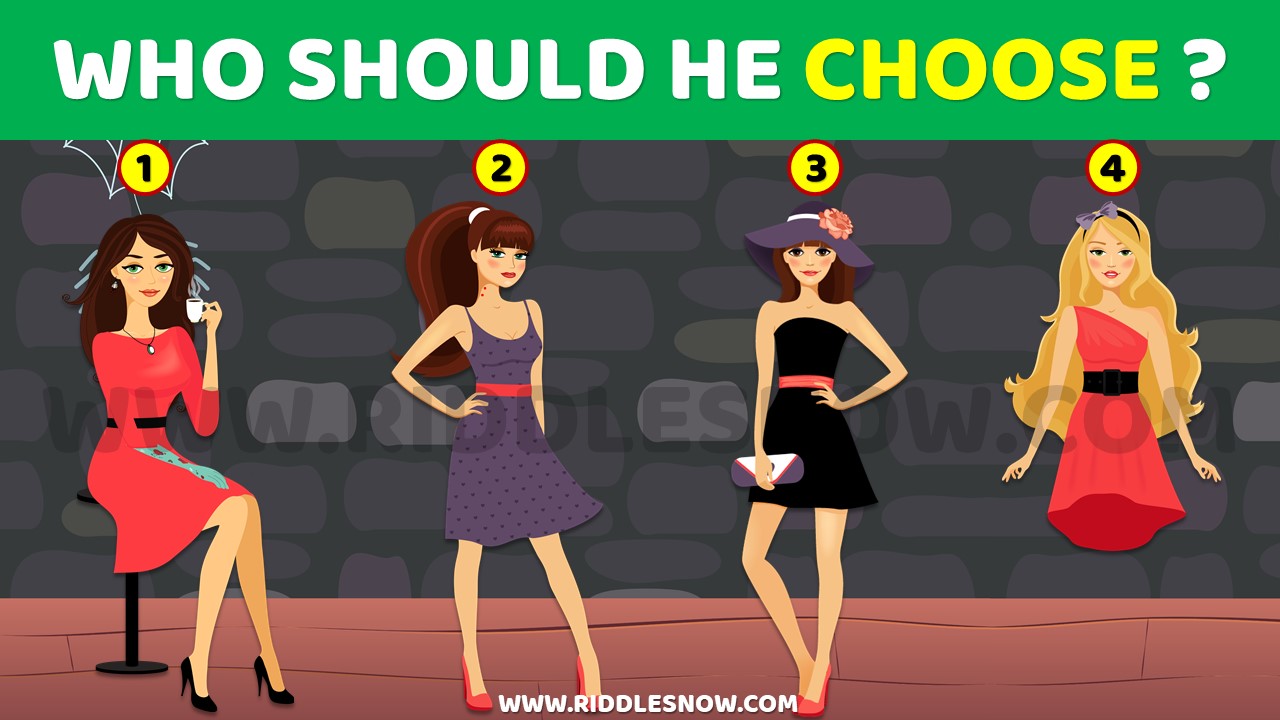 ---
11. WHICH ONE LIED?
Stella is a rich and spoiled girl. Her parents give her everything. She's throwing a Halloween party so she's gotta invite the most popular and the richest students from the school.
Everyone wants to be invited and impress Stella. First up, Stella's three classmates. They just got their driving licenses. They are gossiping about their new cars. They waved for Stella to come over.
1st Friend: My father wanted my first car to be special, so he gave me this one.
2nd Friend: Not my dad. He said since I was a beginner, He would give me a used car. This one!
3rd friend: My parents and I thought a big car would be best since I have so many friends.
Stella realized that one of her classmates was lying. She would not invite this person to her party.
Which one lied? (see the picture carefully)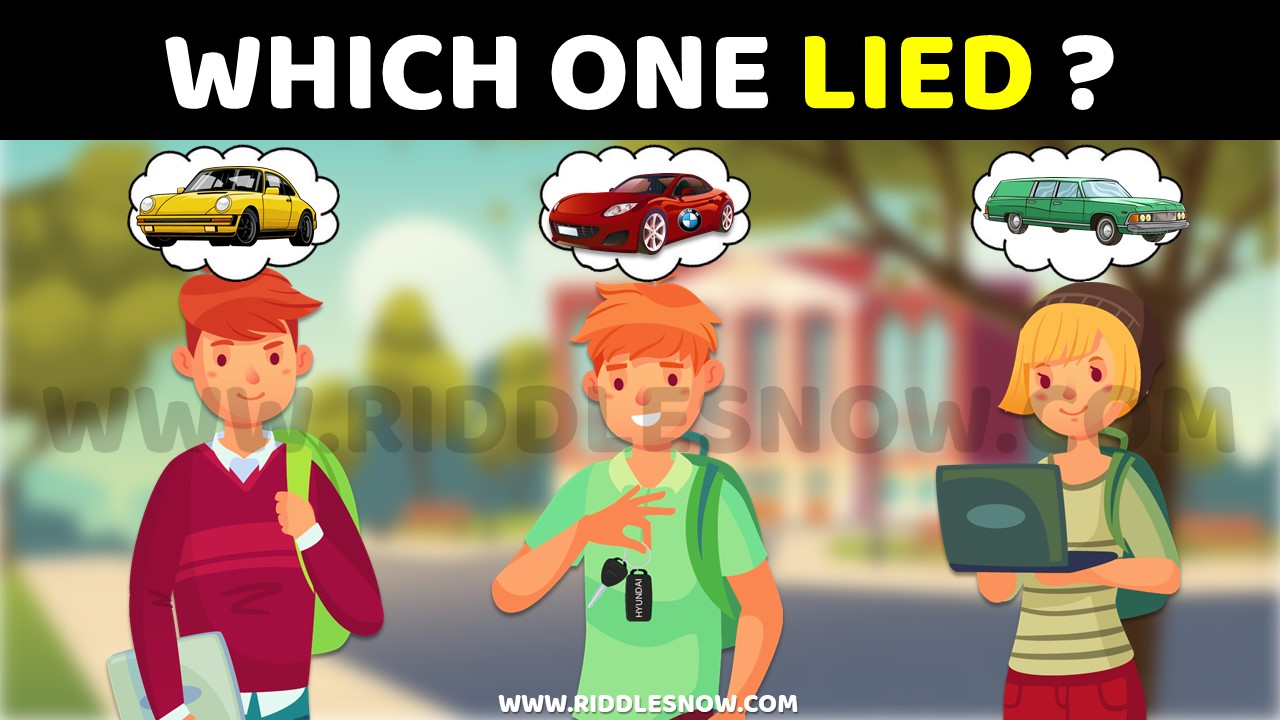 ---
12. WHAT SCARED THEM SO MUCH?
Ryan, John, Lily, and Ella Traveled around the country. One day they saw an abandoned house by the road.
Lily said: Looks like a ghost house! Let's check it!
Her Friends: Don't be silly, ghosts don't exist!
They all walked around the house talking polaroids but did not meet any ghosts in the house.
Her Friends said to Lily: We told you! There are no ghosts.
Lily: Look at these pictures!
Friends see the pictures and said: Oh no, get out of here!
Lily: Relax it's just a joke!
Friends: It's not about your joke!
What scared them so much? (See the picture carefully)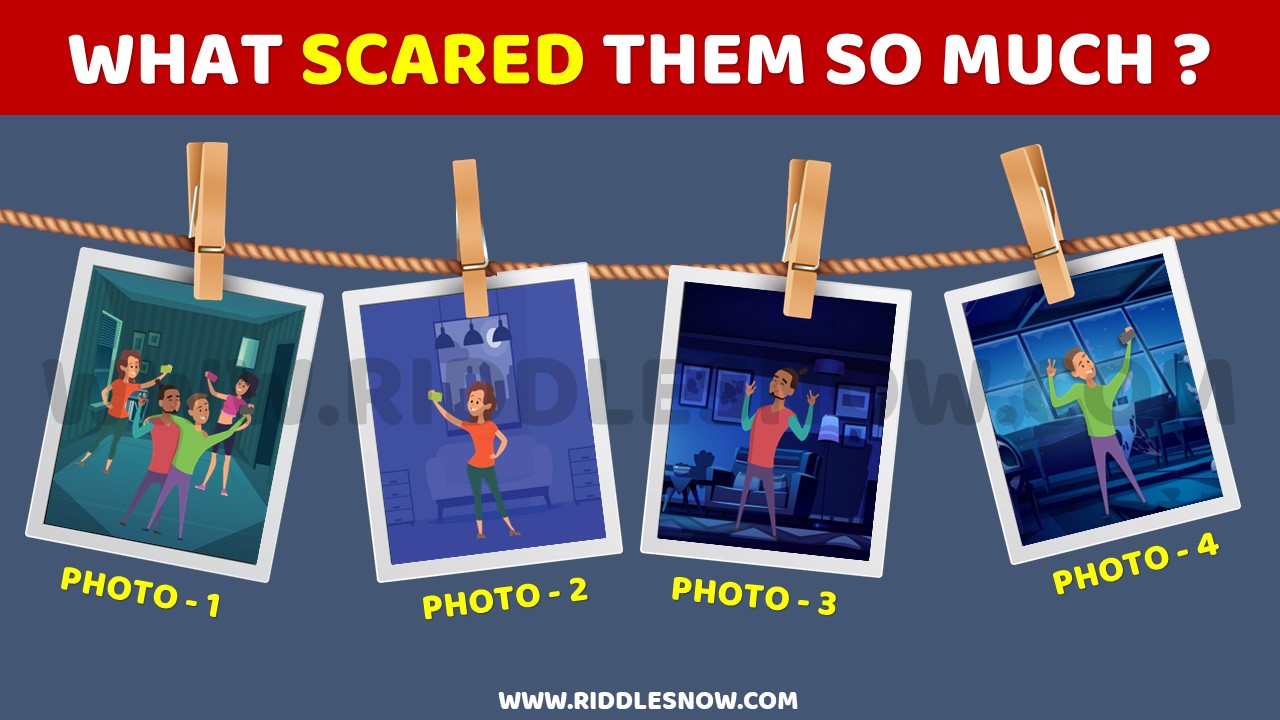 ---
Halloween Jokes and Riddles 
13. WHO KILLED EDGAR?
You found your friend Vampire Edgar in the bathroom with a stake through his heart. His roommates rushed to see what was going on.  You suspect one of them to be an undercover Vampire hunter.
Gabriella: It could not have been me. I was drinking the blood of my rival when I heard your scream.
Colton: I could not have killed, I was sleeping in my coffin!
Marcus: I was shaving when I heard you screaming. I glanced back into the mirror and saw a shadow run past. Maybe it was the murderer?
Who killed Edgar? (See the picture carefully)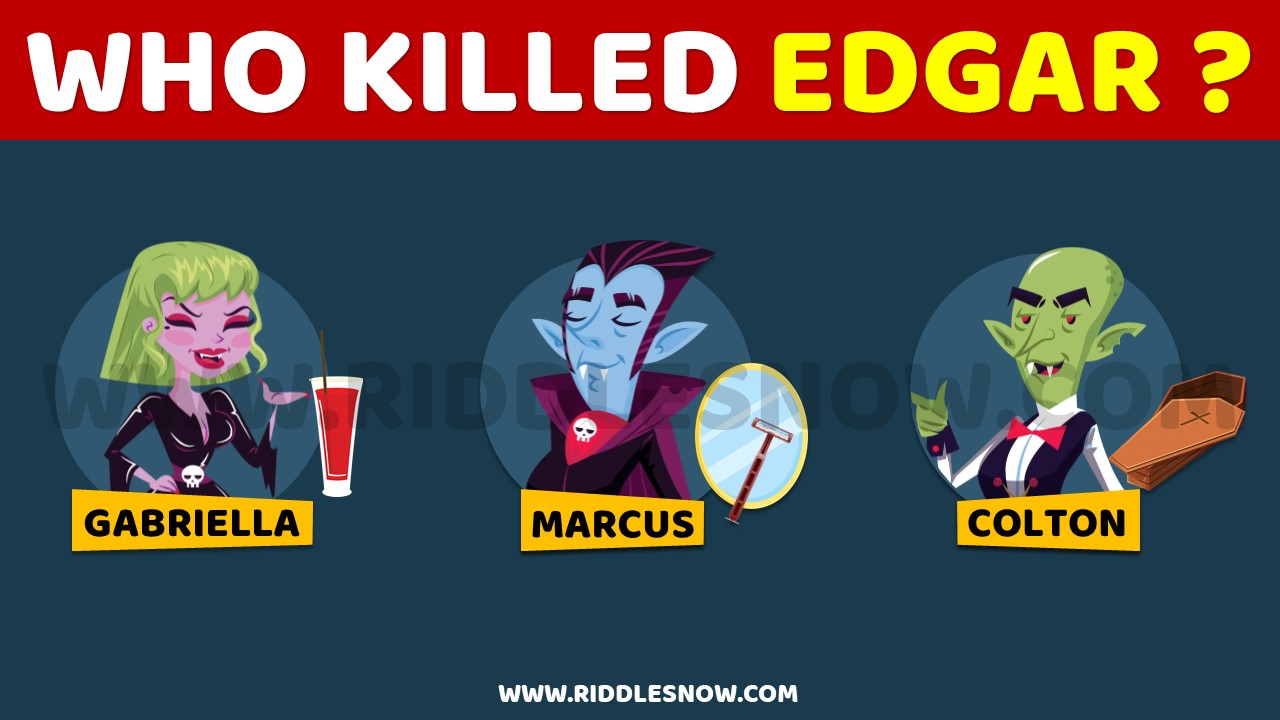 ---
14. WHO IS THE ROBBER?
Wilsons' house was robbed at night. They called the police. The police come and ask what has been stolen.
Wilsons': The thief stole the silverware, jewelry, gadgets.
Mrs. Wilson: They even ate our garlic soup and drank the milk!
Mr. Wilson: They even stole my new shoes!
The Wilsons' suspects their neighbors:
Vampire Marco,
Wolfman Aden, and
Cannibal Frank
Who is the robber? (See the picture carefully)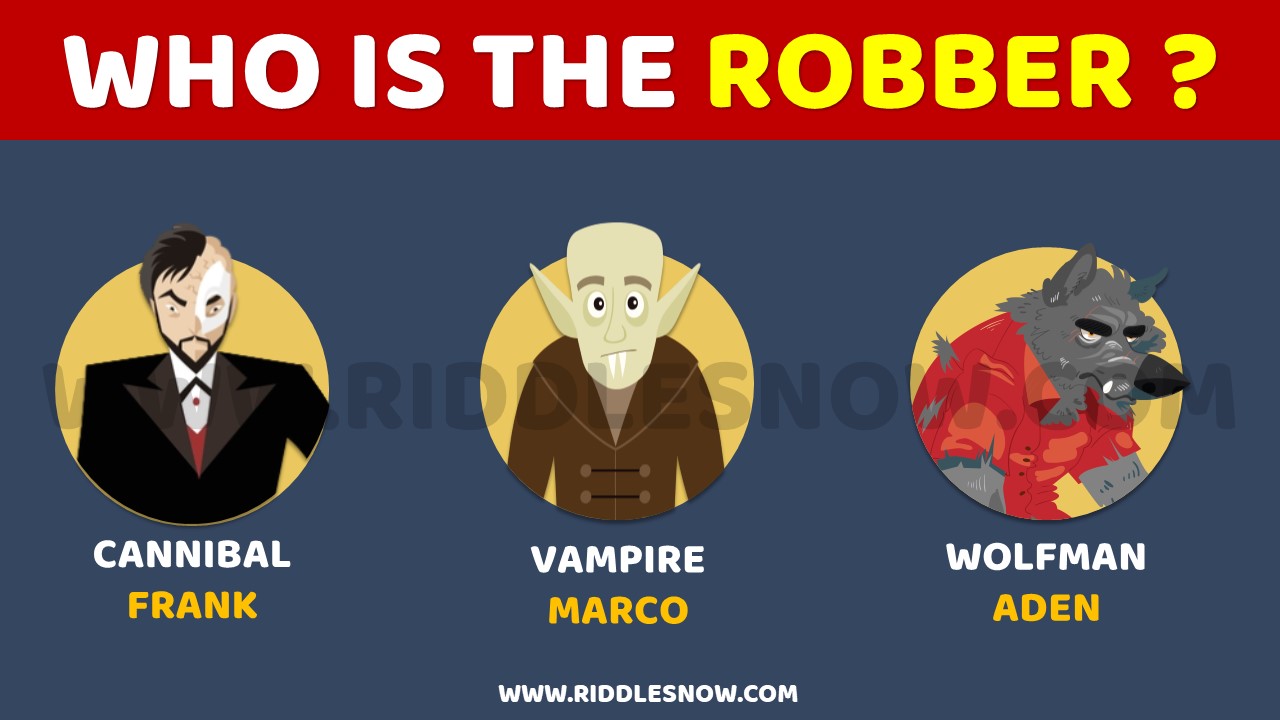 ---
15. WHICH DOOR WOULD YOU CHOOSE?
You turned into the Vampire but this is the least of your concerns. You are locked up in an abandoned house church. To escape, you have to pass through one of the rooms equipped with sensors.
1st room with Motion sensors: As you enter the room holy water will flow from the ceiling. One drop – and you are dead!
2nd room with Body heat sensor: If it changes by at least 1 degree you will be burnt.
3rd room with Sound sensors: As soon as activated the room will be filled up with Garlic. You will die immediately!
Which door would you choose? (See the picture carefully)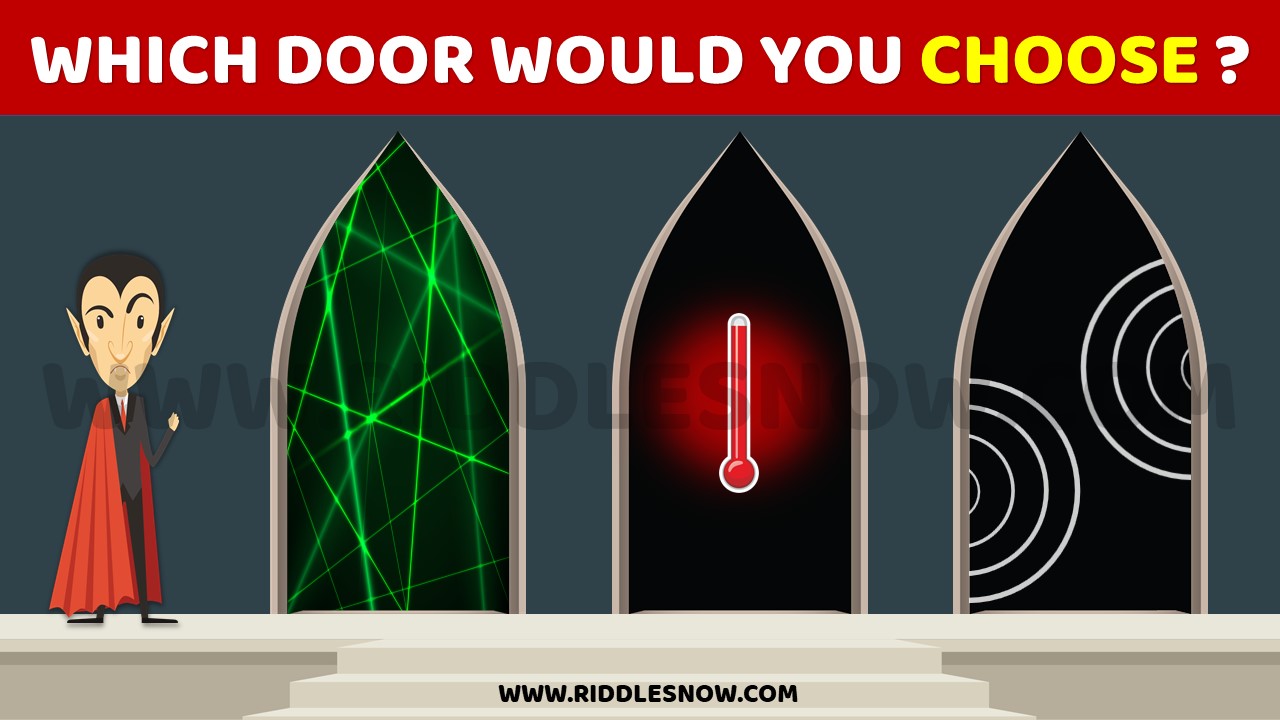 ---
Halloween Riddles For Adults
16. HOW DID ABBY UNDERSTAND HE WAS A VAMPIRE?
Abby got lost in the forest. She tries to find a way out till night. Finally, she came across a house and decided to ask for help. A nice old man opened the door and let her in.
Old man: I have been living here for many years and I know the forest well. In the morning I will show you the way, and now you should have a rest. Let me show you your room.
Abby: Oh no, he is a Vampire! I need to escape!
How did Abby understand he was a Vampire? (See the picture carefully)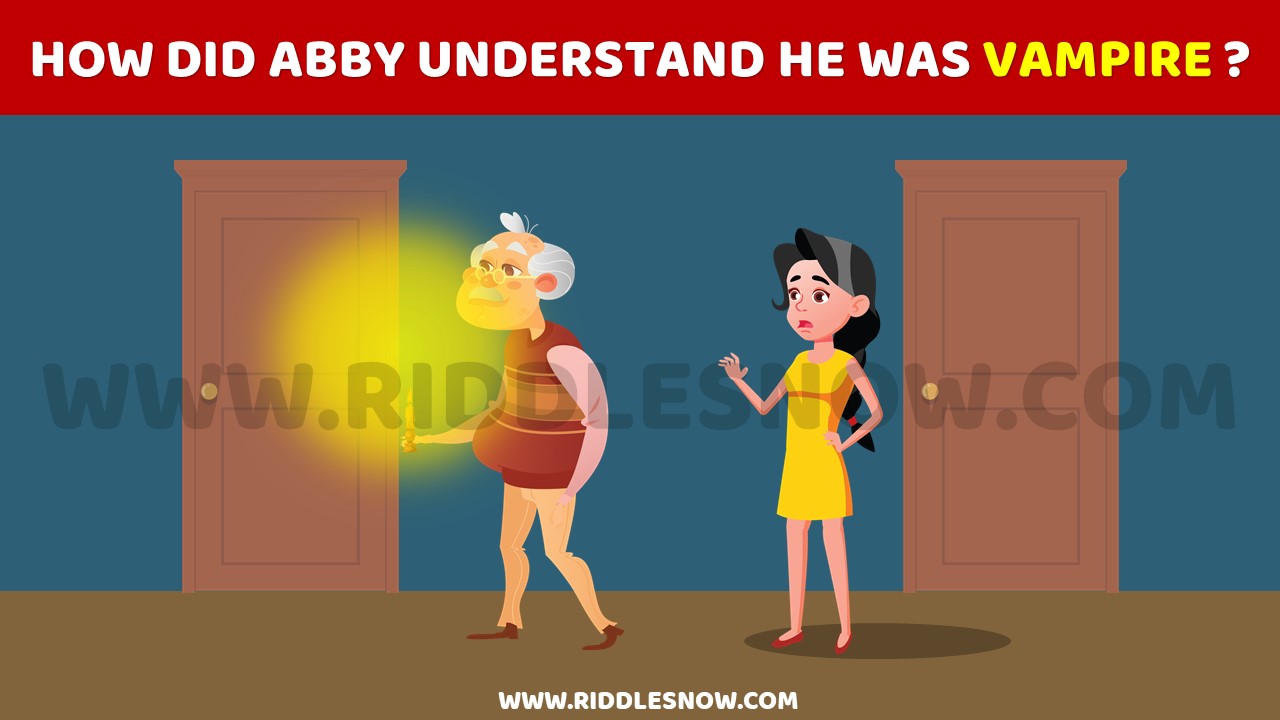 Other Riddles:
---
17. WHERE DID HE DISAPPEAR TO?
Milo loves Vampire movies. Today he is watching a very exciting one! Suddenly a Vampire jumped out of the TV right into Milo's room!
However, Milo did not lose his head. He ran for the aspen stake hidden in the kitchen. The Vampire ran after him. Milo ran to the terrace, The Vampire kept up.
Milo braced himself for a fight and turned around but the vampire was gone!
Where did he disappear to? (See the picture carefully)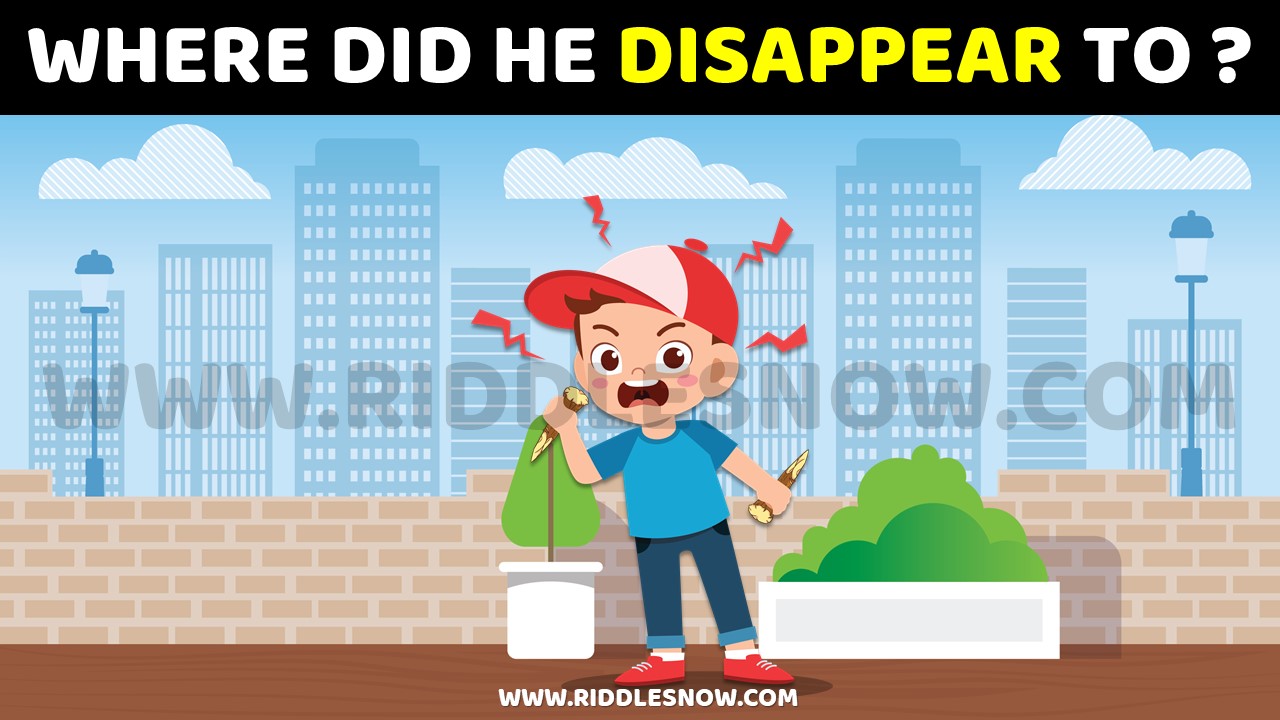 ---
18. WHY TONY DIED?
Tony turned into a vampire! He got bitten today in the evening.
Tony thinks: How can I get home? They will immediately understand who I am? but today, mom is cooking a chic dinner. I will go and hide somewhere in the corner.
Tony arrives at his house and sits down to have food. The dinner was really fancy! There were the most expensive dishes and delicious Turkey.
As soon as he ate a dish with the spoon. Suddenly, Tony's throat began to choke during dinner.
Tony Mom's: What is it with you? Call 911!
but Tony died before the ambulance arrived.
Why? (See the picture carefully)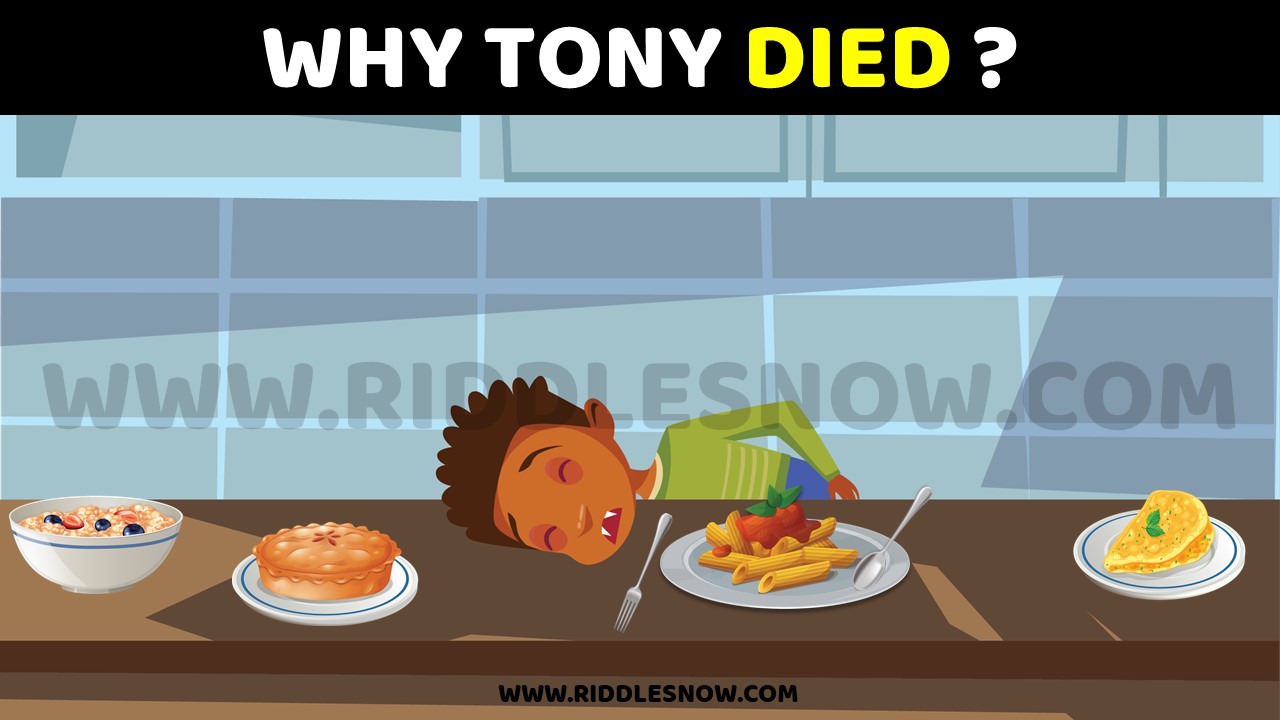 ---
Scary Halloween Riddles
19. WHO IS THE VAMPIRE?
Adam and Julia woke up because their son was crying.
Adam asks his son: Sunny, What Happened?
Son: A vampire tried to kill me! I remembered his face and made a drawing of his face. look!
Adam and Julia questioned the staff in their house.
Cook says: I was drinking tomato juice in the kitchen.
Maid says: I was trying a new lipstick.
Butler says: I was watching the night show.
Who is the Vampire? (see the picture carefully)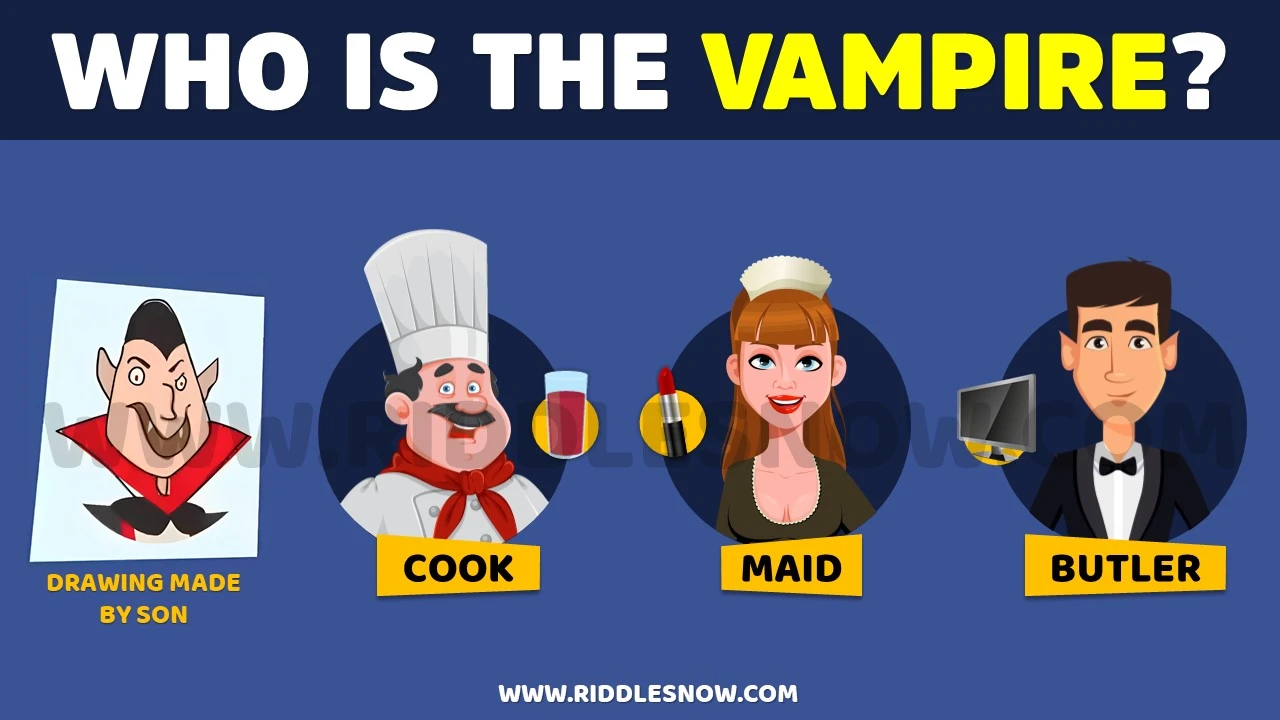 ---
20. WHO ARE THE KILLER AND KIDNAPPER?
5 People got a Halloween party.
Monica – 29, dressed up as a Witch
Evan – 32, dressed up as Vampire
Maya – 30, dressed up as Devil
Ken – 25 dressed up as Frankenstein, and
Cody – 27 dressed up as Mad Clown
One of them is going to kill another person. One is going to kidnap another person.
You have a few clues to find them:-
1. The kidnapper and killer are not of the same gender.
2. The 1st letter of the kidnapper's name is M.
3. The oldest person is involved.
4. The hostage and kidnapper are of the same gender.
5. The killer has the shortest name.
Who are the killer and the kidnapper?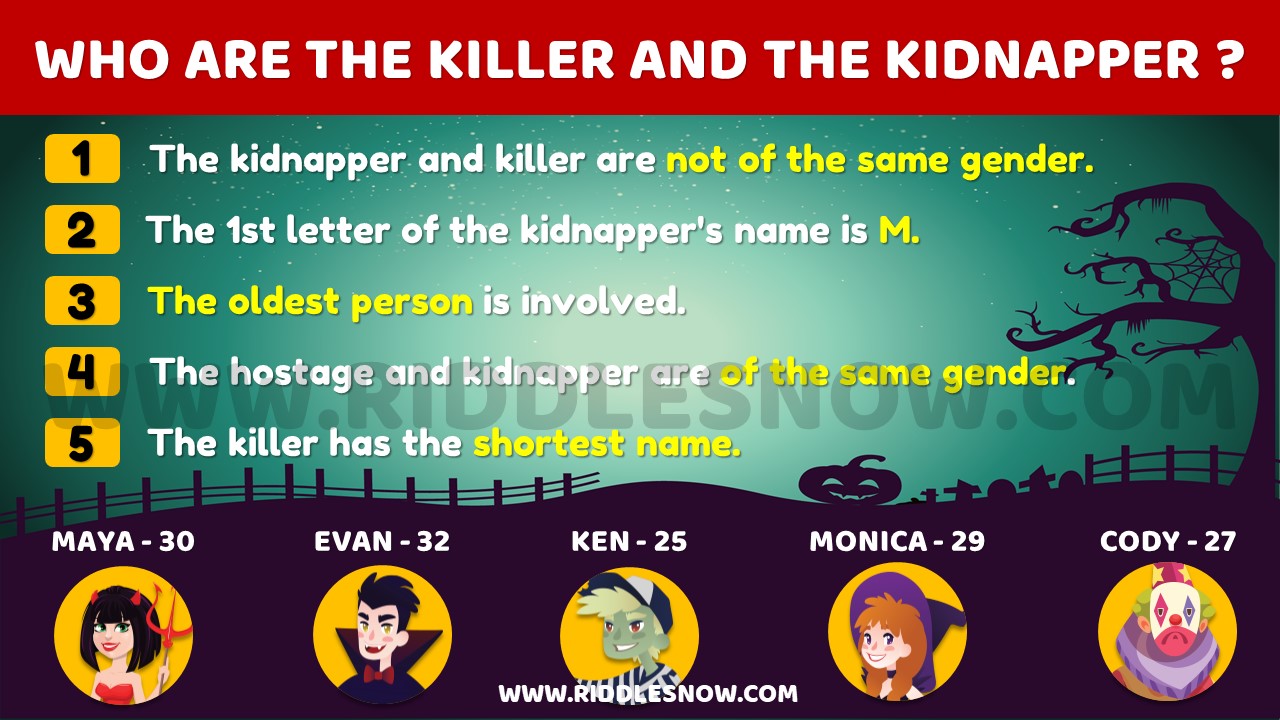 ---
21. WHICH TWO SHOULD HE CHOOSE?
Peter woke up early and had breakfast. He wanted to go shopping that morning. He lived in a mythical town full of supernatural creatures.
There were Vampires, Werewolves, and Zombies. These creatures were not friendly at all. Each time Peter left the house he had to protect himself.
His backpack was small and could only carry 2 weapons.
Here's what Peter had:
A Buzzsaw,
A gun with silver bullets,
Ninja stars,
Garlic, and
A knife
Which two should he choose?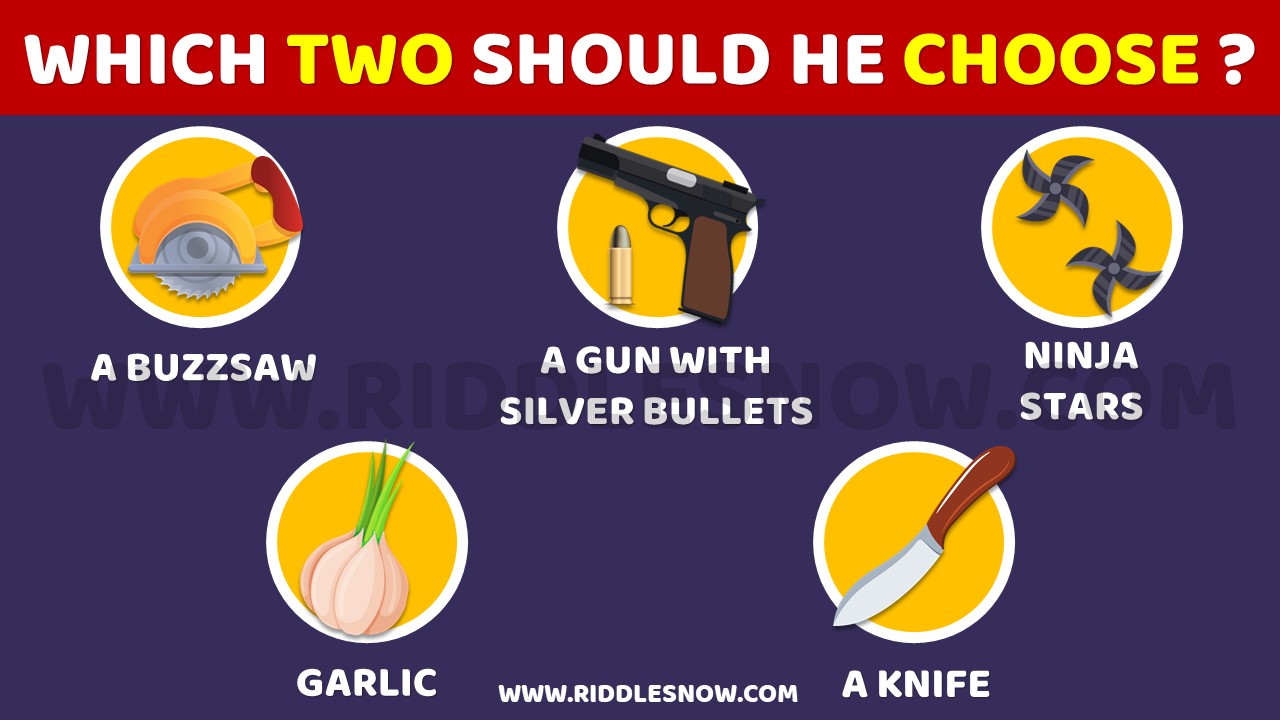 ---
22. WHAT METHOD DID HE CHOOSE?
Sam went to a magic school. The teachers, staff, and students were all magical creatures. He was a student, all the teachers loved him. He could conjure any spell, no matter how hard.
One time, a teacher asked the students to figure out how to give eternal life to a regular human without using a single spell!
Sam was so talented that he immediately raised his hand and gave an amazing answer.
The teacher was stunned by his quick thinking!
What method did he choose?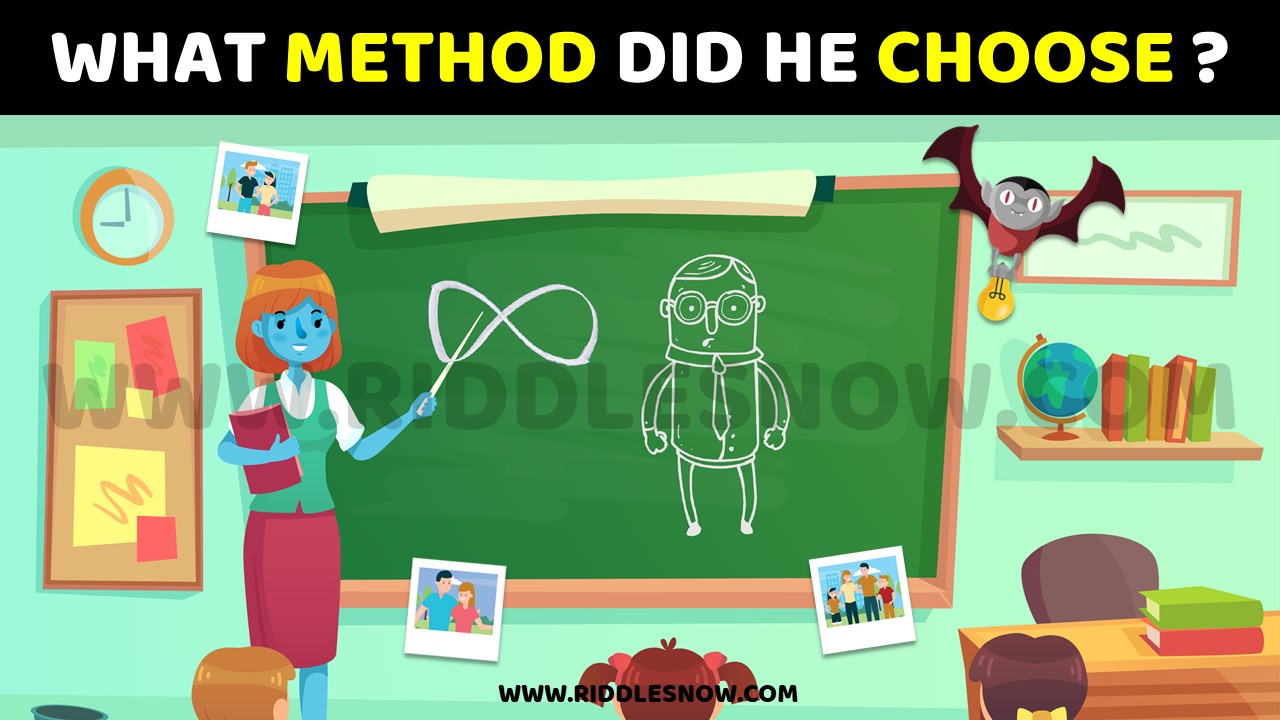 Other Riddles: Halloween riddles with answers
So, how many Halloween riddles with answers did you solve? please tell us in the comment box and SHARE these tricky riddles, scary and creepy riddles, and riddles to solve, with your family and relatives.
WATCH MORE RIDDLES ON OUR YOUTUBE CHANNEL.
Frequently Asked Questions on Halloween Riddles
1. Why Halloween Riddles are Important For Kids?
Answer: Halloween riddles are important for kids because they help them develop their ability to think, understand and make the right decisions. Furthermore, these riddles inspire children to learn more about Halloween and get involved in the game.
2. What are some of the Halloween Riddles For Kids?
Answer:  Some of the Halloween Riddles For Kids are who's the werewolf? Who is lying? Who is the Vampire? Who has a fake passport? and many more.
3. What are some of the Halloween Riddles For Adults?
Answer: Some of the Halloween Riddles For Adults are Who is the killer? Who stole the blood? Who is the robber? Who are the killer and the kidnapper? and many more.