Test your survival expertise with a set of 14 difficult riddles room! Sometimes we have to face sudden conditions. It's life, you may by no means know what is going on to occur subsequently. But you may prepare your self and know what to do in excessive conditions. So you should definitely read these riddles room puzzles and trivia to enhance your survival expertise:
1.

HOW CAN BRYAN OPEN THE DOOR?
One day suddenly, a fire broke out in Bryan's office. All employees rushed to the street. In a hurry, Bryan and some of his office colleagues got stuck in a room. there was a door, but it was locked. There were 7 buttons of different colors on the panel. there was also a clue to the password but all buttons are of the same size and shape.
How can Bryan open the door? (see the picture)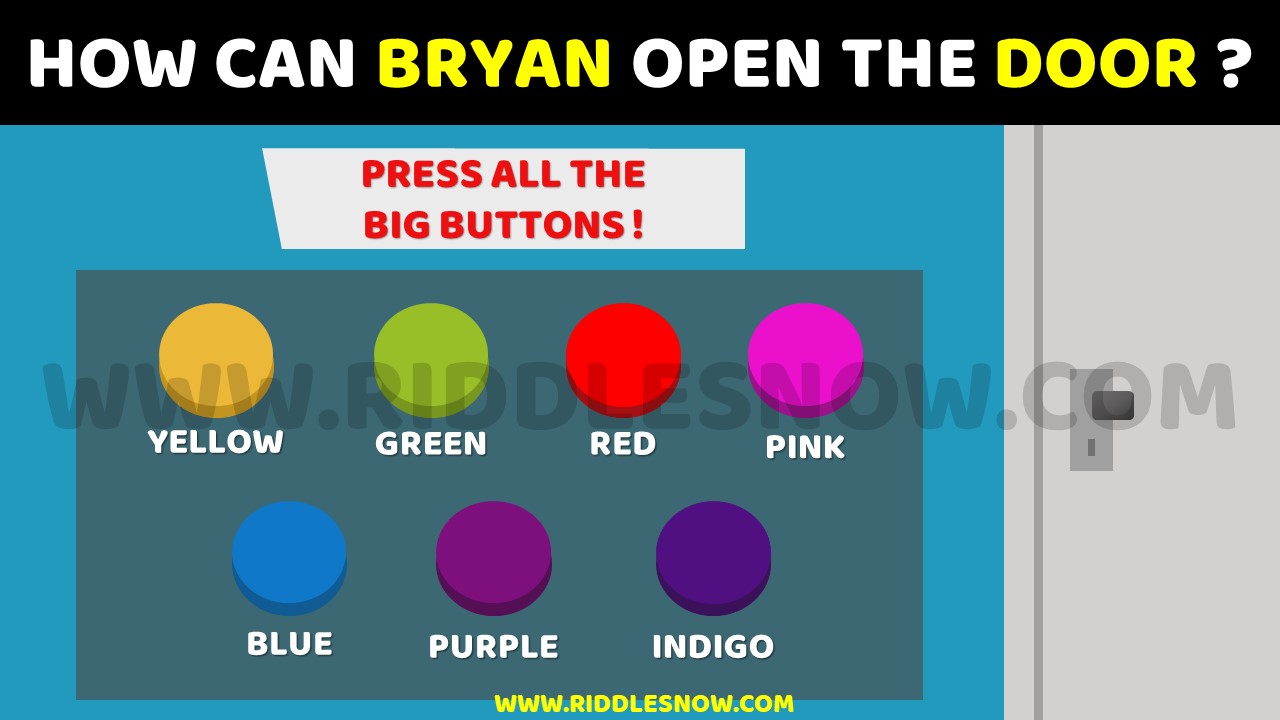 ---
2.WHICH DOORKNOB WOULD YOU TURN?
You are locked up in the room. There are three doors, but touching the doorknobs is unsafe.
In the 1st doorknob, there are High voltage fatal of humans
2nd doorknob, Red Hot iron that will burn your hand and
in the 3rd doorknob, Poison deadly when injected
Which doorknob would you turn?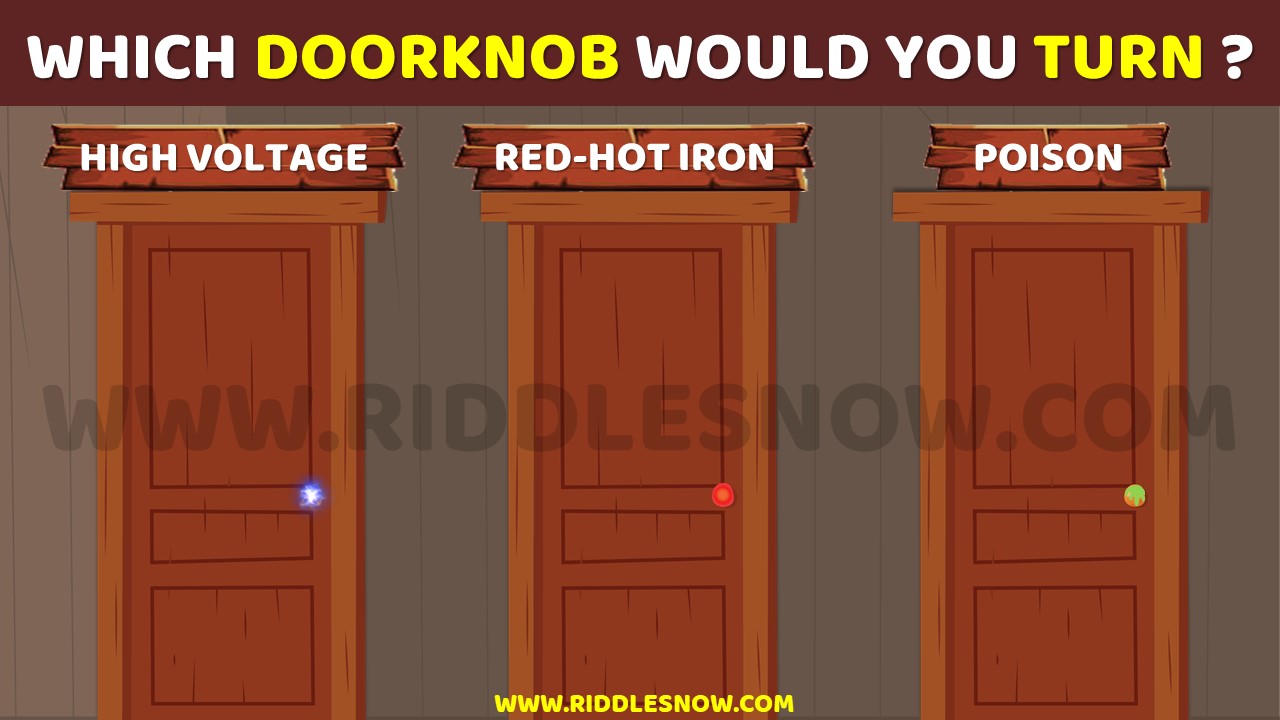 ---
3. WHO WOULD YOU GET RID OF?
You are traveling in a hot air balloon which started falling down quickly. Thre are several people in it:
1. Your Grandmother who will leave you $1000000 after her death
2. Your best friend
3. Your Ex who cheated on you with your best friend
4. $500000
Who would you get rid of?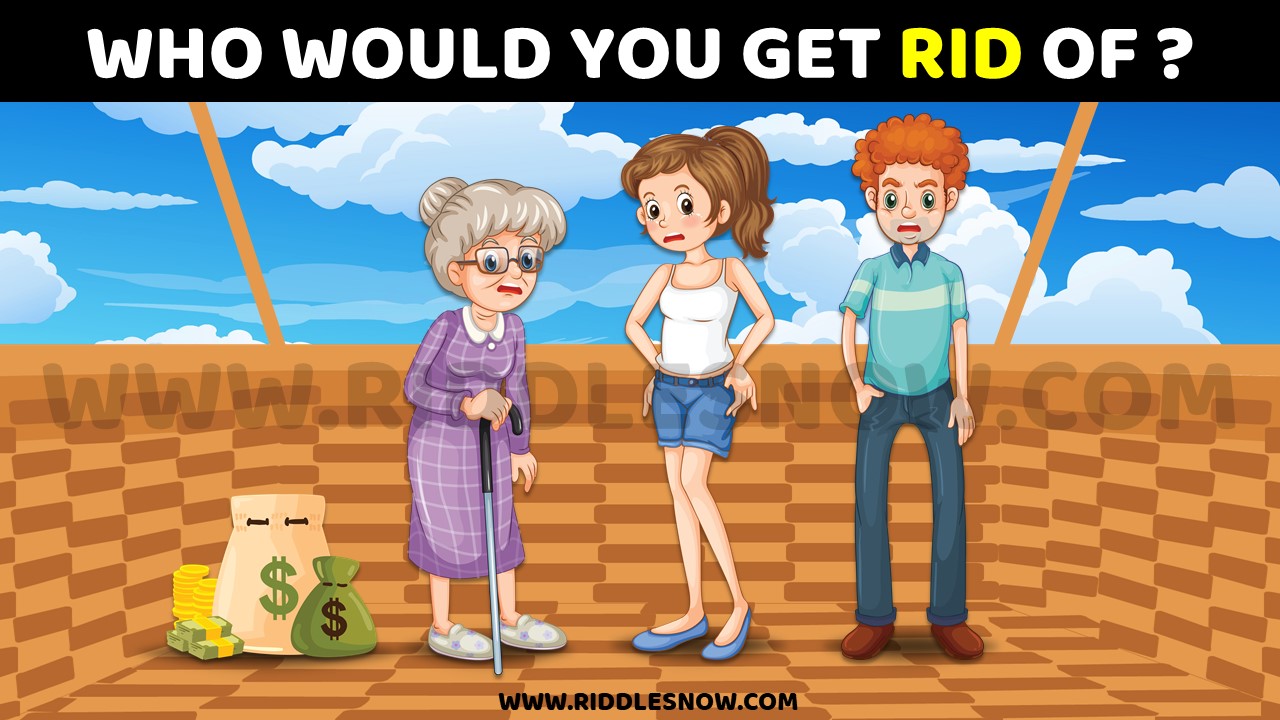 ---
4. WHICH BUS GOES TO MEXICO?
Mike was going to spend a great time at sea and go to Mexico by bus. Unfortunately, he lost his ticket and forgot which bus he was to go by.
Which bus goes to Mexico? (see the picture carefully)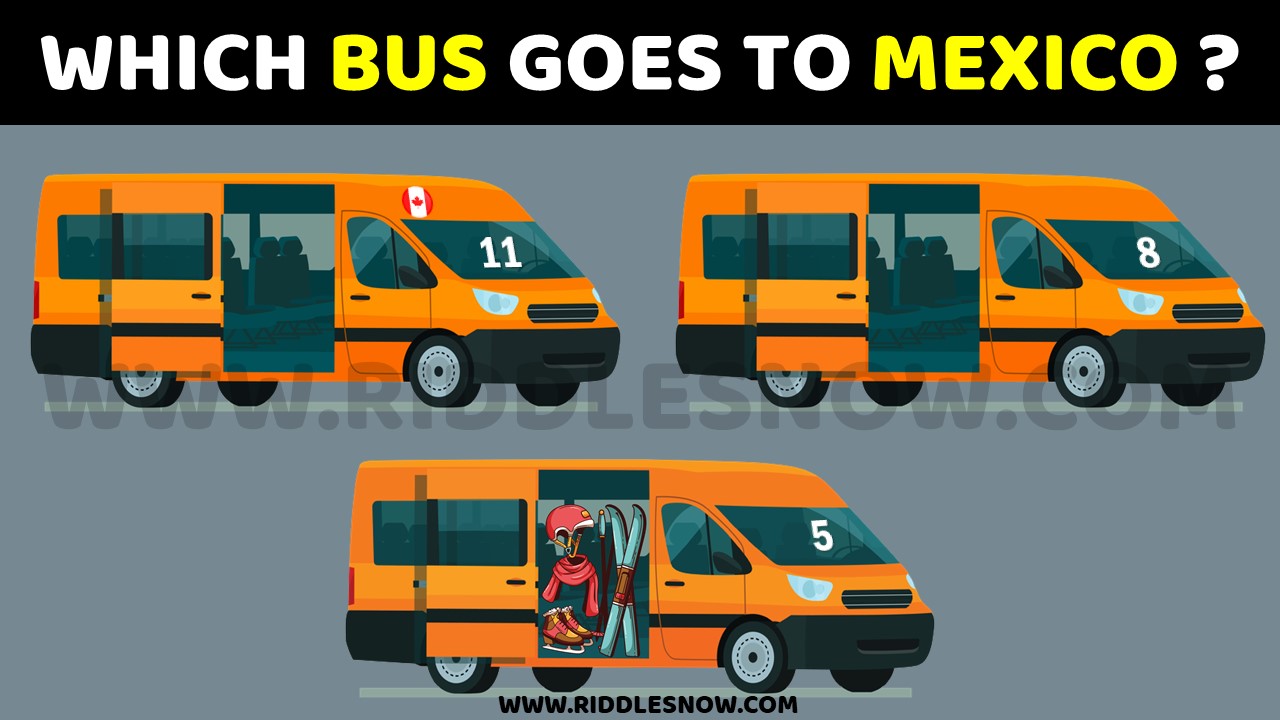 ---
5. WHICH TANK IS SAFE?
You are taking a part in a reality show but it turned out to be a murderous trap, where your life is at stake. You have to dive into one of four tanks:
1st tank is full of poisonous snakes,
2nd tank is full of electric eels,
3rd tank is full of corrosive acid and,
4th tank is water infected with cancer
Which tank is safe?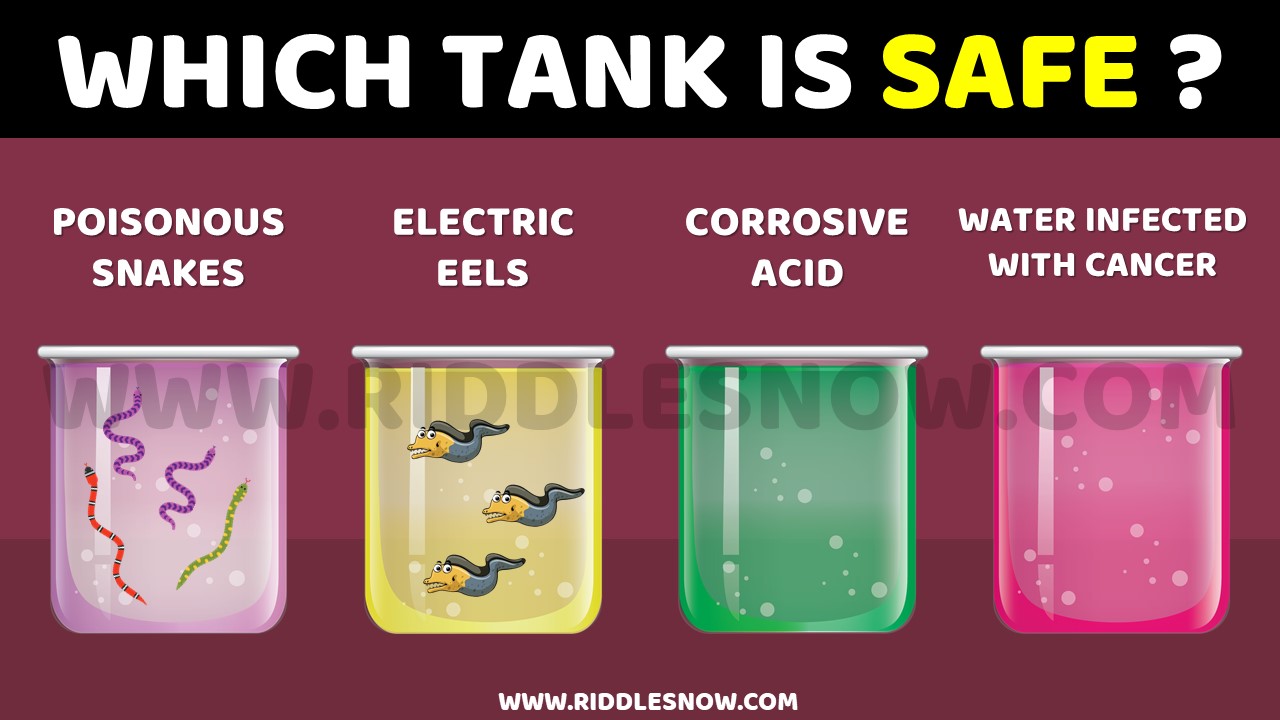 ---
6. WHICH TANK IS SAFE?
You are kidnapped by a mad scientist. Who's going to experiment on you. He has injected a new drug into your blood and suggests being thrown into one of the tanks.
in 1st tank, there is a corrosive acid that will burn your skin.
2nd tank is the lava out of the largest volcano which erupted a year ago.
3rd tank toxic chemicals that will kill you.
4th tank mercury that will destroy your brain.
Which tank is safe?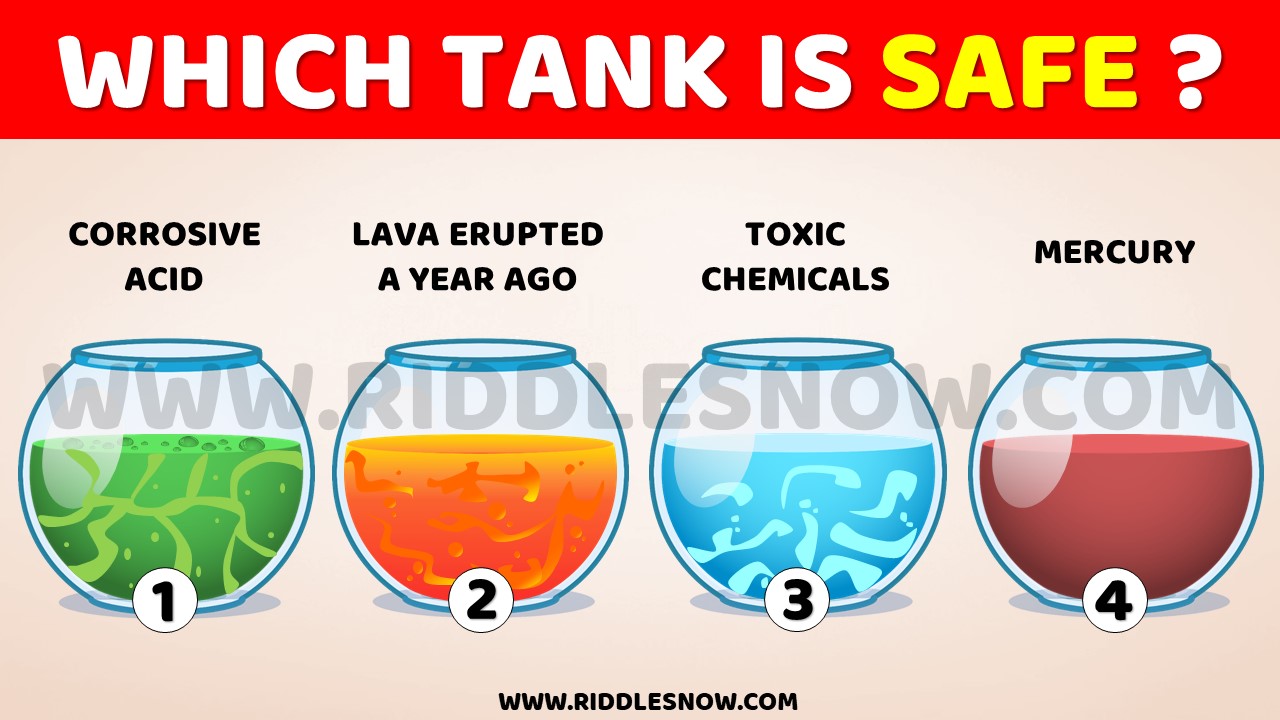 ---
7. WHAT WOULD YOU CHOOSE?
You woke up in the middle of the desert. Fortunately, you saw a magic lamp by your side. You rubbed it, a genie came out.
Genie says: I am old and can't grant any wishes but you can choose one of these magic artifacts.
The Magic bag that can always give you food and drinks.
The Seven leagues boots
Cerebro that will let you penetrate into the mind of any person, For example, "A search team".
What would you choose?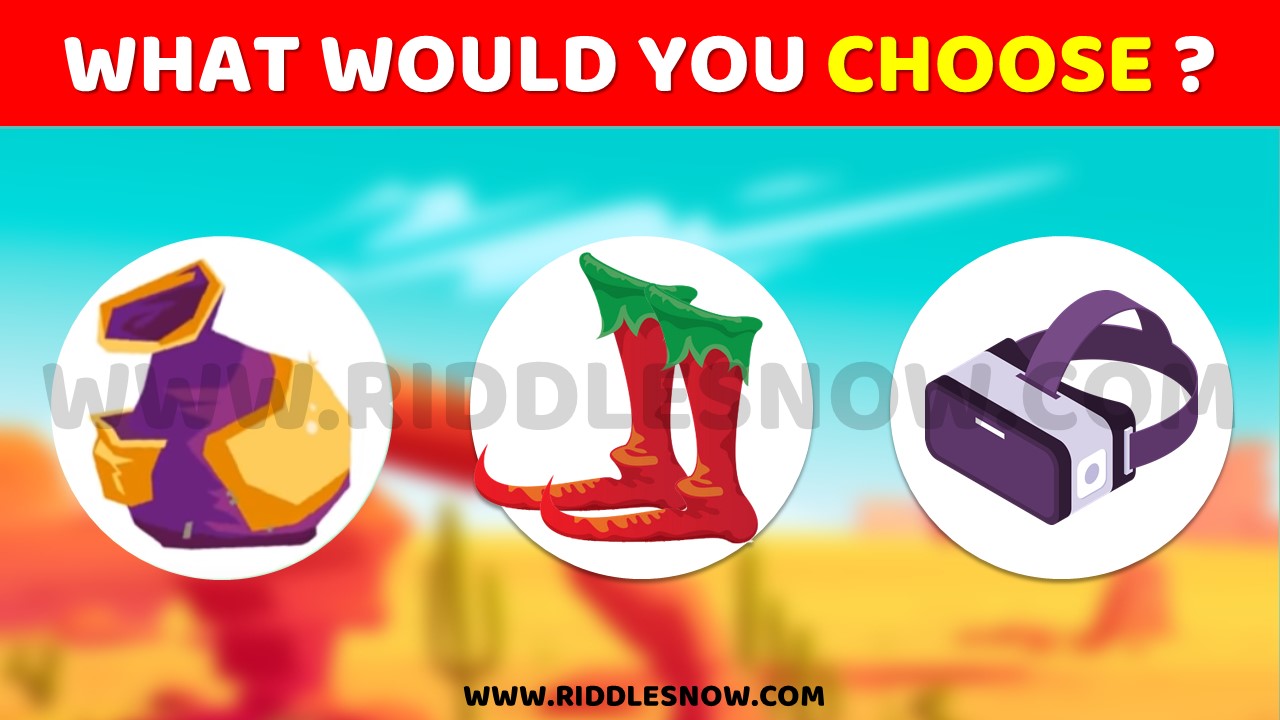 Other Riddles:
---
8. WHICH REFLECTION SHOULD YOU CHOOSE?
You lost your way in the forest and suddenly saw a castle full of mystical creatures. There are four mirrors on the wall. Only one of them reflects the human. He can help you get out of here. The others are the dark creatures who will kill you.
in 1st mirror is a Frankenstein
in 2nd mirror is a Vampire,
in 3rd mirror is Skeleton, and
in 4th mirror is a Zombie.
Which reflection should you choose? (see the picture carefully)
---
9. WHICH SHORE WOULD YOU CHOOSE?
You are in the open sea on a sinking raft.  Suddenly you see two islands not far from you. You have enough strength to reach one of them. However, you can see that the shore of the first island is full of pirates with guns and swords. You don't know if they are gonna be friendly or not.
On the other shore, you see a tribe with bows and arrows. You don't know if they are gonna be friendly or not.
Which shore would you choose?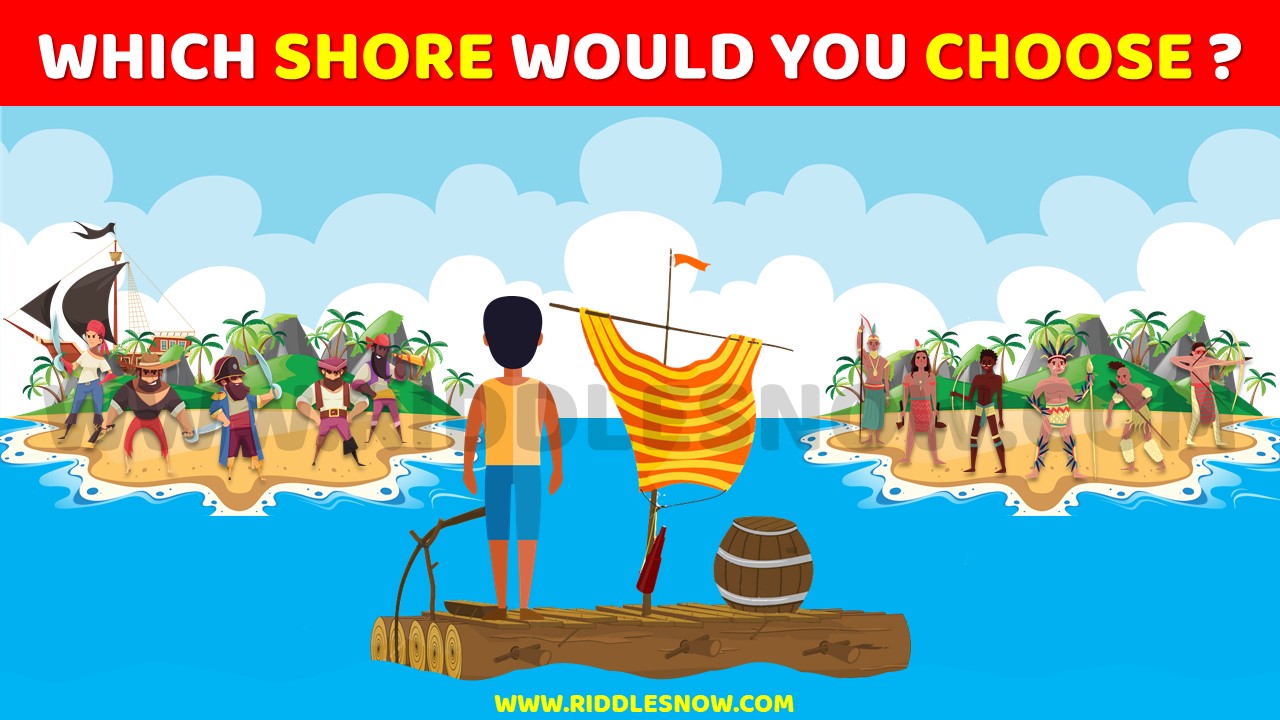 ---
10. WHICH BAG HAS MONEY?
You inherited an old house from your rich uncle. When you were exploring the cellar you came across a door and opened it. In that room, there were three bags. One of the bags has $1 million cash and the others are empty. There is a message on each bag.
1st bag, The cash is not here,
2nd bag, The cash is not here, and
3rd bag, The cash is in the second bag
Only one message is true.
Which bag has money?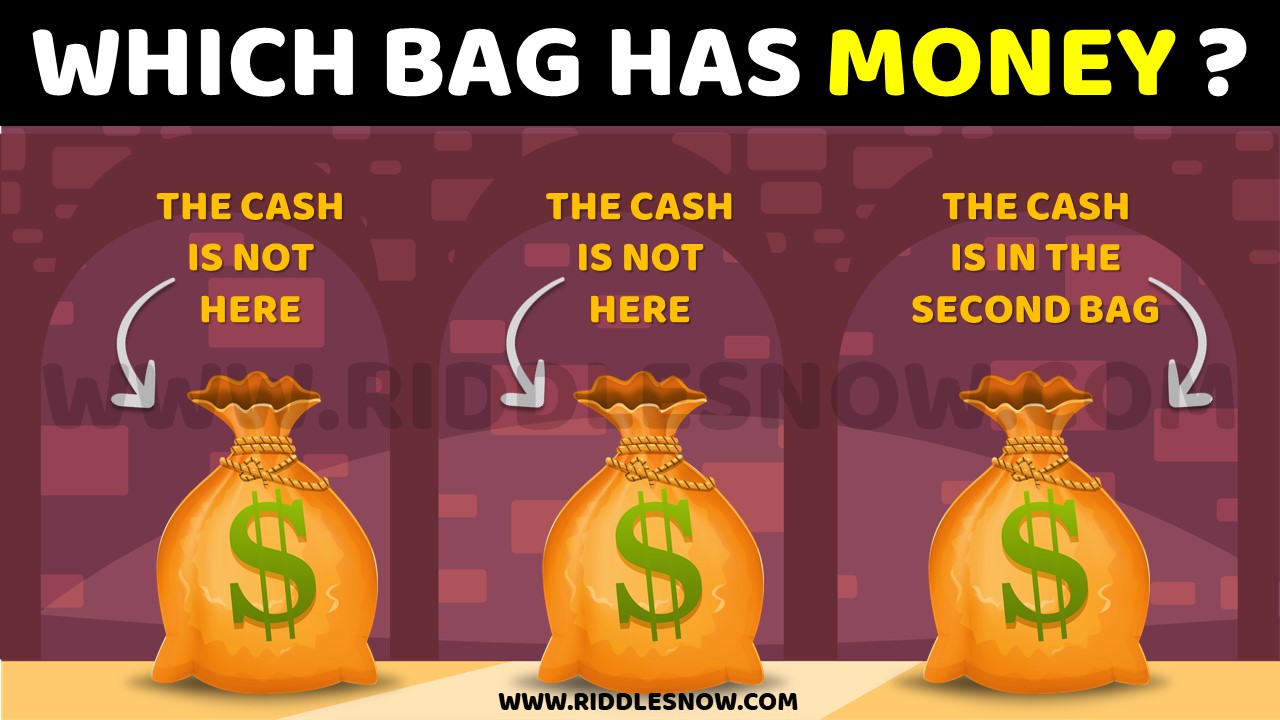 ---
11. WHICH PILL WOULD YOU USE?
A crazy chemist kidnapped you and locked in his lab. He is going to experiment on you. You managed to get out of his office taking three pills away with you. Each of them works for 10 seconds and gives you a superpower.
Green Pill: Superspeed and regeneration
Red pill: Invisibility
Blue pill: Ability to fly
You have to pass through Three doors guarded by monsters.
Which pill would you use to pass through each door? (see the picture carefully)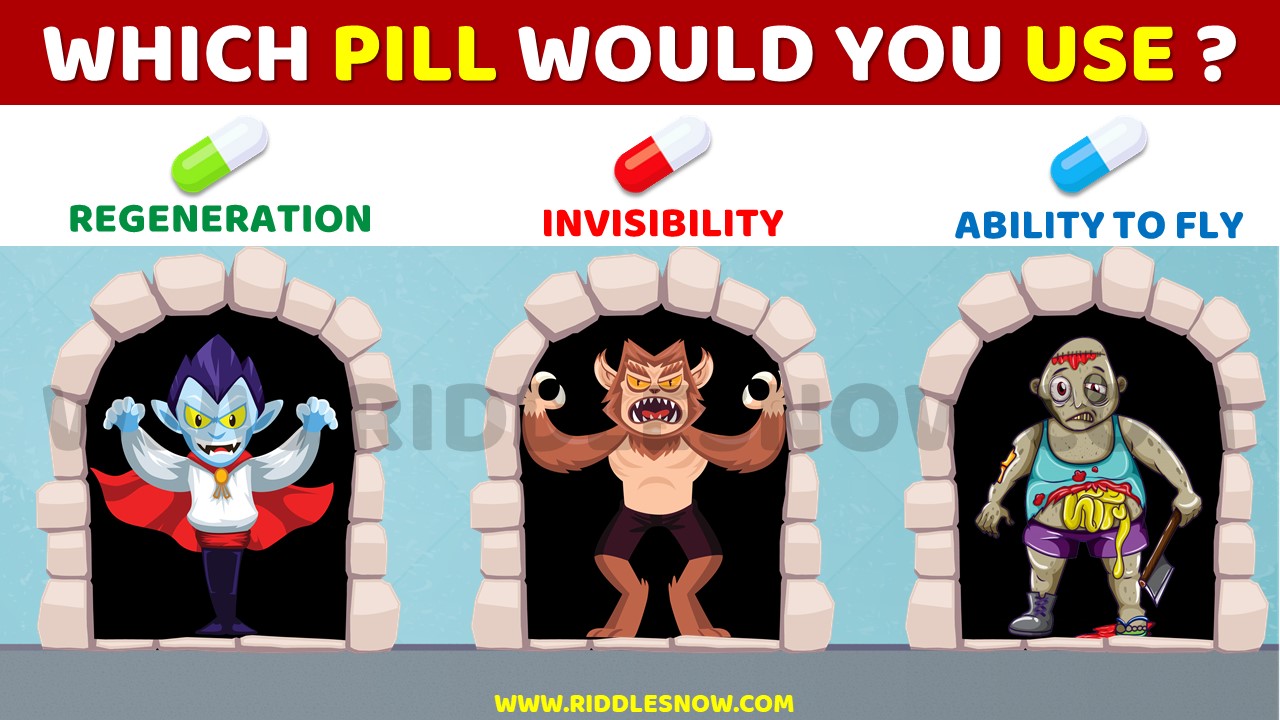 ---
12. WHAT WOULD YOU DO?
You were walking along the street when the sirens went off. You knew that the signal meant a nuclear attack. Everybody rushed to the only bunker and soon it was overloaded with people. You failed to get in. The nuclear bomb was to explode in 5 min. So you had to act fast to survive. There were several ways out:
Dive into the river,
Runaway as fast as possible, and
Hide in a deep pit.
What would you do?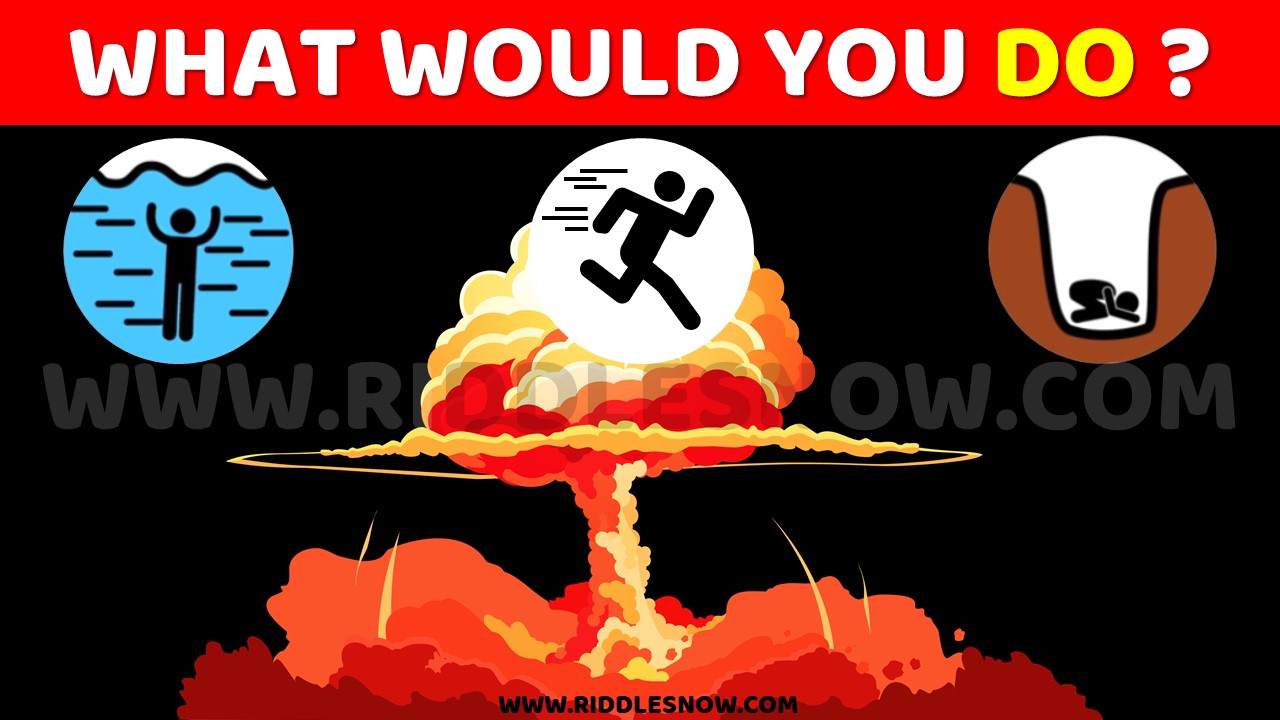 ---
13. WHICH DOOR IS SAFE?
One morning, little Mary got trapped in a castle in Costa Rica. There are 4 doors, and one leads to freedom.
1st door: Lava will immediately melt anyone.
2nd door: The killer clown would beat any person to death.
3rd door: Deadly frost will freeze her at once.
4th door: Cops will shoot any man or woman indiscriminately.
Which door is safe?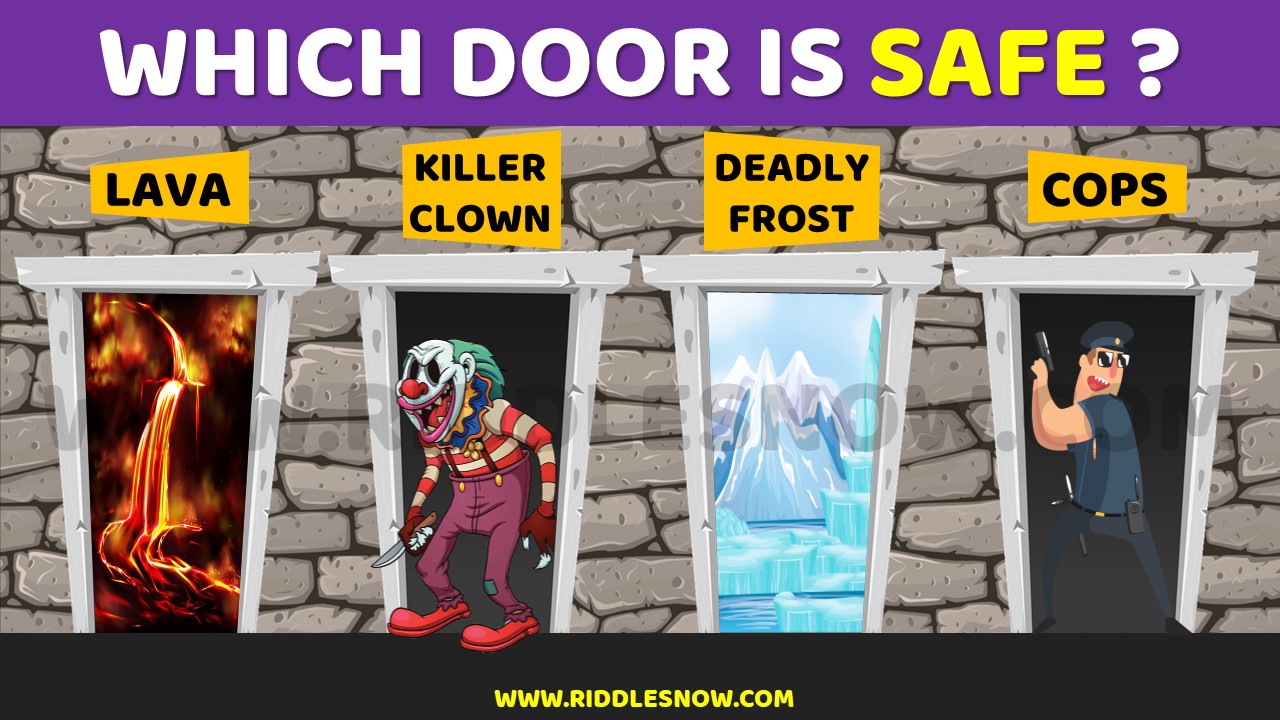 ---
14. WHICH ONE IS SAFE?
You are captured by a maniac who decided to play a game with you. You are locked in a room with no windows., just a tiny hole in the ceiling. You have to choose one of three doors. Only one of them is safe.
1st door: Corrosive acid,
2nd door: A giant lens that focuses the sunlight and burns anyone
3rd door: Deadly cold temperature
Which one is safe?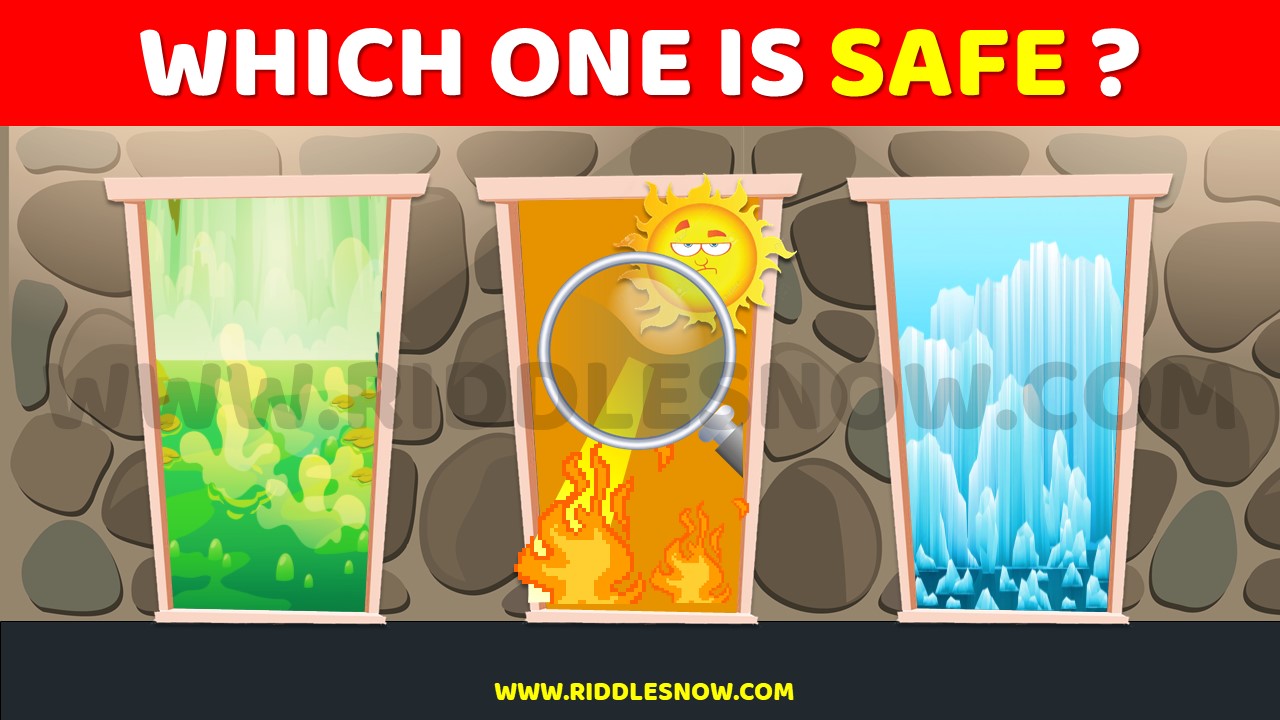 Other Riddles: riddles room
So, how many riddles room did you solve? please tell us in the comment box and SHARE these brain teasers and survival riddles with your friends.
WATCH MORE RIDDLES IN OUR YOUTUBE CHANNEL.