Boost your brain and improve logical thinking quickly with a set of 25 hard riddles with answers for crime experts! Logically brain exercises are great to improve your analytical skills. So be sure to solve these hard riddles every day to keep your mind sharp! Solve these amazing crime and detective riddles and share your answers in the comments: Hard Riddles With Answer
1. WHO KILLED MAYA?
Last night there was a Christmas party at the bar 'Snowman'. By 2 pm all the alcohol had been finished and the visitors began to drift away. A group of friends said goodbye to Maya when she left. That was the last time anyone ever saw her. Her body has been found near the bar this morning. The police arrived at the crime scene. After examining the body, the detective interviewed three suspects: Ryan, Kylie, and Jack.
Ryan said: When she left, I went to the bathroom.
Kylie said: I ordered one more beer at the bar.
Jack said: I was talking to the girl, I had just met.
Who killed Maya?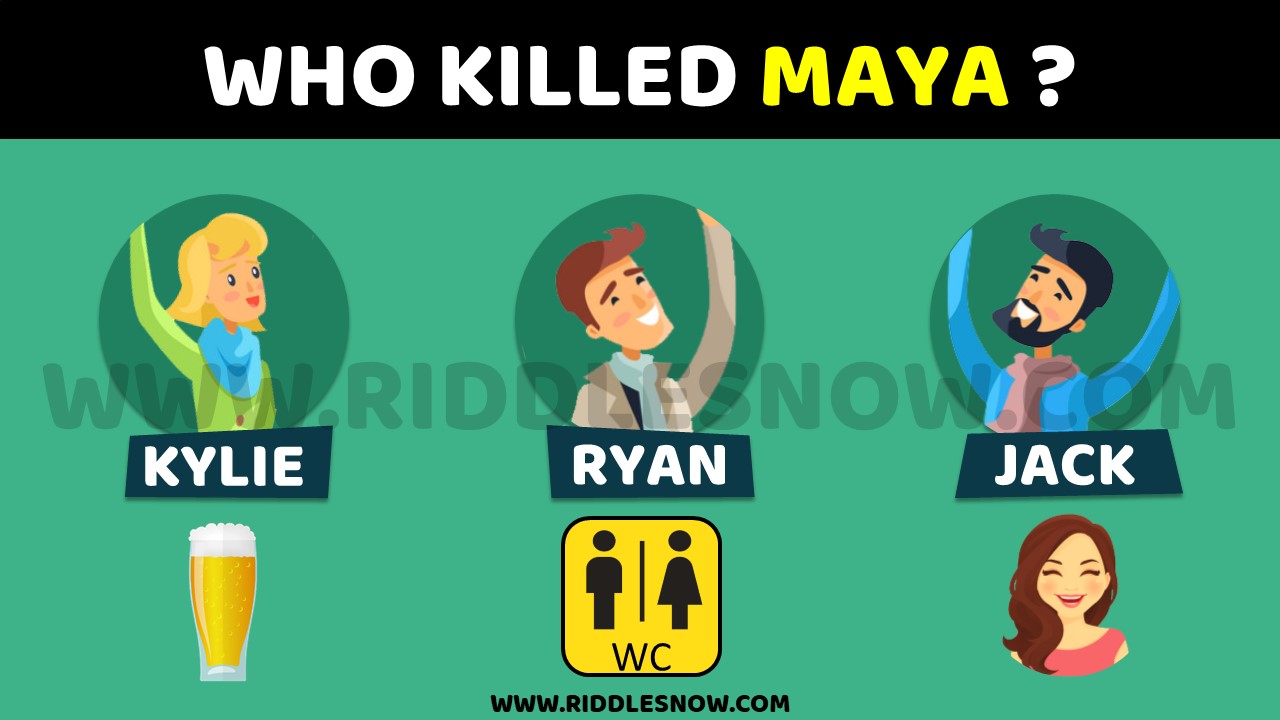 ---
2. WHO IS THE KILLER?
Mr. Richard was very rich. He lived in a luxurious house with his young wife and servants. In late Autumn, the police received a call from his maid. She found him stabbed in the bedroom. The detective arrived at the crime scene. He determined that there were 3 people in the house at the time of the murder.
The Cook said: I was preparing dinner.
The maid said: I was cleaning the dining room after lunch that Mr. Elliot and his wife had.
The wife said: I was swimming in the pool after lunch.
The detective realized who stabbed Mr. Richard.
Who is the killer?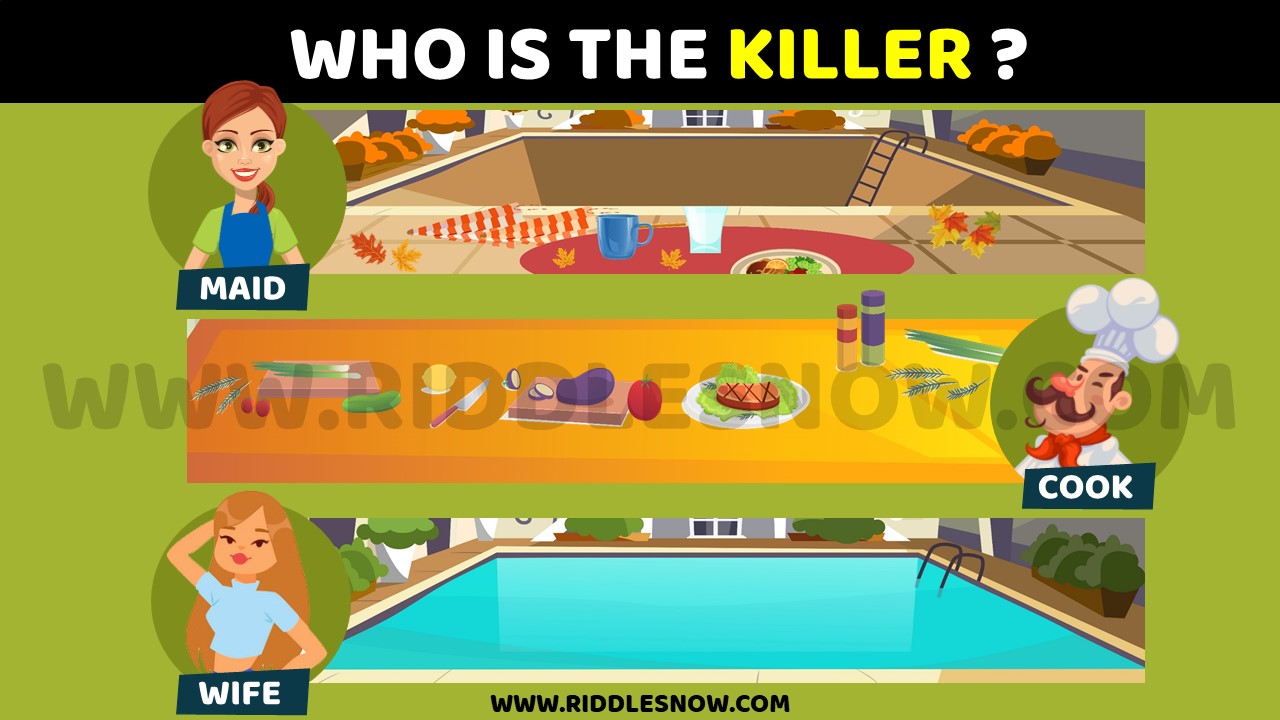 ---
3. WHO IS HIS WIFE'S LOVER?
Chris came back from work a bit earlier today! He was excited to see his wife earlier! As soon as he entered his bedroom, he saw a man jumping over the balcony. He realized that his wife was cheating him. He shouts on that man "BASTARD! I WILL KILL YOU" and chased him. After going a little further, he sees three men sitting on a bench and gets confused as to which of these three, who is his wife's lover. Now it's your turn to help Chris to catch his wife's Lover.
Who is his wife's Lover?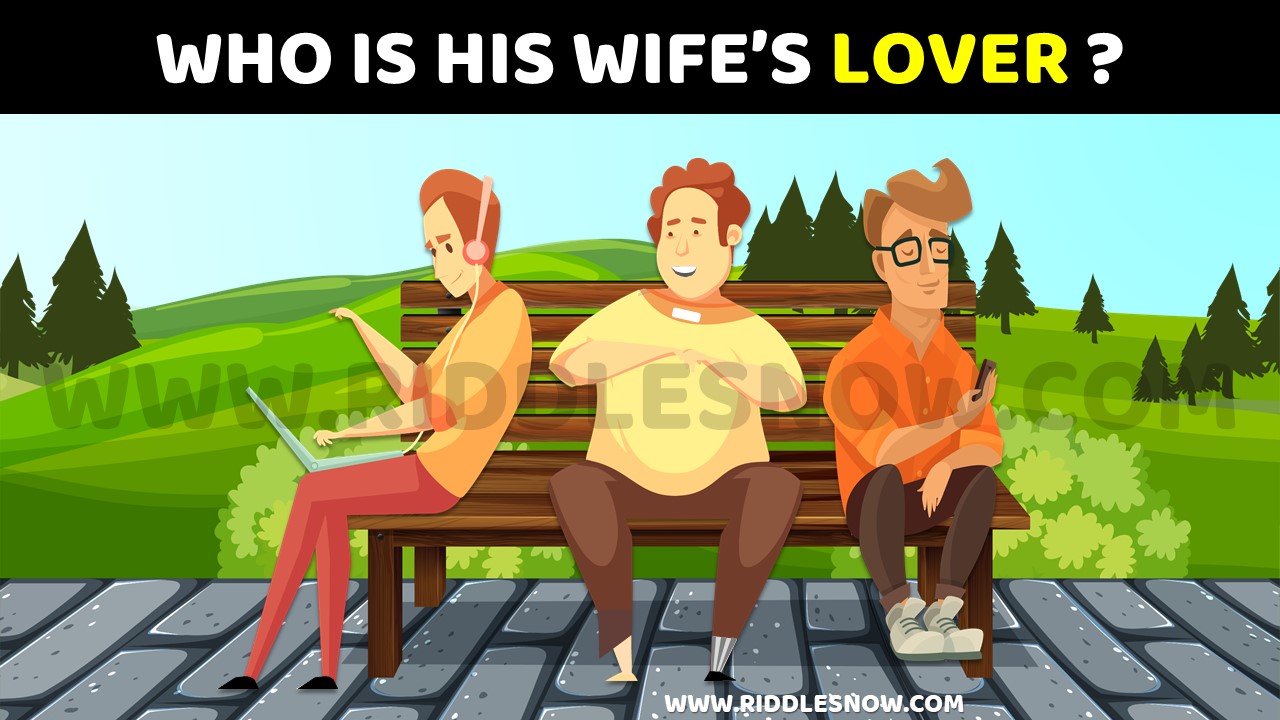 ---
4. WHO IS THE KILLER?
Molly was preparing the thanksgiving feast in her kitchen. An hour later, her friend found Molly dead. She immediately called the police. The officer identified three suspects:
Emily Molly's friend,
Jason Molly's boyfriend, and
Adam Molly's Neighbor.
The police also discovered that Molly had left three clues: a shoe, a slipper, and a glove to help identify the killer. The officer asked the suspects to put down what they were doing at the time of the murder. Soon the police found out who did it. Hard Riddles With Answer
Who is the killer?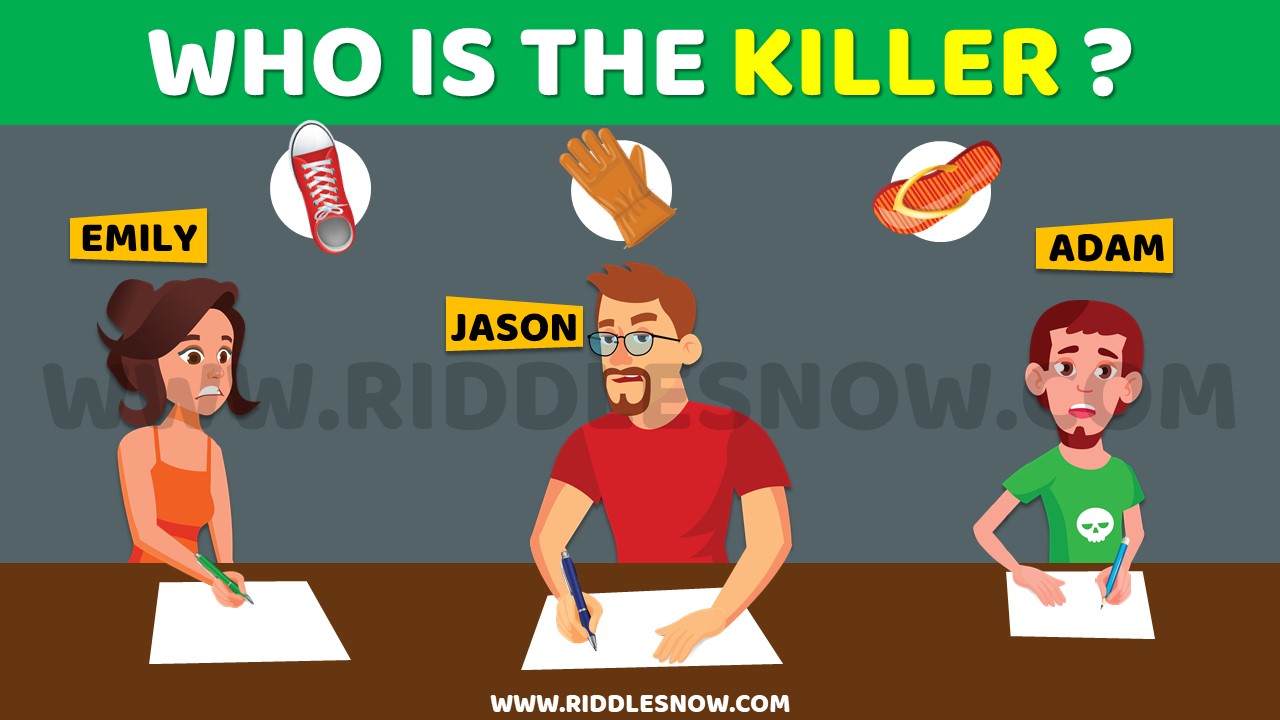 ---
5. WHO STOLE THE NECKLACE?
Maria and Diego have a country villa. Every year they throw a wedding anniversary party. This year they invited many relatives and friends. Maria and Diego were very happy to see them. But in the evening there was an incident. Suddenly the light went out, and they heard a woman's cry: MY NECKLACE! IT'S BEEN STOLEN!
Who stole it? (see the picture carefully)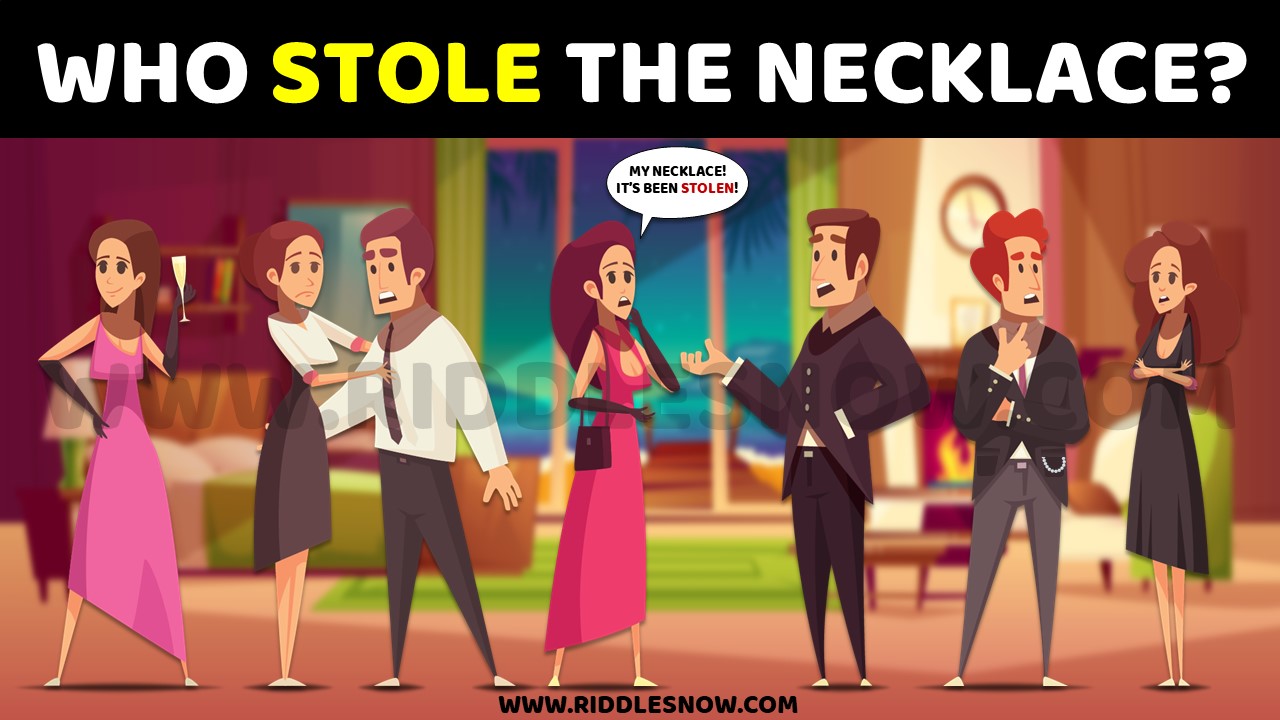 ---
6. WHY DID HE DECIDE THAT?
There was an earthquake in Greenview. After that, the police received a call.
A lady said: My husband is dead! He got crushed by a wardrobe during an earthquake! please come fast.
The police reach her house and investigate well.
The Lady says: When the quake hit, I was in the kitchen, and he was sleeping here. We had stayed at home because there was an earthquake warning yesterday. The wardrobe fell on him; He didn't even get a chance to scream. I immediately called you!
The Police say: I think this is not an accident. 
Why did he decide that? (see the image carefully)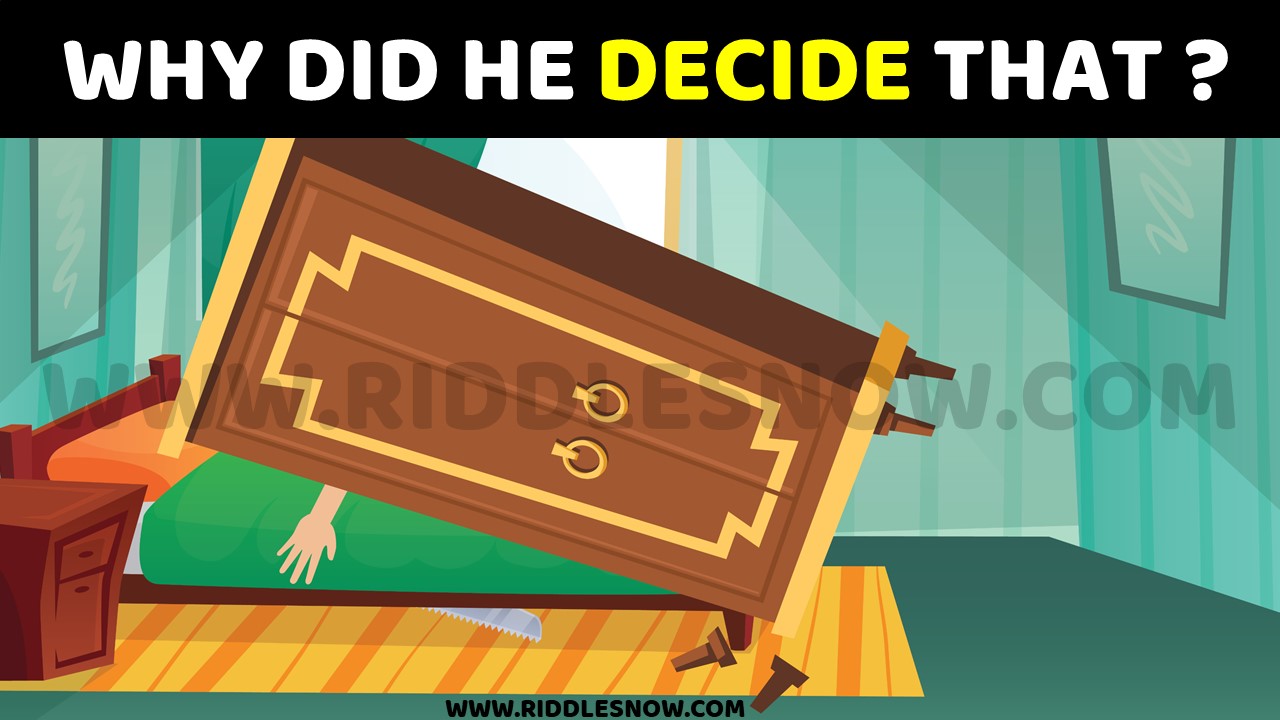 Other Riddles:
---
7. WHO KILLED DAISY?
There was a big storm Monday night. When Daisy didn't come home. Her husband called the police. A famous detective arrived at their place. Daisy's charred body was found outside the city in the meadow. It looks like she was killed by lightning. However, the autopsy showed they weren't burns from electricity. It was a murder. The detective has three suspects:
Jake, her husband,
Brian, her lover, and
Sam, her brother
Detective also found a note in Daisy's pocket:
I KNOW WHO KILLED HER, BUT I CAN'T TELL HIS NAME. I WILL GIVE YOU A HINT:
THAT DAY I SAW HER DRINKING SAMBUCA AND DANCING SAMBA IN A BAR.
The detective immediately arrested the murderer.
Who killed Daisy? (see the image carefully)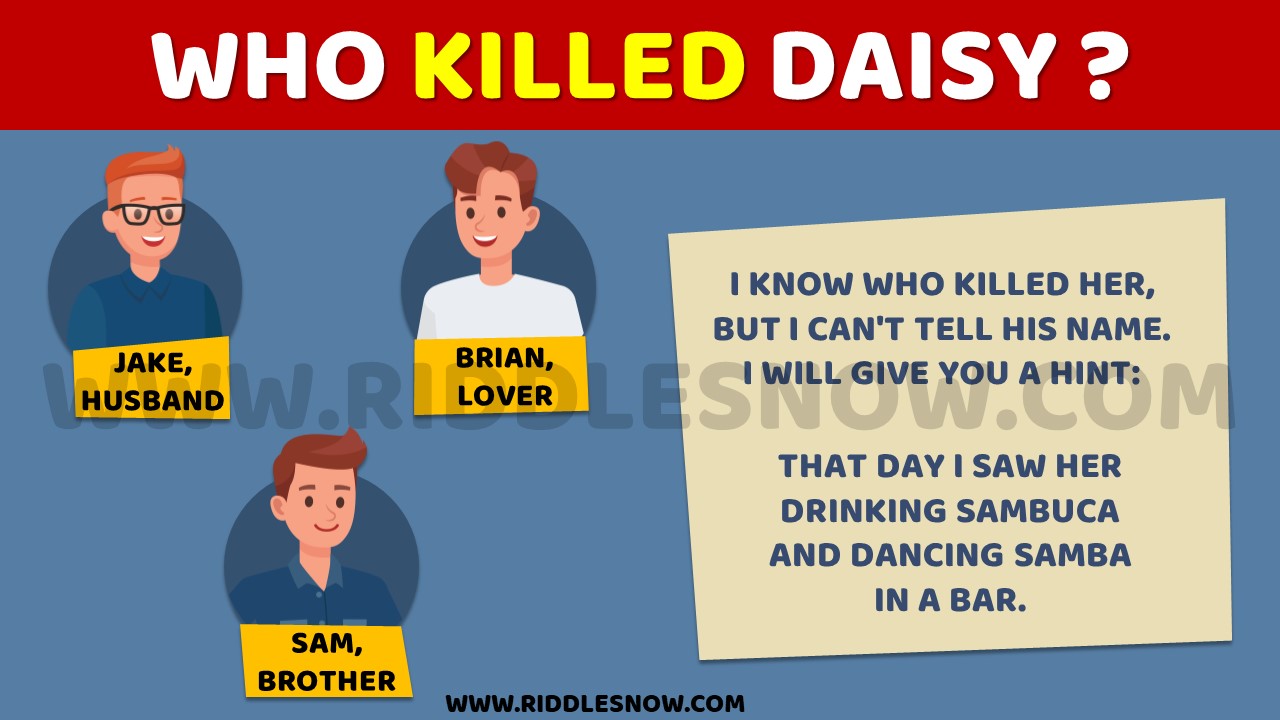 Hard Riddles With Answers
---
8. WHERE DOES SHE GET MONEY?
Erin has a husband and a lover. Both of them don't give her money but buy expensive jewelry for her but Erin always has a lot of cash and both men see her wearing the jewelry.
Where does she get the money?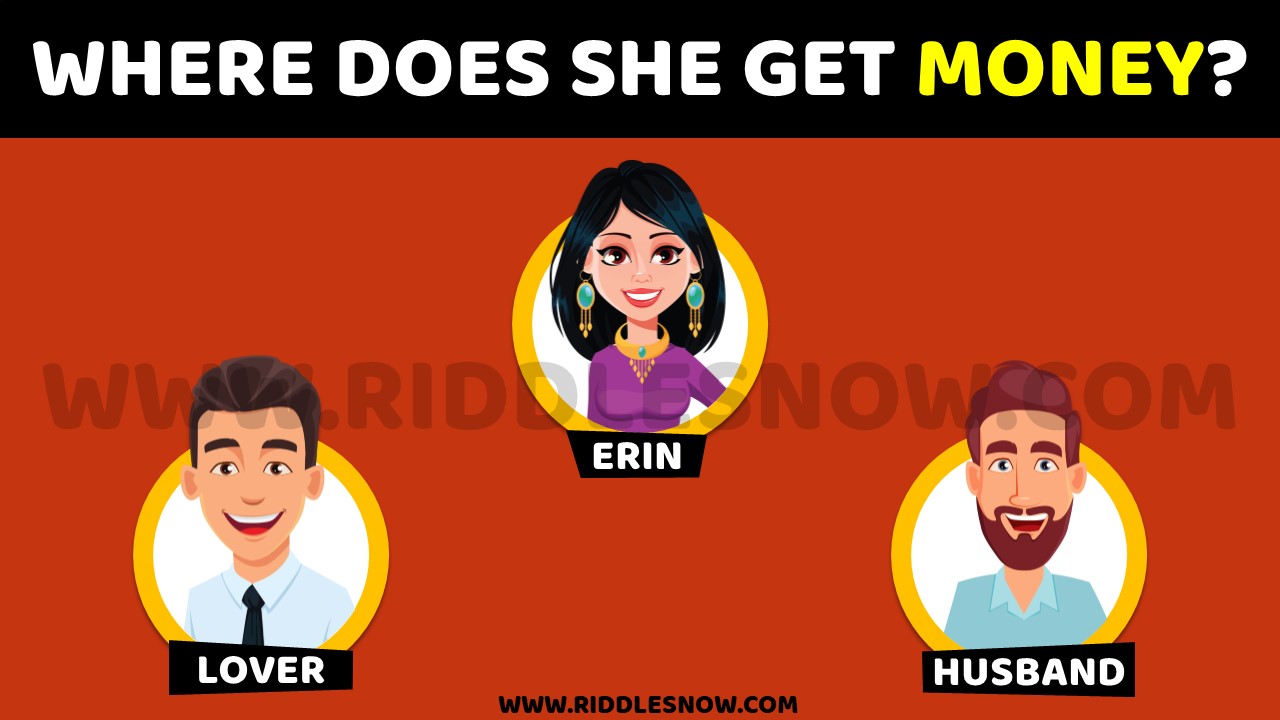 ---
9. WHO IS RESPONSIBLE FOR HER DEATH?
Alina is Erik's wife. She has a lover named Frank.
Alina says to Frank: I'm Pregnant by you.
Frank says: I don't need it, I'm leaving you!
Alina goes to the hospital for abortion but
The doctor says: Sorry, I can't perform the abortion for you. So you should go to a private clinic.
Alina goes to her sister Jane's house and tells him everything and says please lend me some money for the abortion. Jane gives him money and Alina gets the abortion. After some days her sister Jane asks her for money and says: Pay me the money or I'll tell Erik!
Alina says: I have no money!
Jane tells Alina's husband Erik everything. Erik gets angry and says to Alina: I know you have a lover! your sister told me. Take your stuff and get out of here!
Alina committed suicide.
Who is responsible for her death?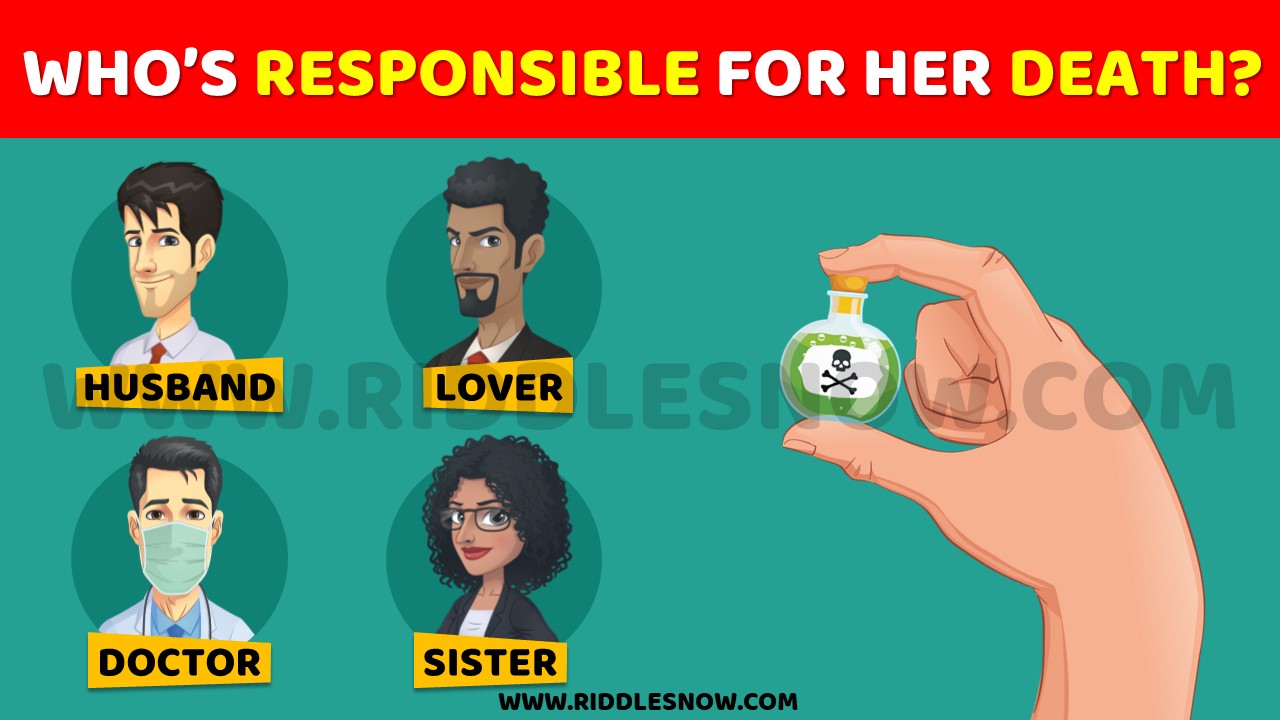 ---
10. WHO IS LYING?
Jane was found in her house lying in the center of a pentagram. The police questioned three people they found in her recent calls.
Jane's brother: I have called her in the morning. She was depressed because she had been fired. 
Jane's Neighbor: She borrowed a pretty sum of money from me and called to ask for more time.
Jane's Boss: She didn't show up to work for a few days. I have called her to ask if anything happened.
Who is lying?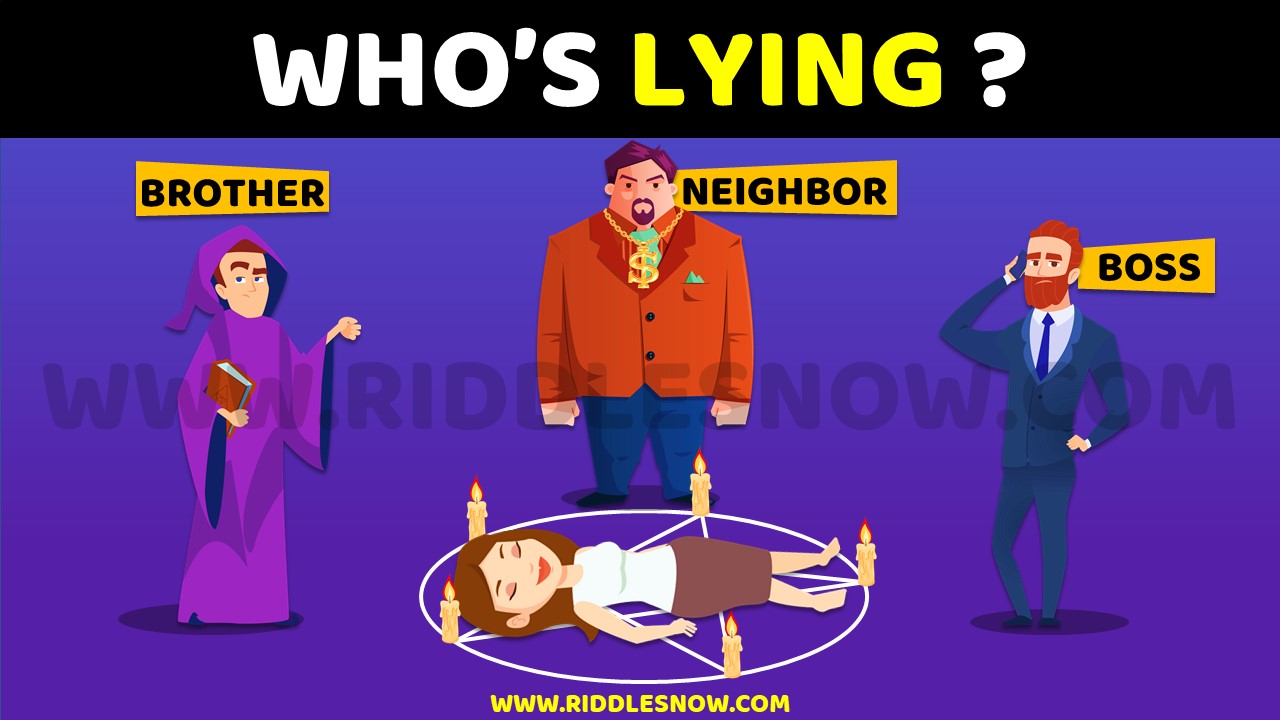 Hard Riddles With Answers
---
11. WHO KILLED MRS. JENNIFER?
All drivers of public transport went on strike and life in the city stopped. In one of the schools, The children found their teacher Mrs. Jennifer dead. Mrs. Jennifer's son went to the same school. All children were jealous of him because his mother always gave him excellent grades. The detective arrived at the crime scene to interrogate all of Mrs. Jennifer's students.
Mike: I was in the cafeteria.
Jude: I was saying goodbye to my parents in the schoolyard.
Mary: I went to the bathroom.
Alex: I was on my way to school on the bus.
Anna: I was in the schoolyard playing with my bear.
Who killed Mrs. Jennifer?
---
12. WHO KILLED HIS WIFE?
Katie was robbed and killed by her neighbor. He came to her house, took all her valuables and money, and decided to get rid of Katie so that she wouldn't rat him out. 
Killer: Write a suicide note!
She writes: MY DEAR, FORGIVE ME! I LOVE YOU SO MUCH. HERE IS THE CODE OF OUR LOCKER IN THE BANK 73 63 22 32 73 81 PLEASE, CALL MY MOM.
and then the killer shoots her. After that, her husband reached the house and called the police. Husband read the note and says: So weird, we have no locker…
Police say: There are no signs of a break-in. This must be one of your friends or neighbors. Do you suspect anyone?
Husband says: We have three suspicious neighbors. Peter, Drake, and Robert.
Police say: I will question them.
Peter: I have just returned from a business trip. Such horrible news!
Drake: I am shocked! at that time I was at mom's.
Robert: So sorry for Katie. Today I was out at the county fair.
Katie's husband was going to call her mom. He looked at the note again and suddenly realized who the murderer was.
Who killed his wife?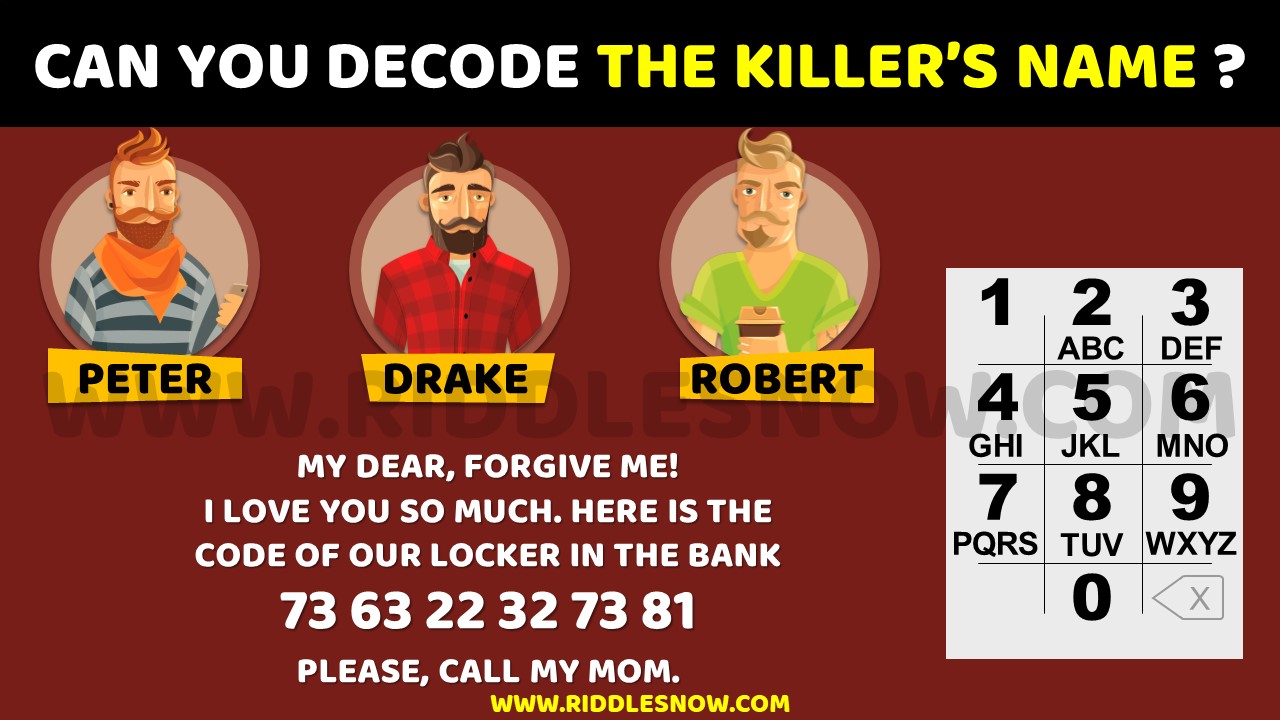 Other Riddles: Hard Riddles With Answer
---
13. WHO BROKE INTO BELLA'S HOUSE?
Bella went on vacation. She came back a week later and found a big mess in her apartment. All her money was stolen. She called the police. The detective arrived at the crime scene immediately.
Police: Are you left-handed or right-handed?
Bella: Right-handed.
Police: Who else knew you were on vacation?
Bella: Only my colleagues!
The detective went to Anna's office and questioned three suspects:
Lydia: I don't know where she lives.
Tom: Ask my girlfriend, I spent all my free time with her.
Ellie: I was sick and stayed at home all the previous week!
Who broke into Bella's house?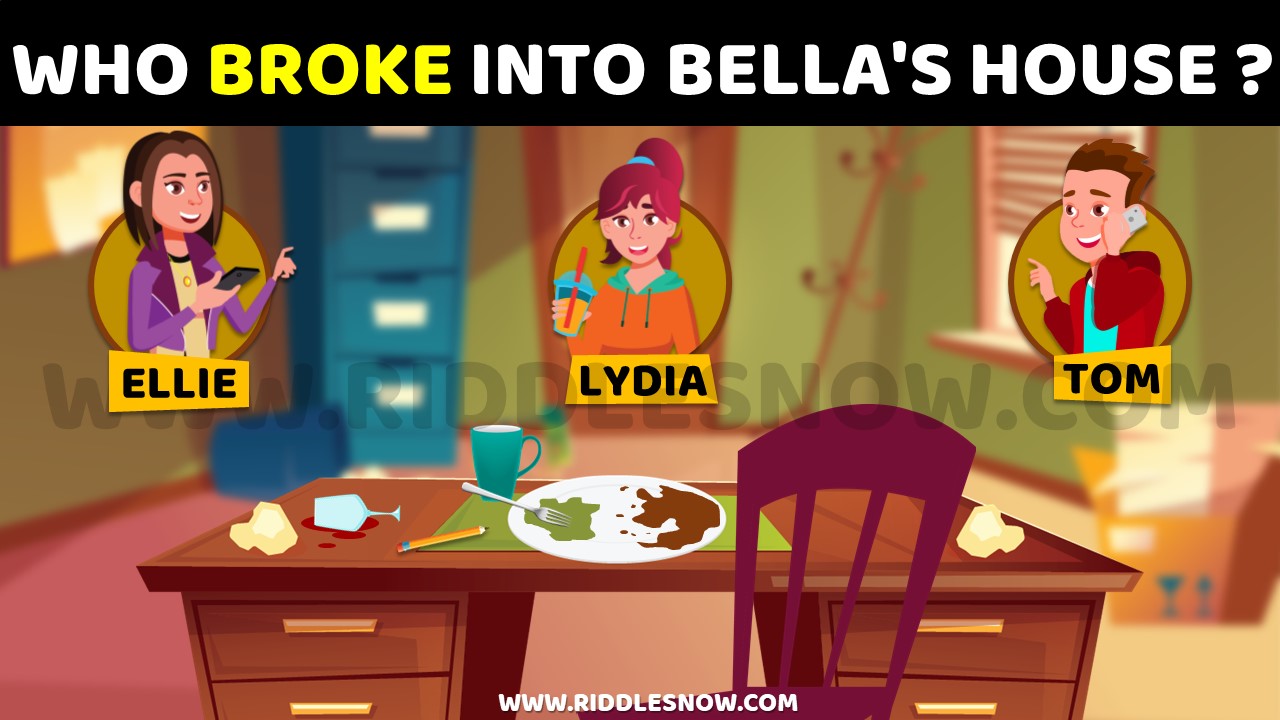 ---
14. WHY POLICE ARREST DEREK?
Derek called the police late in the evening. My wife is missing! A police officer soon came to their house.
Officer: What happened?
Derek: Today is our anniversary! I got up early and cooked pancakes to make a surprise for Kira. She got up in a bad mood and said that it was stupid to eat Pancakes in this heat. We had a fight. Kira got dressed and left without even touching the food. I went to work. When I came back, Kira was not at home. I called all her relatives and friends but nobody knew where she was.
The police officer immediately arrested Derek. Why?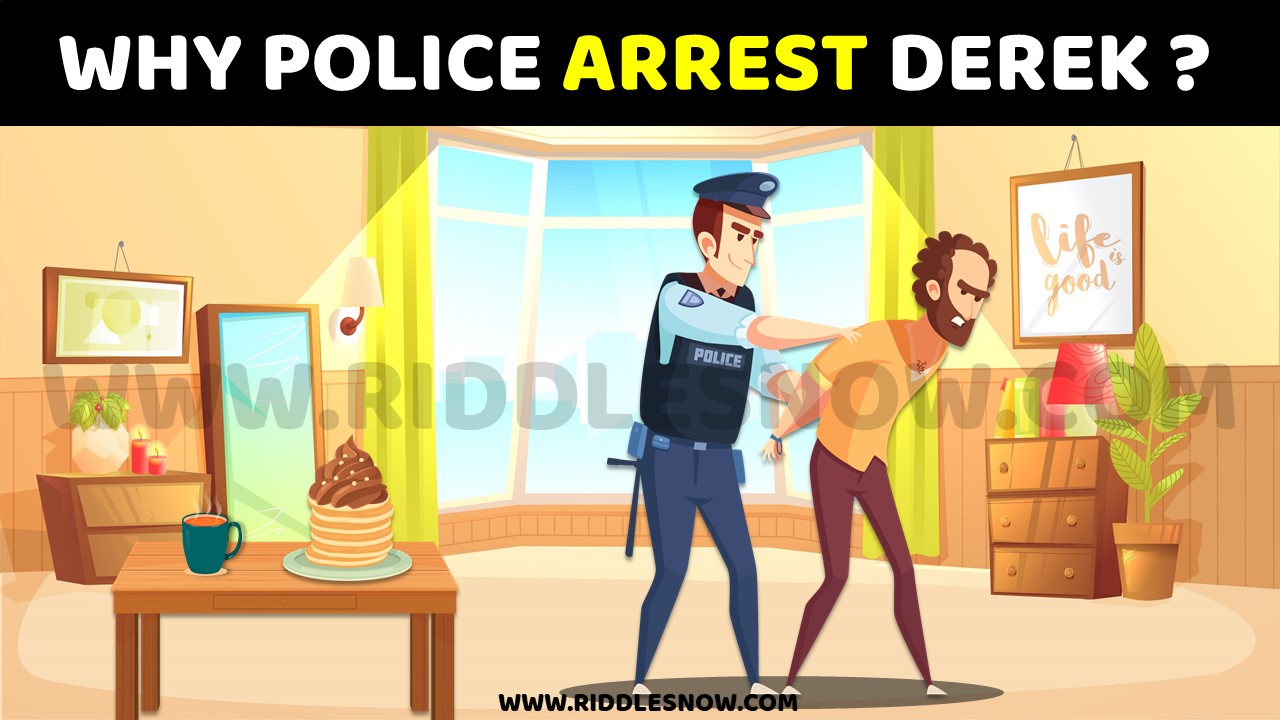 ---
15. WOULD YOU PRESS THE BUTTON?
Your whole life is upside down. Your girlfriend was hit by a drunk driver. Now she is in the hospital in critical condition. Your boss fired you for no reason and you had to get into debt to pay for treatment. On top of all that, Your home was taken away. As you had no money to pay the rent. Now you are roaming the streets aimlessly. Suddenly, a stranger comes up to you. He gives you a box with a red button. If you press the button, A random person will die. You will never get to know who he or she was and how exactly it happened then you will get $1Million!
Would you press the button?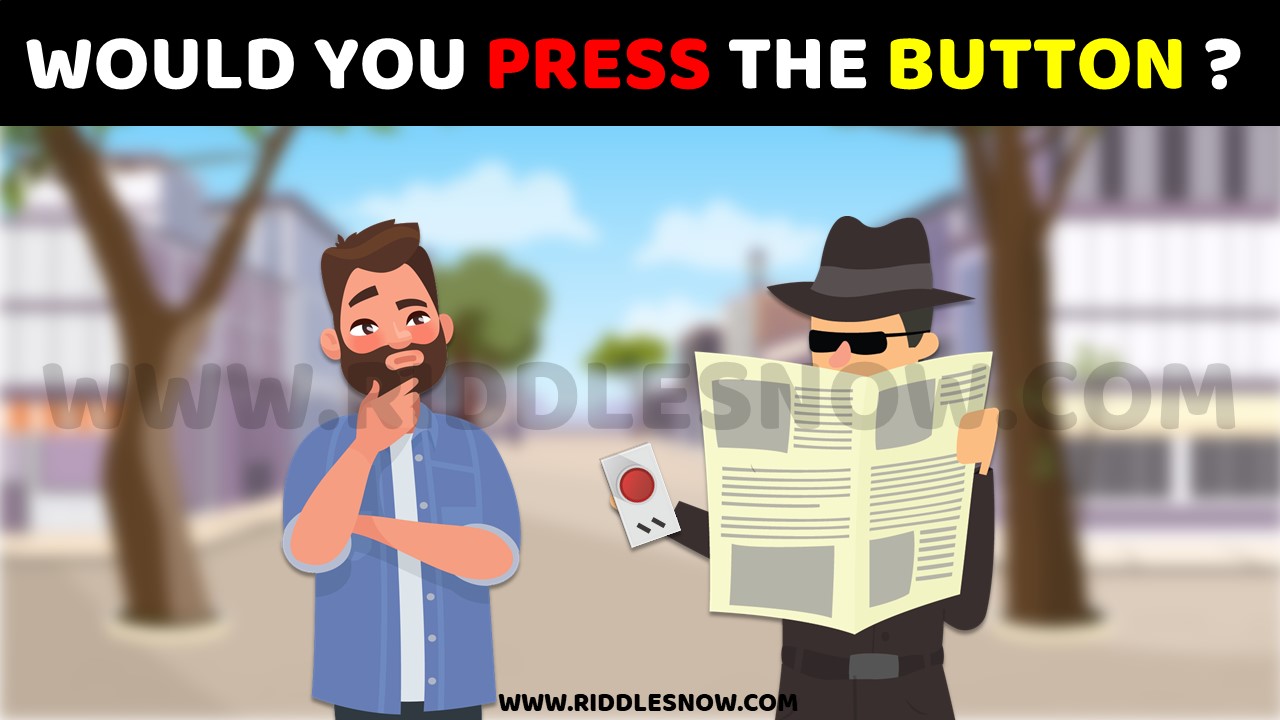 ---
16. WHO IS THE LIAR?
One day, a violent storm blew up in the city and caused a widespread blackout. After the storm passed, a maid was found dead in a mansion. Three suspects were questioned: Hard Riddles With Answer
The husband: I was reading books in my bedroom.
The wife: At the time of the incident, I was watching TV.
The butler: I was calculating my family's expenses in my room.
Who is the liar?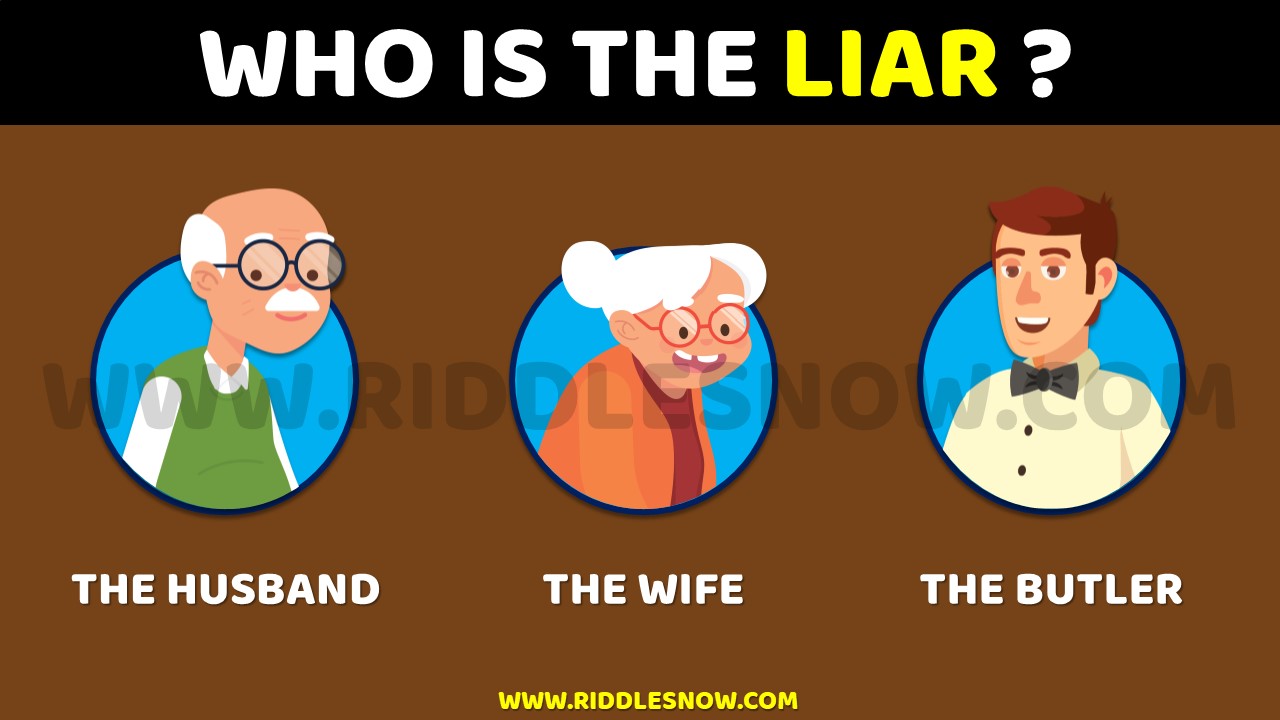 ---
17. WHO IS THE MURDERER?
Lisa was found dead in her house. Her mobile was next to her body. The primary suspects were:
Her mother, Alma
Stepfather, Marcus
Neighbor, Mike
Boyfriend, Steve
having analyzed the scene of the crime, The police arrested the murderer.
Who is the Murderer?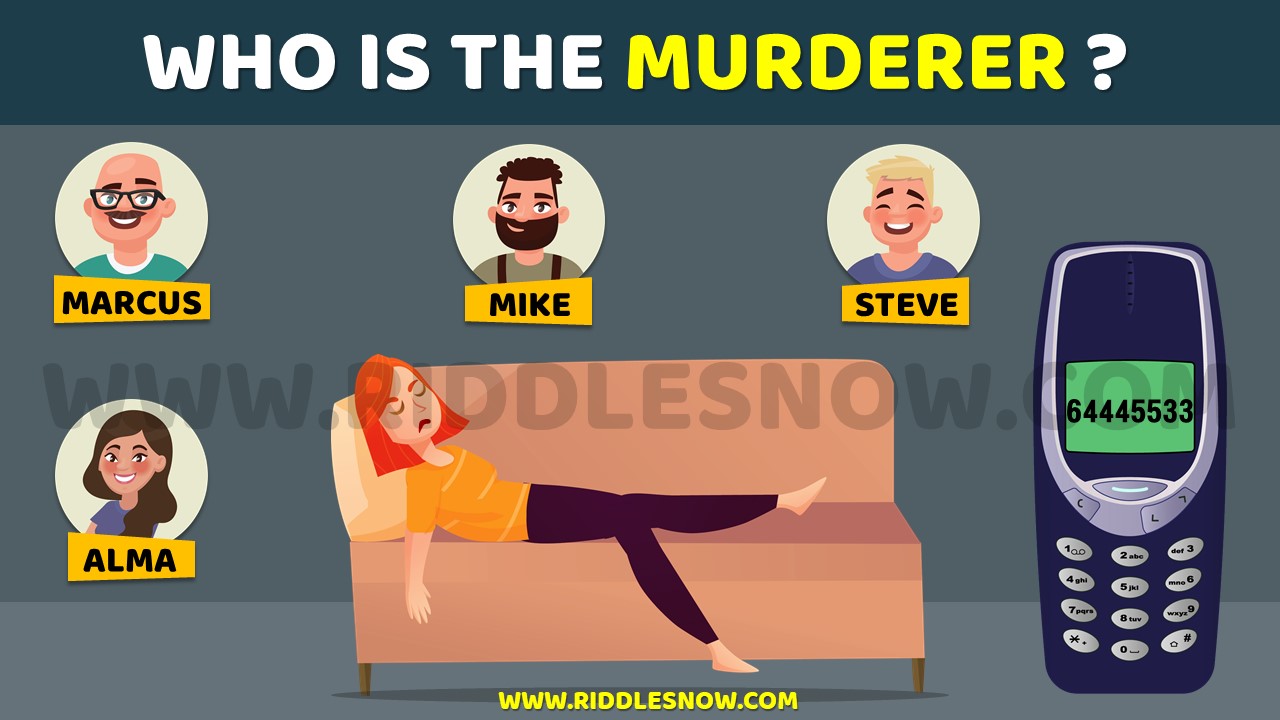 ---
18. WHO IS THE THIEF?
Max was taking the elevator up to his office. The elevator stopped several times to let some people in. When Max got off the elevator, He realized that his phone was missing. He went to watch the camera feed. Hard Riddles With Answer
Guard: Where did you keep your phone?
Max: In my back pocket.
The guard identified the thief at once.
Who is the thief? (see the picture carefully)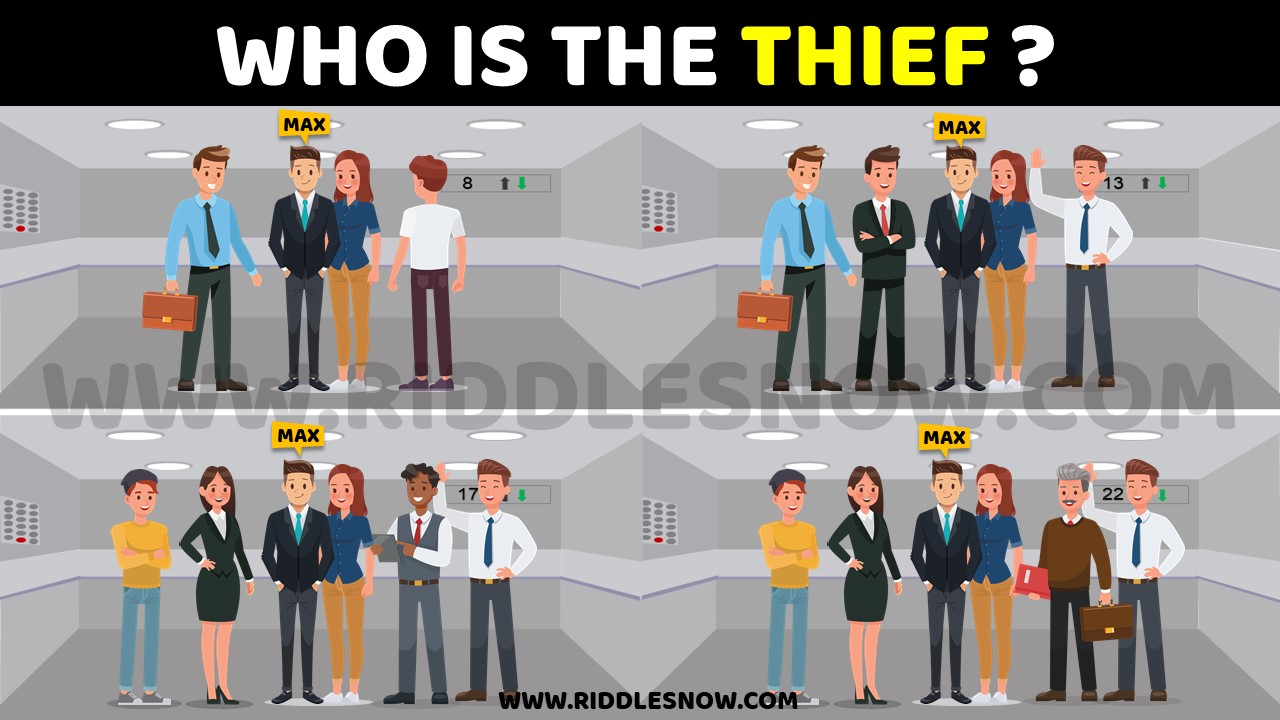 ---
19. WHO IS THE THIEF?
Lina and Sage were sunbathing on the beach. When they went swimming, somebody stole their bag. There was neither money nor documents in it. So the couple did not call the police. They asked a lifeguard to help. He interviewed three suspects:
Leona: I was reading a book, I didn't notice anything.
Stella: I was too far playing volleyball over there. Whoever steals bags containing nothing of value?
Cody: I was very tired and fell asleep.
Who is the thief?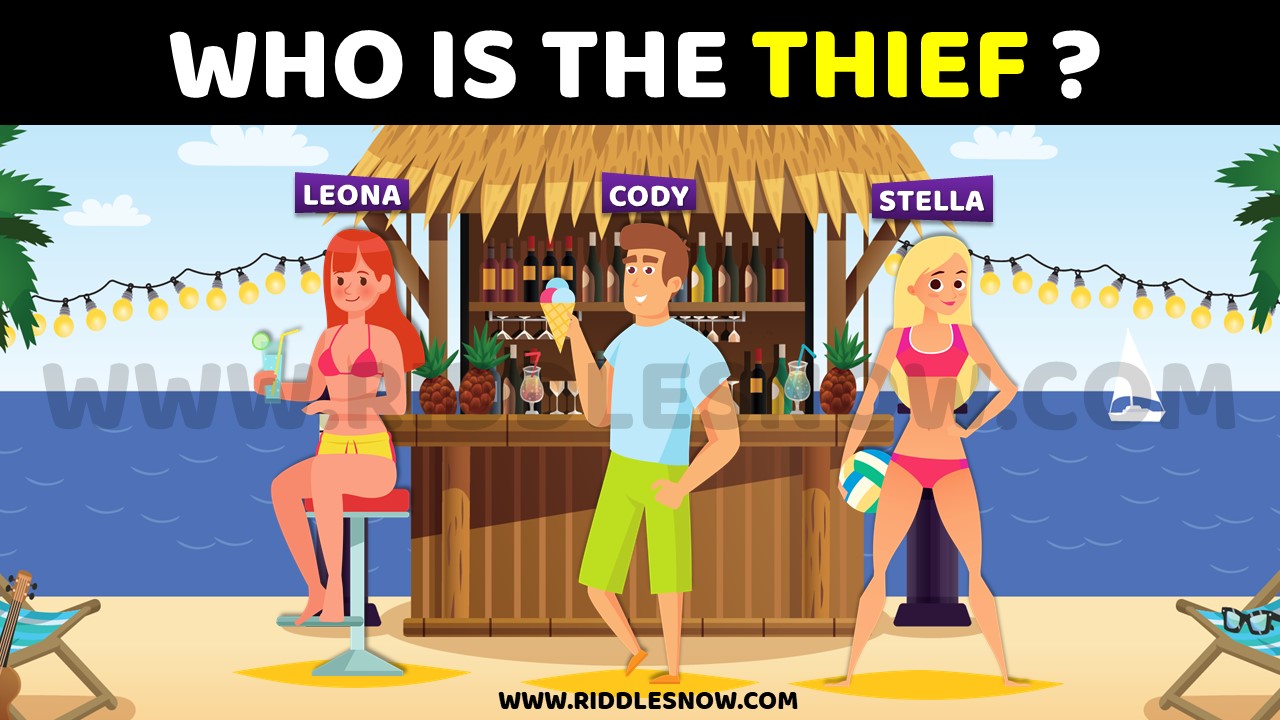 ---
20. HOW DID SHE POISON HER HUSBAND?
Ellen and John were married for five years. One day they were having dinner together. They were talking and eating as usual. In a couple of hours, John was dead. The police identified he was poisoned but there was no poison in the food. They had eaten for dinner. However, Ellen was arrested for murder.
How did she poison her husband?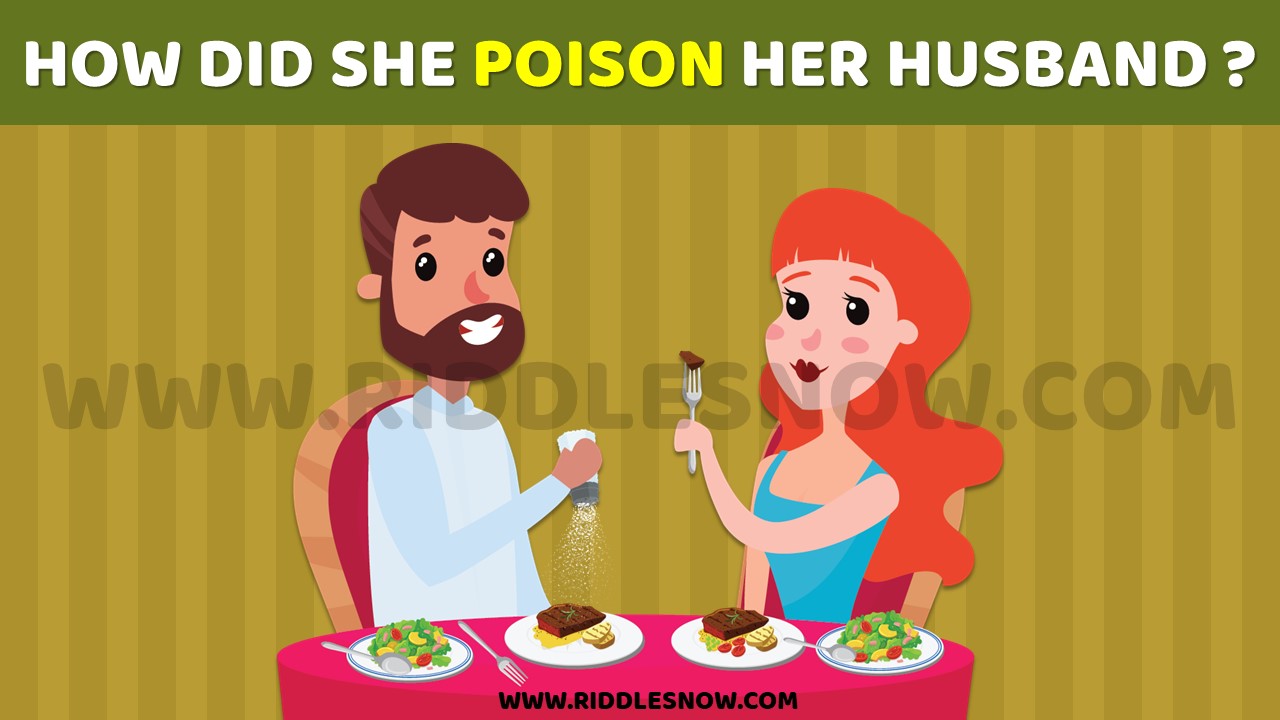 ---
21. WHO IS THE KILLER?
Detective Martin was on the train home. At night, the train suddenly stopped. The second driver was killed. The detective examined the crime scene carefully and he gets the clue "NAT". He interviewed three suspects:
Quinn, a passenger: I am pregnant! I can't even get out of bed by myself.
Troy, The other driver: I can't drive the train alone, I need a partner.
Allie, an attendant: I heard someone coming out of the compartment.
Who is the killer? (see the picture carefully)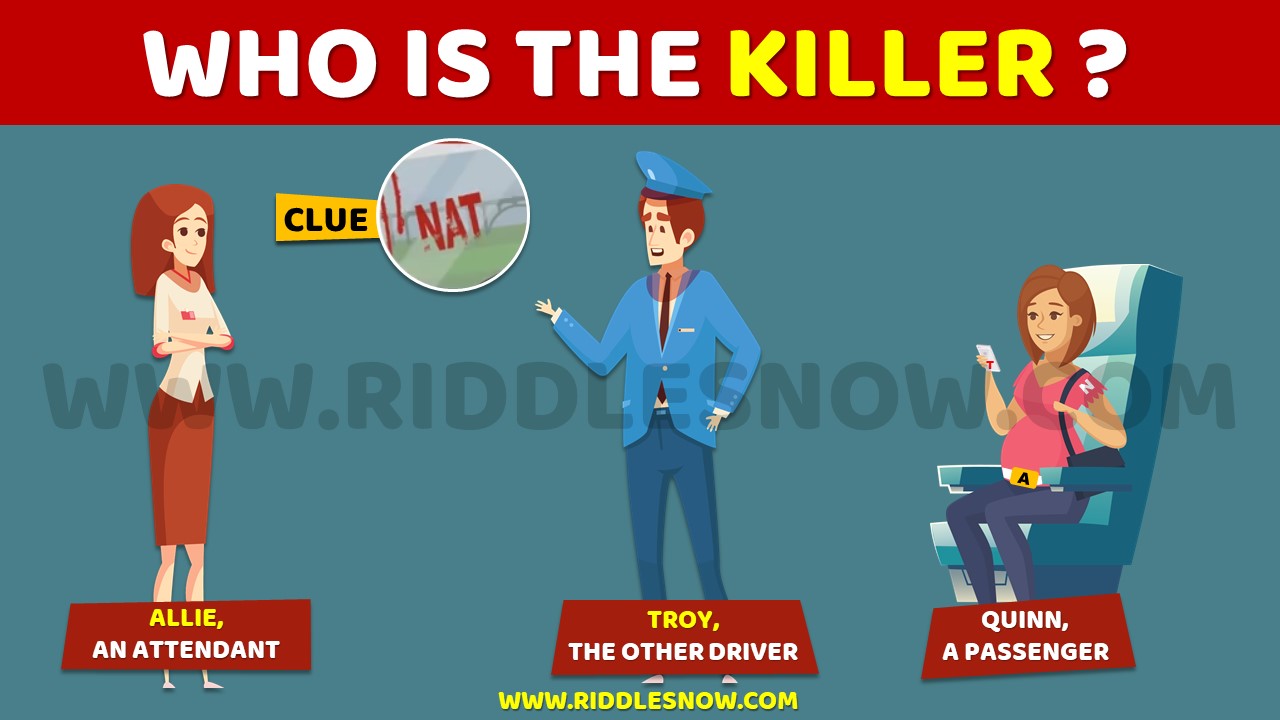 ---
22. WHO IS THE KILLER?
A man was found dead in the woods. The autopsy showed he was killed with a hunting rifle. There were three certified hunters living in this area. All of them said they could not do it. as it was off-season and hunting was not allowed for now. The detective asked them to take off their shirts and immediately arrested one of them.
Who is the killer? (see the picture carefully)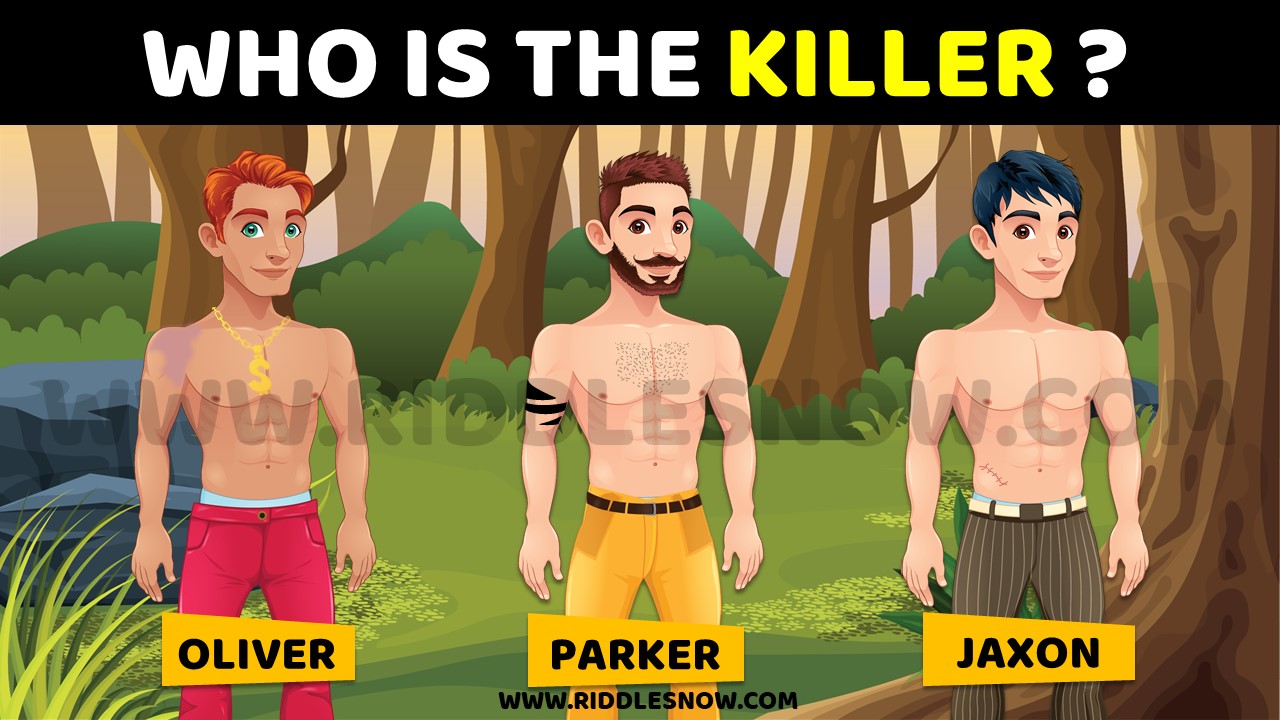 ---
23. WHO IS THE KILLER?
The police arrived at the ski resort. The manager was found dead in the morning. The Maid found his body in the staff lounge. The police suspect three people who arrived yesterday. They inspected their rooms.
Who is the killer? (see the picture carefully)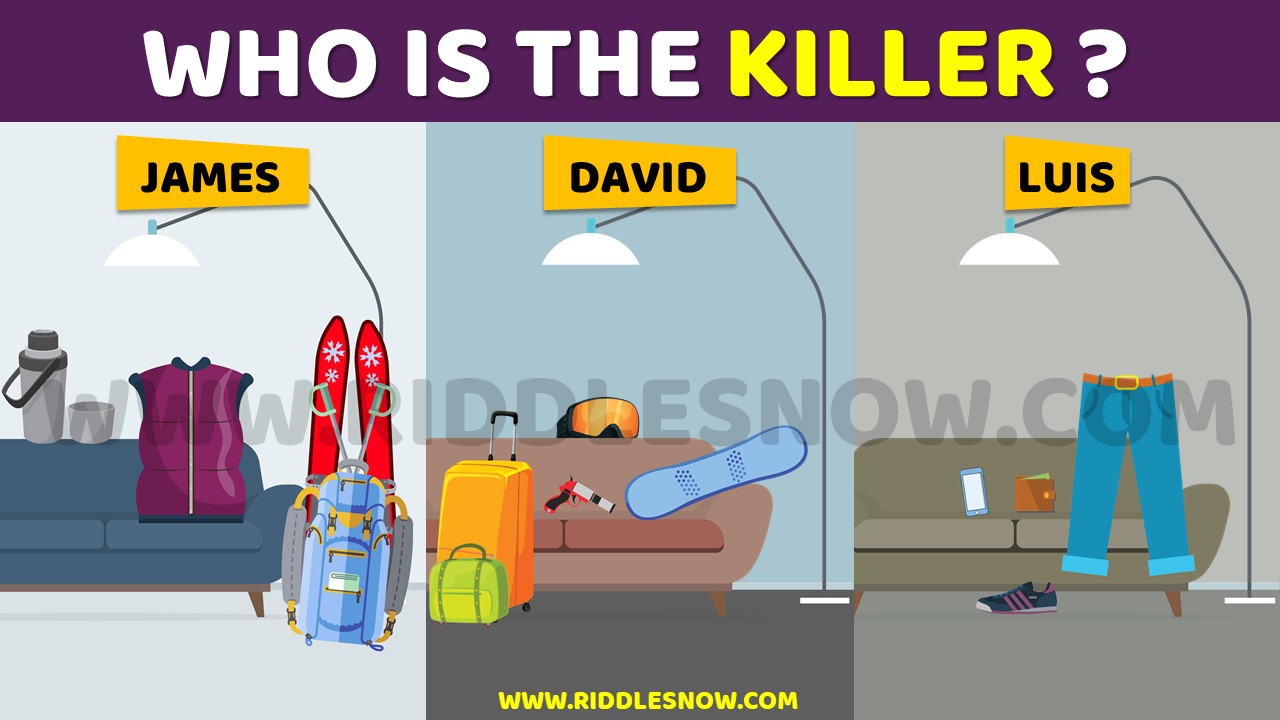 ---
24. WHO KILLED SCOTT?
The captain of the submarine did the morning check-up and found sailor Scott dead. Someone stabbed him with a knife. The captain initiated an investigation and questioned the crew.
Jeremy: I was watching the sensors.
Lukas: I was scrubbing the deck.
Andy: I was talking to my wife on Skype.
Who killed Scott? (see the picture carefully)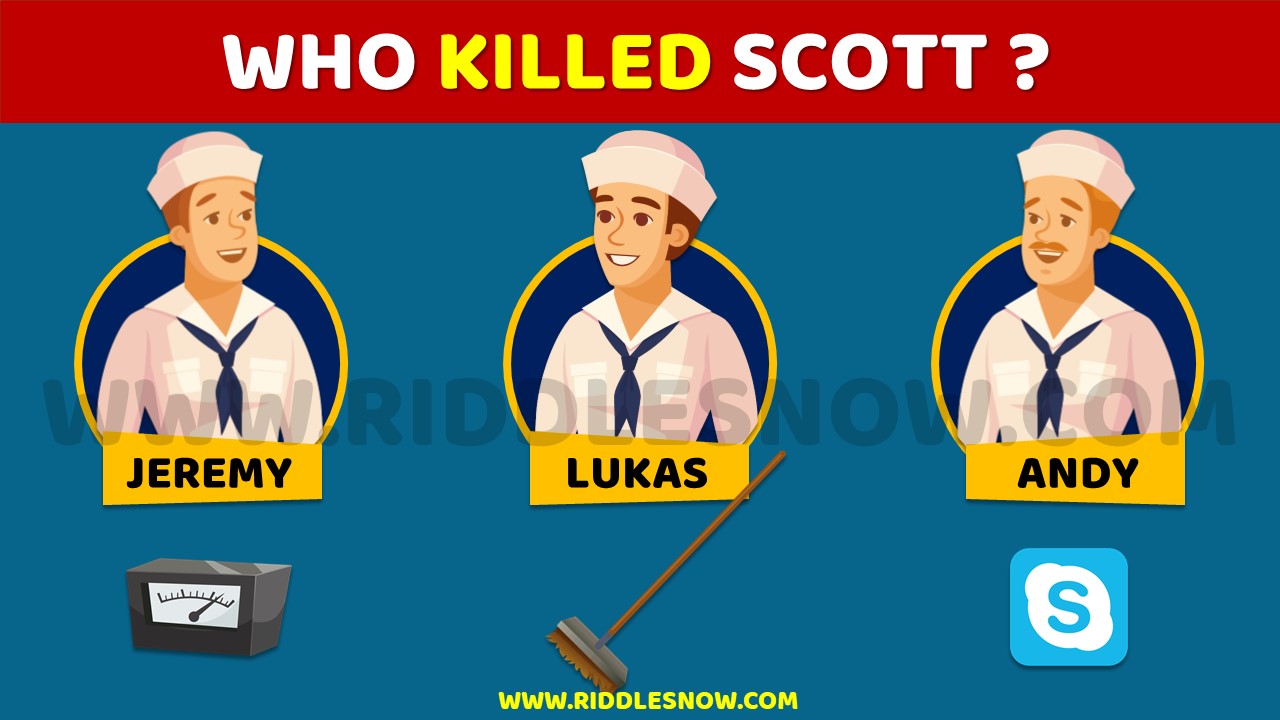 ---
25. WHO ATTACKED MR. KELLEN?
"Jefferson" is a tiny old hotel in a small town. Last night a man was attacked. Mr. Kellen was one of the guests. He was hit on the head in his room. He was the only customer that night. A Detective questioned the staff.
The Receptionist: Mr. Kellen is a rich man. He only stopped here because his car broke down. Last night I was looking for someone to fix his car.
The Janitor: The power was out all night… There was a huge storm. I was in the basement for two hours… trying to fix the generator.
The Maid: Mr. Kellen called housekeeping from his room phone. He was very worried about the blackout. He did not want to be disturbed and he did not want breakfast in the morning.
Who attacked Mr. Kellen?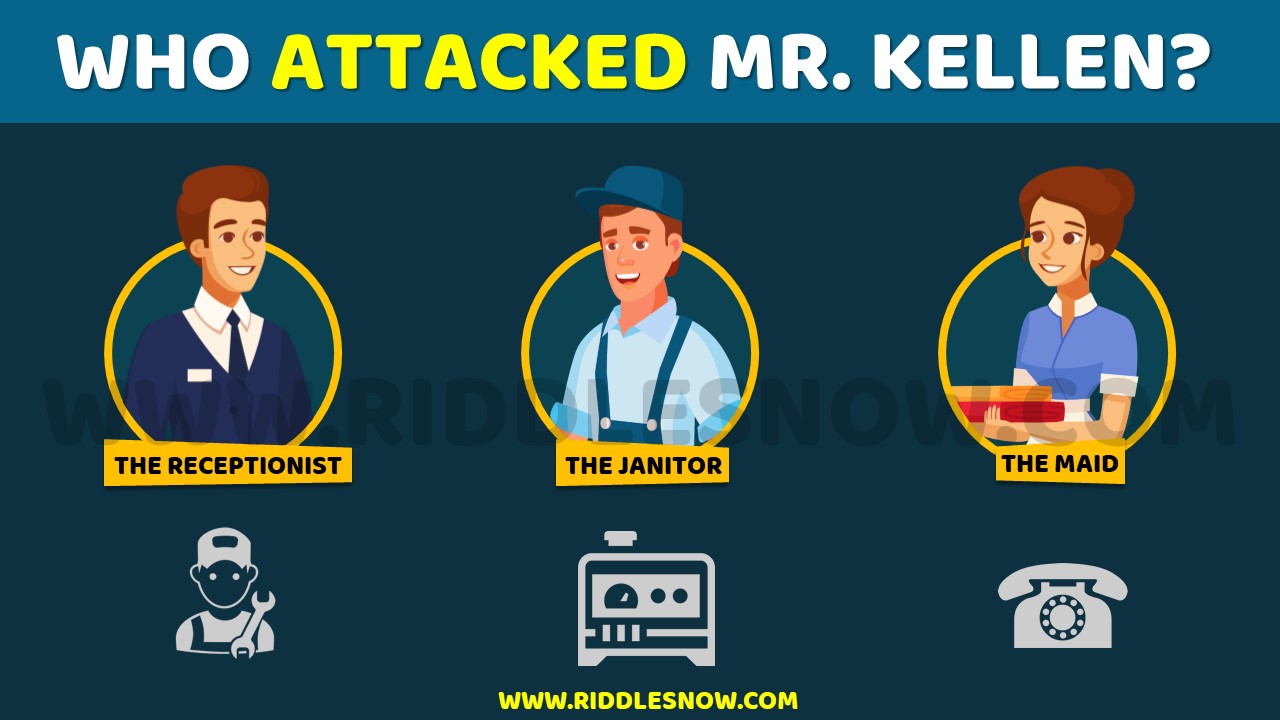 So, how many hard riddles with answers did you solve? please tell us in the comment box and SHARE these brain teasers and riddles with your friends.
WATCH MORE RIDDLES IN OUR YOUTUBE CHANNEL.