Test your survival abilities with a set of 15 riddles for friends! Sometimes we have now to face sudden conditions. It's life, you may by no means know what is going on to occur subsequently. But you may put together your self and know what to do in excessive conditions.
So you'll want to read these 15 riddles for friends, puzzles, and trivia to enhance your survival abilities:
1. WHICH CODE SHOULD SHE CHOOSE?
Lily lived in a remote village. When she grew up, She went to a big city to find a job. She had very little money, so she had to rent a room in the house of a mad lady.
The owner forced Lily to give all documents to her and locked them in one of the rooms. All rooms in the house were locked with combination locks. Lily decided to get her papers back as soon as possible.
She found a list of codes but she did not know which code opened the door. When the owner went shopping, Lily decided to sneak into her room. She was trying the codes. When she saw the old lady coming back. Lily has only one attempt to open the door.
Which code should she choose? (see the picture carefully)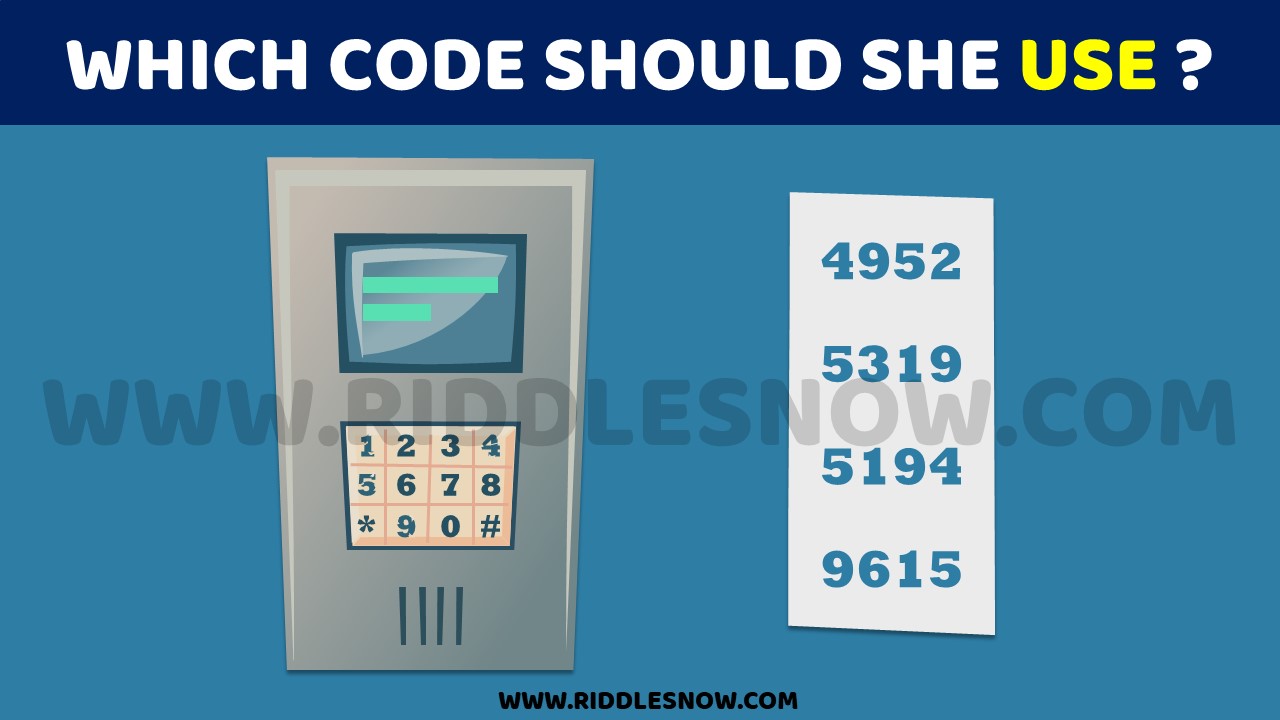 ---
2. HOW?
Ryan went to his grandmother to spend his summer holidays. She lived in the country. There he met his old friend David. They had not seen each other for almost a year. David told Ryan that he had become a famous blogger and his videos on YouTube got millions of views.
Ryan did not believe his friend. Then David showed him a video from his channel. Ryan looked at it and immediately realized that David was lying. 
How? (see the picture carefully)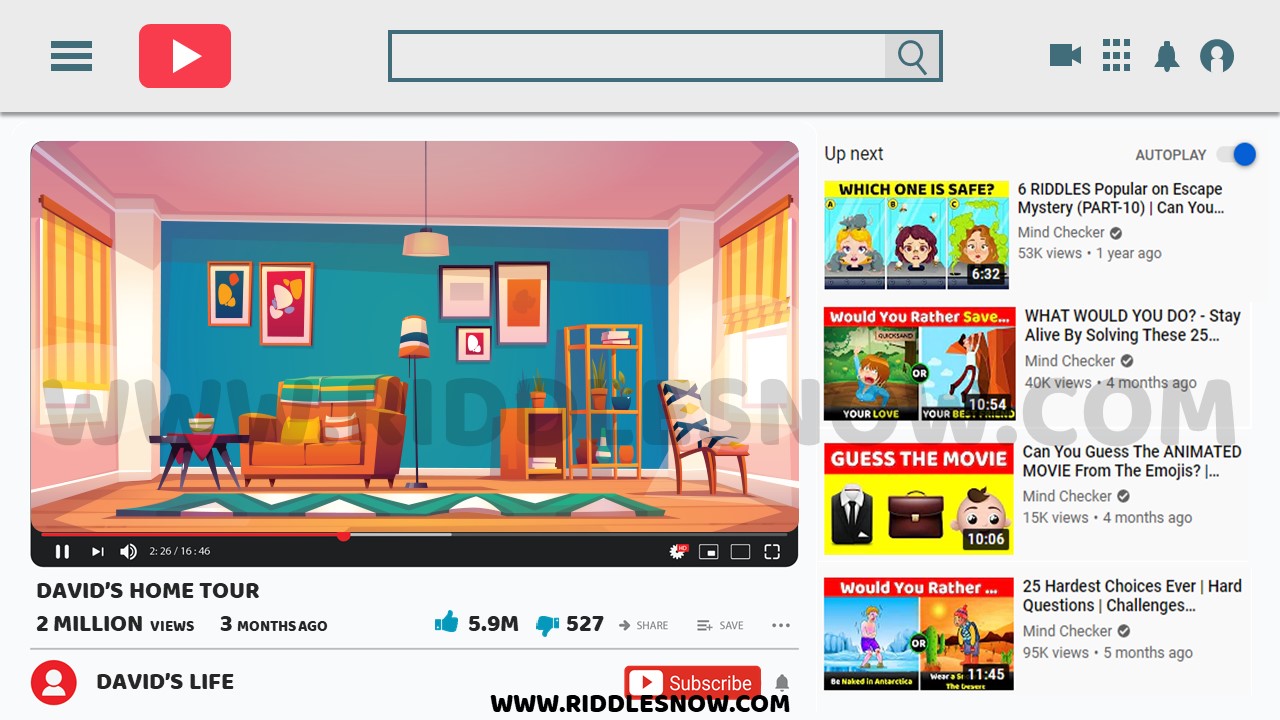 ---
3. WHERE SHOULD SHE HIDE?
Zombie Apocalypse started in Julia's city. She was one of the few people who did not get infected. Julia lived in a small house with large windows, so she decided to find a better place to hide.
A. Go to her boyfriend's place
B. Hide in the basement
C. Go find a taller building
Where should she hide?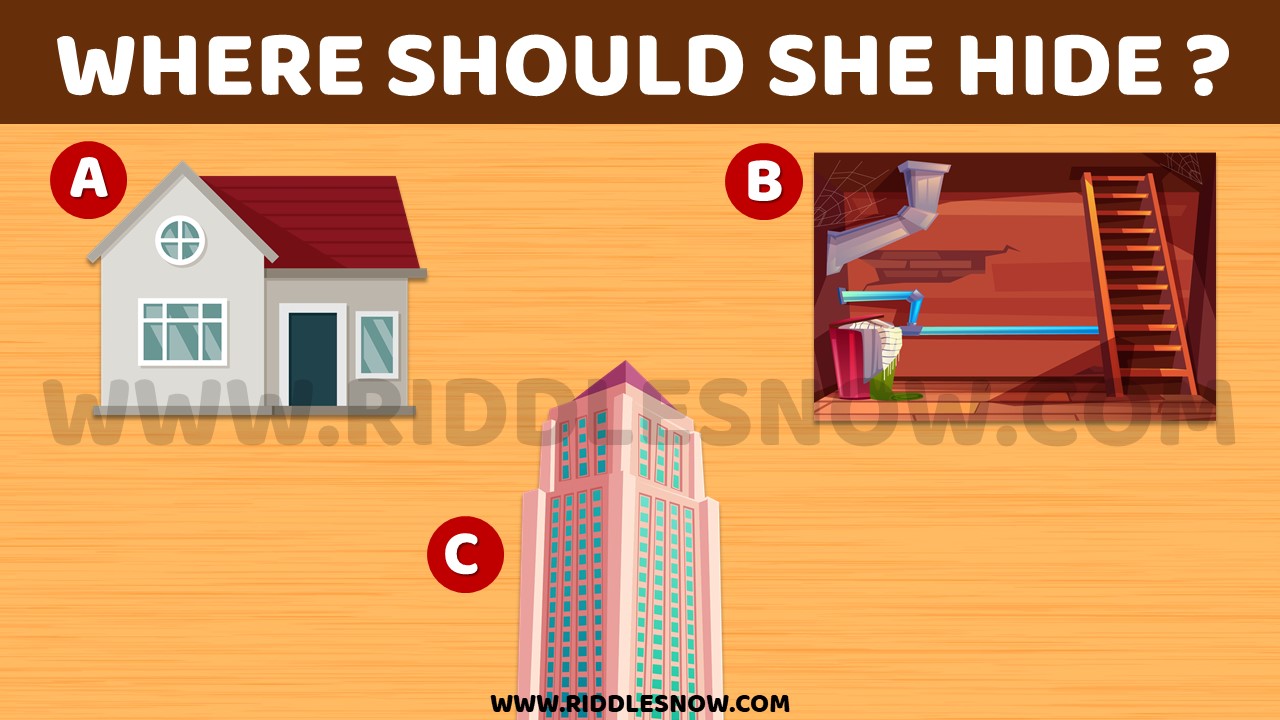 ---
4. WHICH WORLD SHOULD HE GO INTO?
Adam's got lost in the woods. It's starting raining. He sees a bunker right in front of him and enters it. The door shuts behind his back. Adam looks around and realizes that he is right in front of a portal to parallel worlds! There are two entrances.
Adam can't open the bunker door. He can't stay inside the bunker either. As there is no food or water here. He has to choose one of the worlds and go there. There are some weapons in the bunker:
A gun with three silver bullets and
A baseball bat
Adam can grab both of them.
Which world should he go into?
---
5. WHICH DOOR SHOULD HE CHOOSE?
Max got lost in a dark forest. Wandering around the forest, He came upon an old castle. It was already late at night, so he decided to stay there. As soon as he entered, the front door shutdown. He saw three doors in the hall. There was a dangerous creature behind each of them.
1st door: A vampire,
2nd door: A werewolf, and
3rd door: A zombie
Which door should he choose?
---
6. WHICH ONE SHOULD

KYLIE

CHOOSE?
A rich old woman believed her daughter Kylie to be stupid. When she died, she requested her lawyer to challenge Kylie's intellect. She left three envelopes with an enormous check in one of them. There are three messages on them.
1st Envelopes message: There is no check.
2nd Envelopes message: The check is here.
3rd Envelopes message: The check is not in the second one.
One is TRUE, and the other ones are FALSE. Kylie's not allowed to touch the envelopes. She has only one attempt to find the correct one.
Which one should Kylie choose?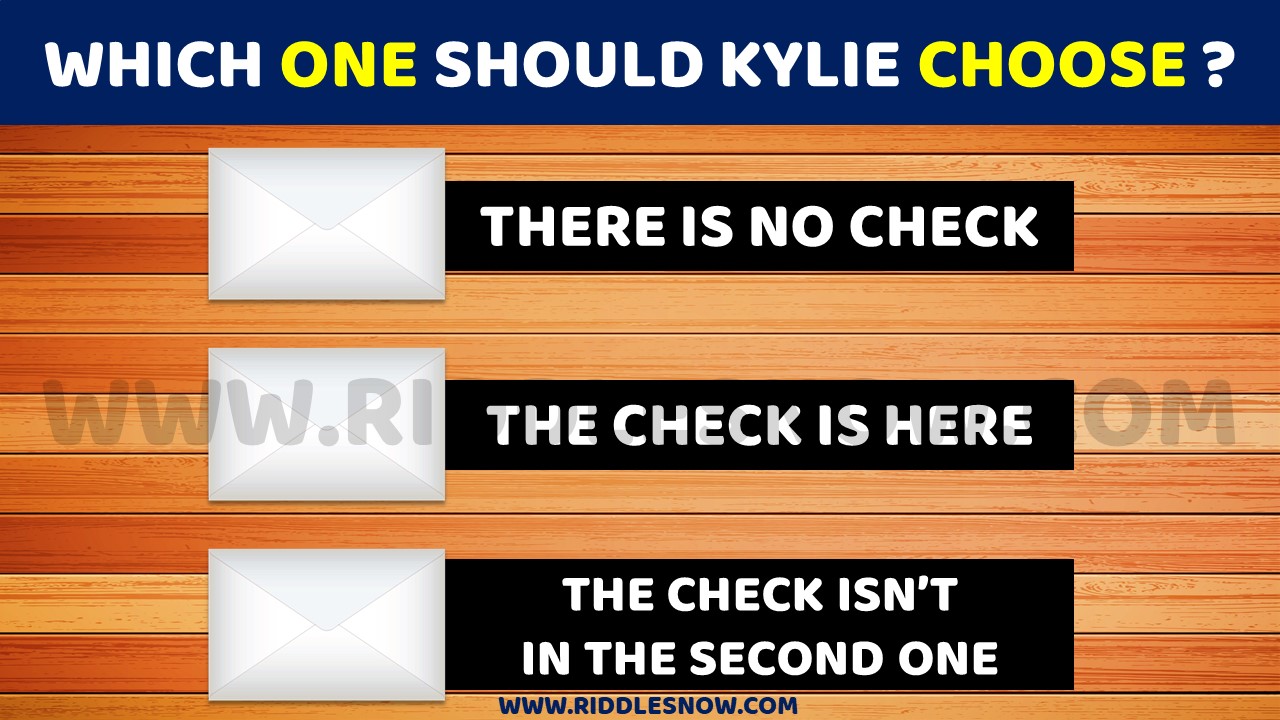 ---
7. WHICH COOKIE SHOULD ALEX CHOOSE?
Alex was captured by a dangerous serial killer. He wants to play a game with his victim.
Killer: I have made three cookies. You have to choose one and try it. Two of them are poisoned, one is safe. If you find the good cookies, I will let you go. If you eat the poisoned one you will die.
Which cookie should Alex choose? (see the picture carefully)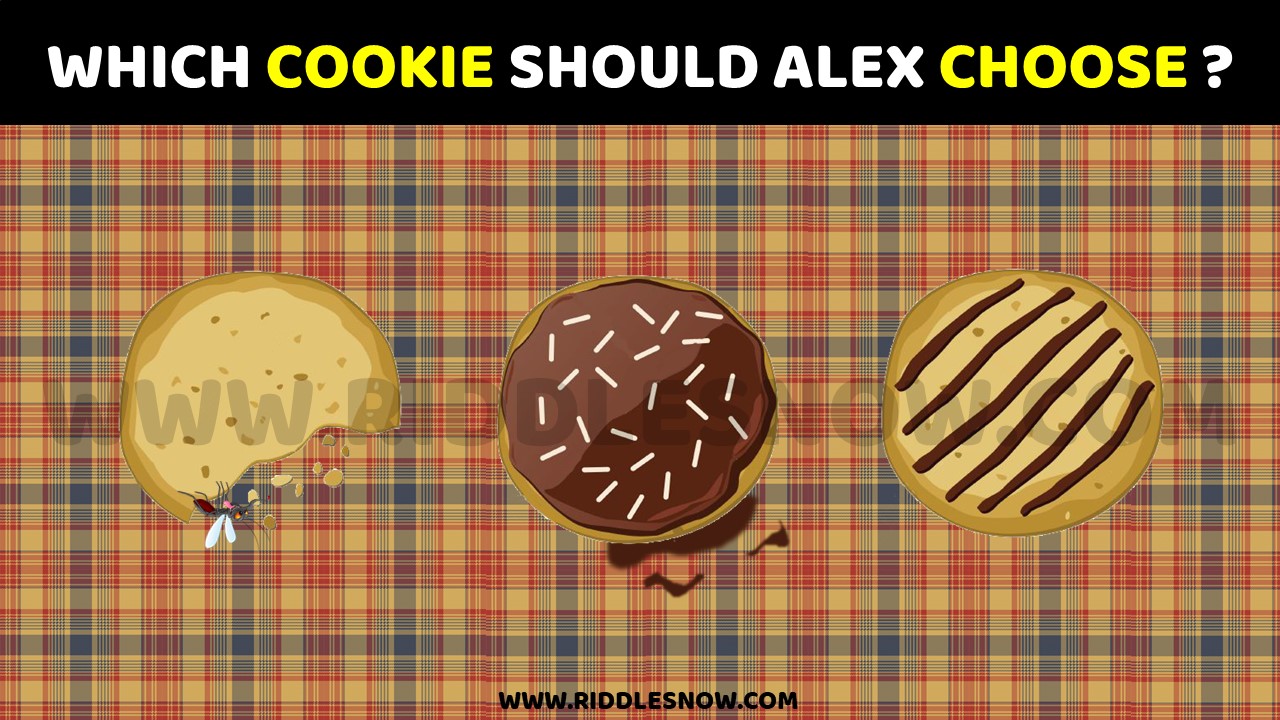 Other Riddles: riddles on friends and riddles about friends
---
8. WHO IS THE REAL PIZZA MAN?
Alice was in a mood for a pizza. She called the pizza shop and said:
Alice: Hello, "Tony's pizza"! Can I have a big pepperoni with double cheese?
While she was waiting for her pizza, She got a call from the detective. Who once investigated her stalking case. A psycho she did not even know threatened to kill her. She had already forgotten about him, but the detective said: They gave him early release. There were two doors at Alice's house.
Who is the real pizza man?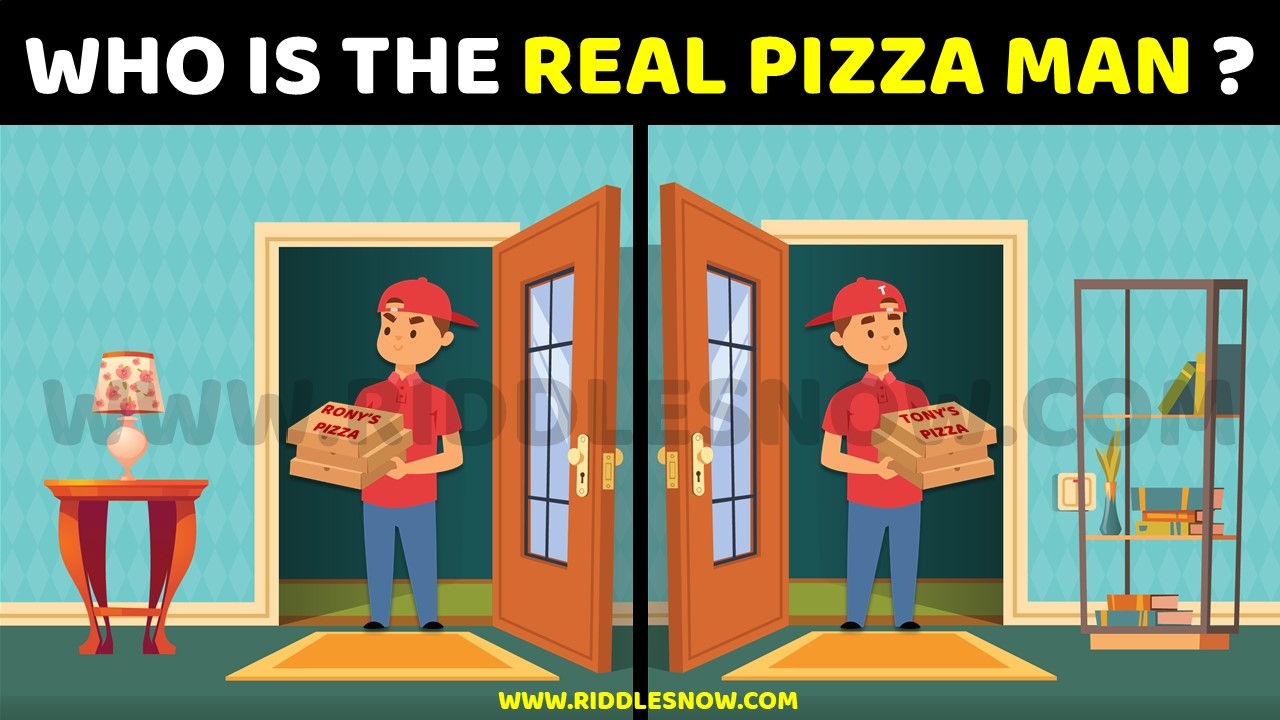 ---
9. WHAT SHOULD ELENA CHOOSE?
Elena loves Mark. He does not love her. She went to a fortune teller to change his situation. The fortune-teller offered her three potions that can change her destiny:
Green Potion: Mark will love Elena, but they will live in poverty.
Red potion: Mark will marry somebody else, but Elena will be his mistress.
Blue Potion: Mark will marry Elena, but he will die one year later.
What should Elena choose?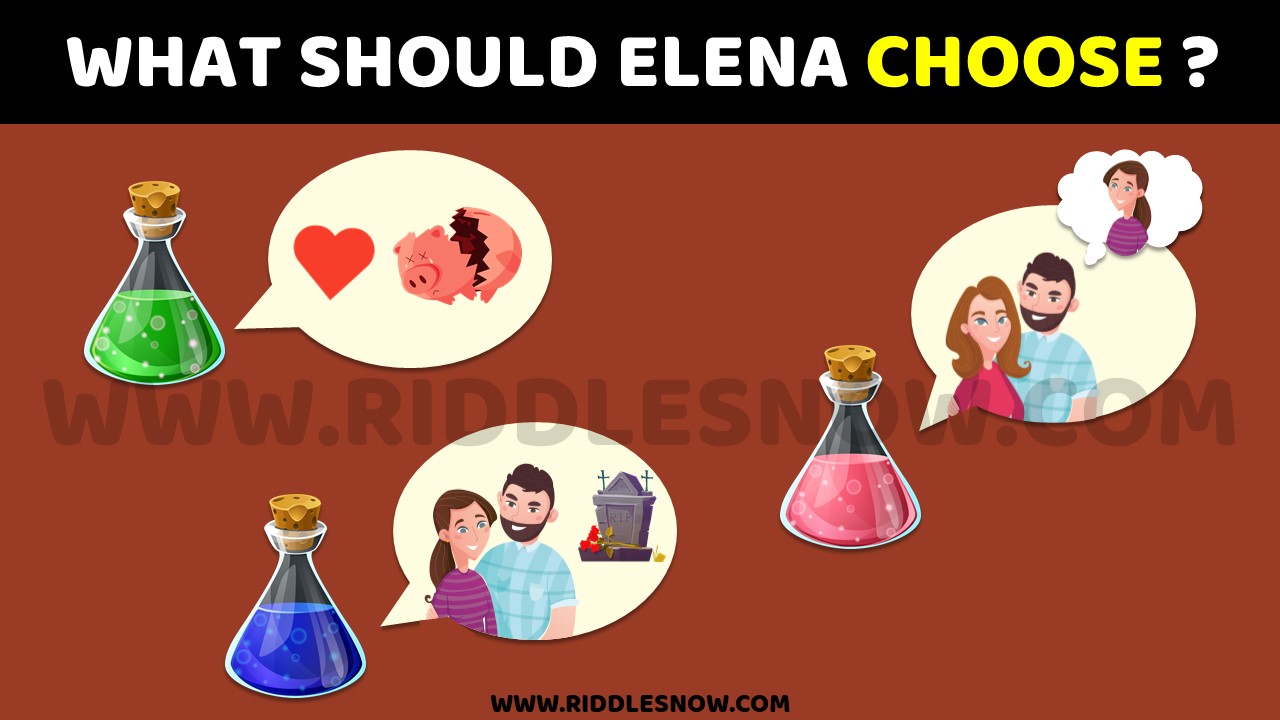 ---
10. WHO IS THE SPY?
Paul works for a super-secret spy agency. There is a rumor that one of the employees is an enemy spy. Paul decided to head an investigation. He found three suspects who have been hired recently and checked their personal files. He immediately realized who the spy was.
How? (see the picture carefully)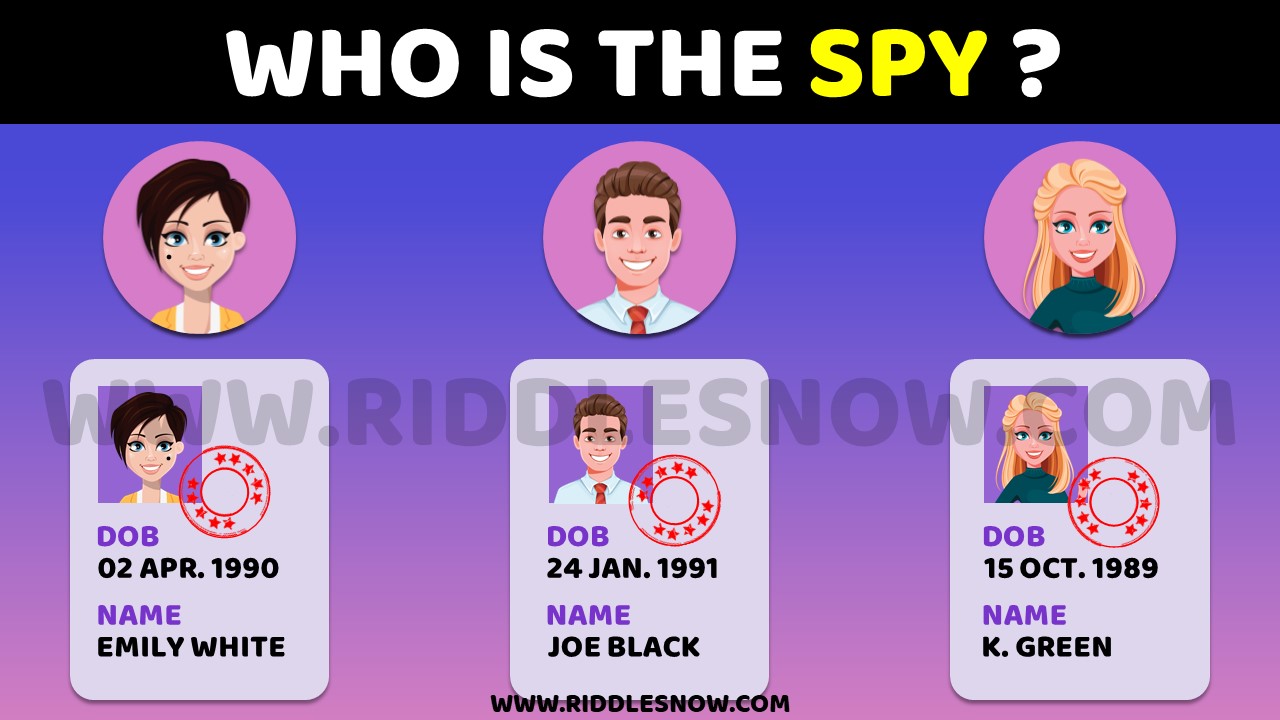 ---
11. WHICH TANK WOULD YOU PUT YOUR HAND IN?
You are on a famous TV show for money. Your last task is to put your hand in one of three tanks. There are gold bars in each of them, and you are allowed to get them if you can. 
1st Tank: Boiling water
2nd Tank: Acid that will burn your flesh
3rd Tank: Venomous Scorpions
Which tank would you put your hand in?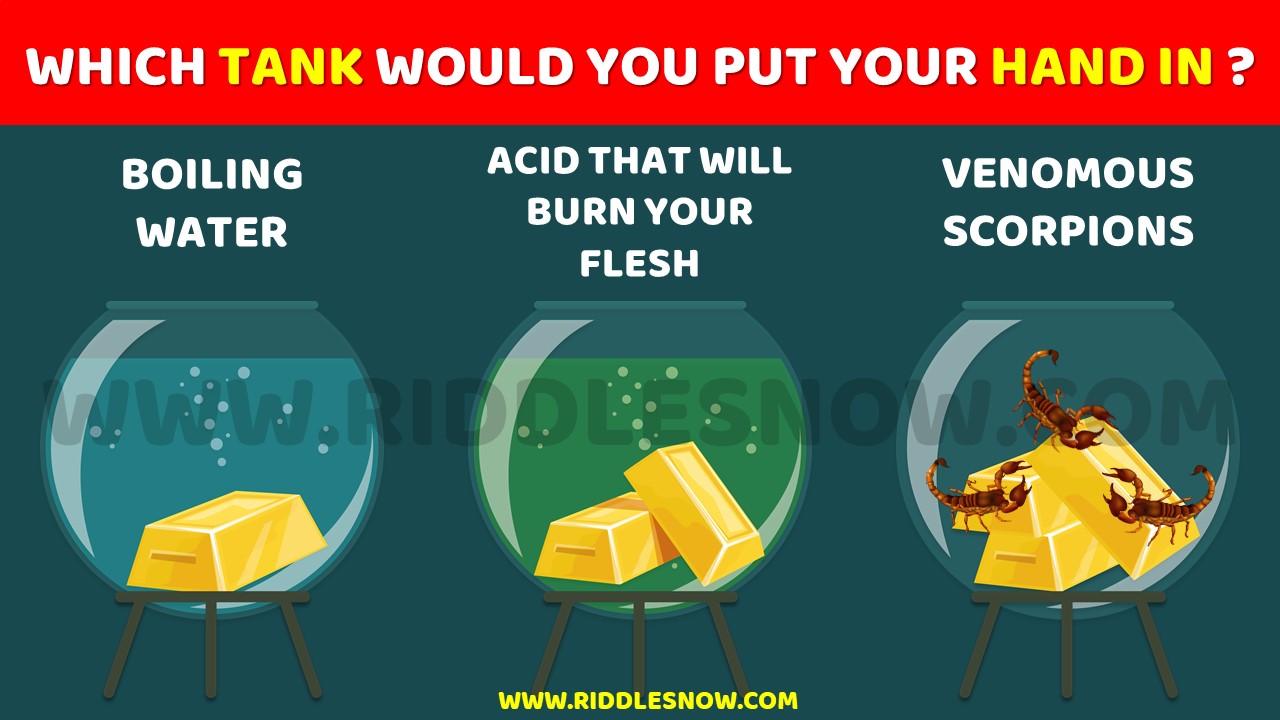 ---
12. WHICH PATH SHOULD SHE CHOOSE?
Anna was walking through a lovely spring forest. Suddenly, she realized that she got lost. There are three paths in front of her. Two lead to her death, one will lead her out to her house.
Which path should she choose? (see the picture carefully)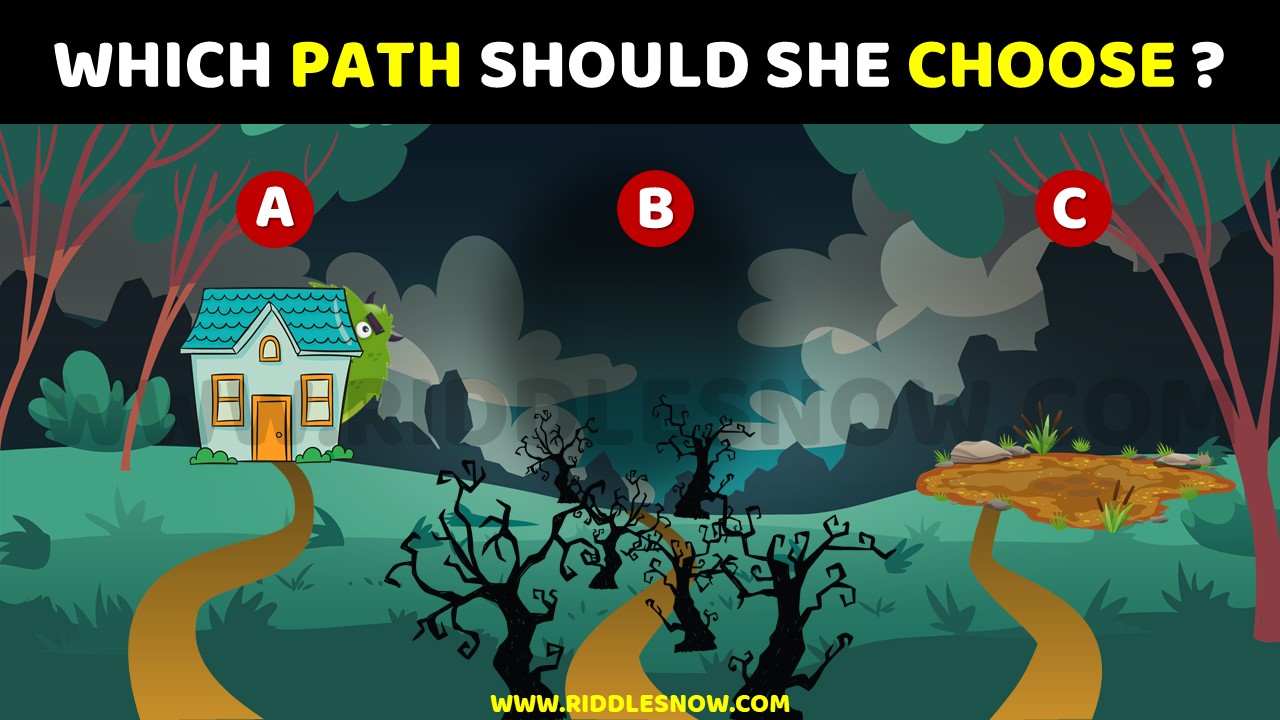 ---
13. WHICH TANK SHOULD HE CHOOSE?
A crazy scientist invented a heat protection cream but he was not sure if it worked. He kidnapped a random passer-by to test it. The scientist applied the cream to the man and offered him to choose one of three tanks to dive into and test the protective properties of the cream
A. Radioactive waste
B. The acid that can dissolve any kind of tissue
C. Lava from the volcano that destroyed a whole town a year ago
Which tank should he choose?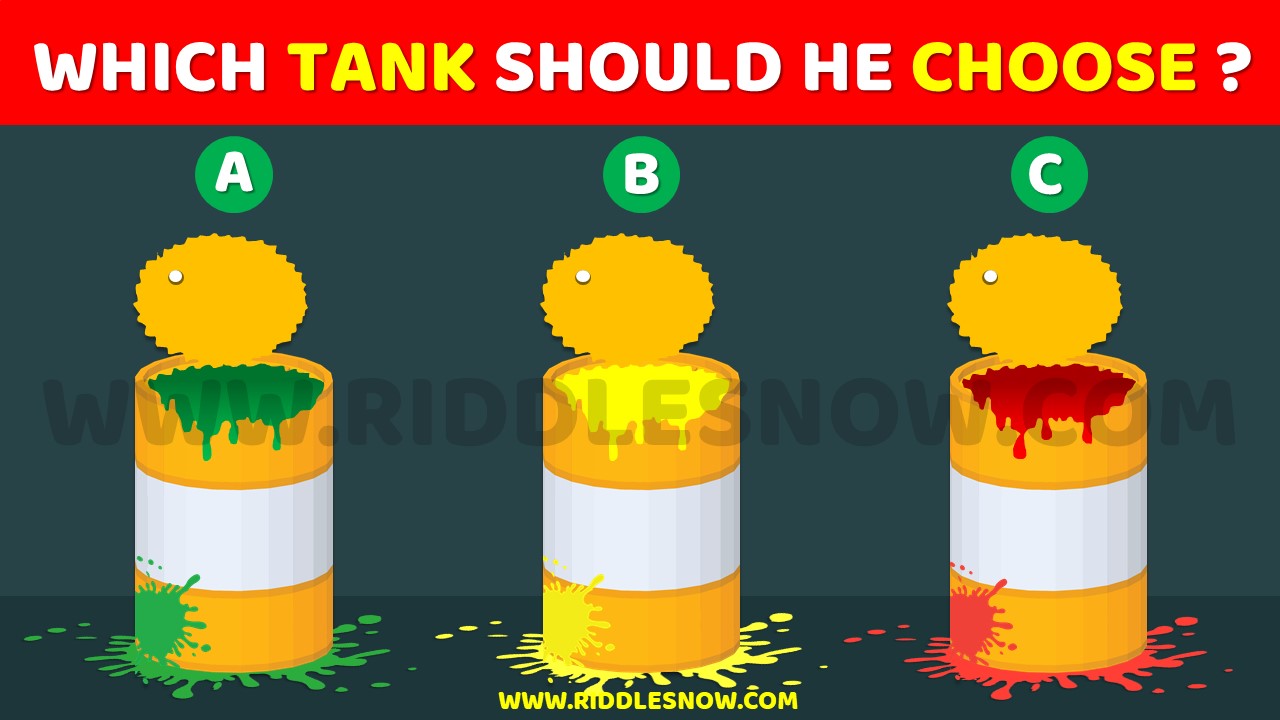 ---
14. WHAT SHOULD SHE ASK TO GET TO KNOW WHICH HOUSE IS SAFE?
Alina has moved to another city to go to university. She wants to rent a place to live nearby. There are two rooms in different houses available for rent.
Students told Alina that one of the owners was a maniac who always lied, and the other one was a nice person who always told the truth. Alina can ask one of them only one YES-or-NO question. 
What should she ask to get to know which house is safe?
---
15. WHAT SHOULD YOU DO?
Your ocean liner got shipwrecked a month ago. You and five other survivors have been living on a desert island since then. You were sending SOS messages hoping that a ship or a plane would find you but nobody ever did.
Your friends started to lose hope. You discussed the problem and came up with three ideas.
A. Build a raft and send several people for help
B. Think up some hobbies to keep them busy
C. Keep on waiting for help and doing nothing to save your energy
What should you do? (see the picture carefully)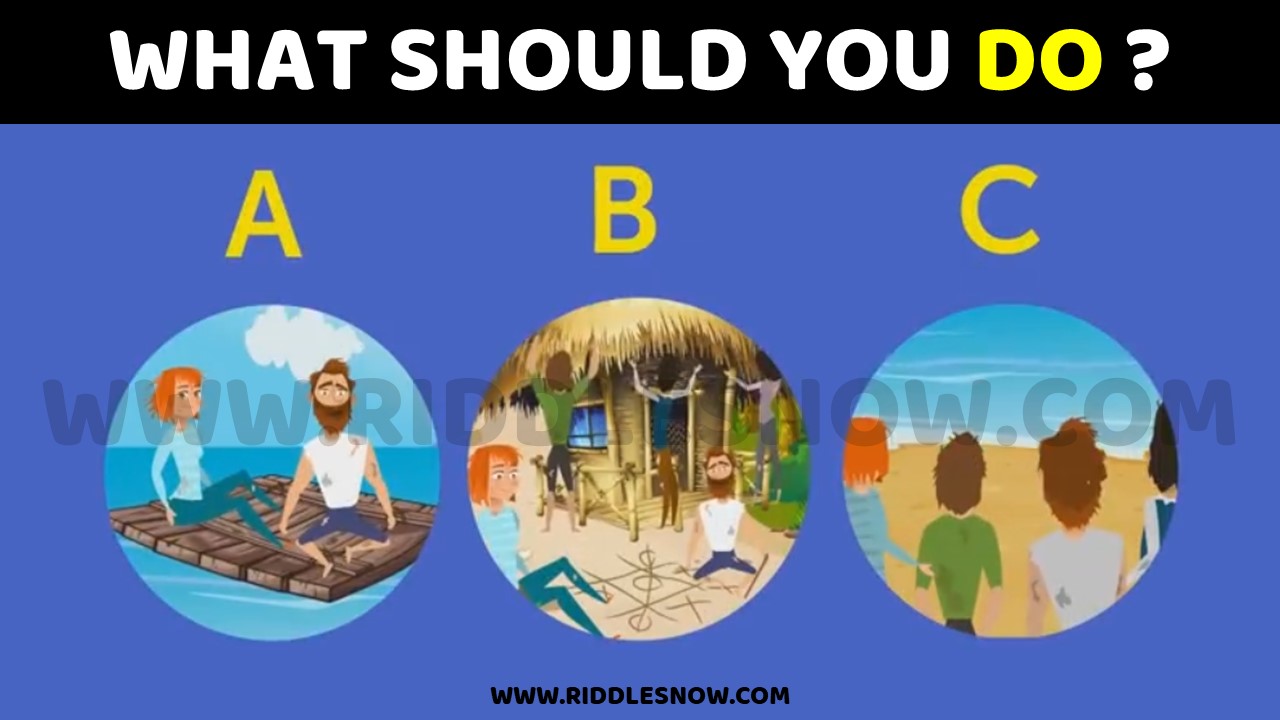 Other Riddles: Riddles for friends
So, how many riddles for friends did you solve? please tell us in the comment box and SHARE these tricky riddles, survival riddles, and riddles for friends, with your family and relatives.
WATCH MORE RIDDLES IN OUR YOUTUBE CHANNEL.